Can iPhone 5, Samsung Galaxy S2 Face Rumored Sony Ericsson Xperia Duo?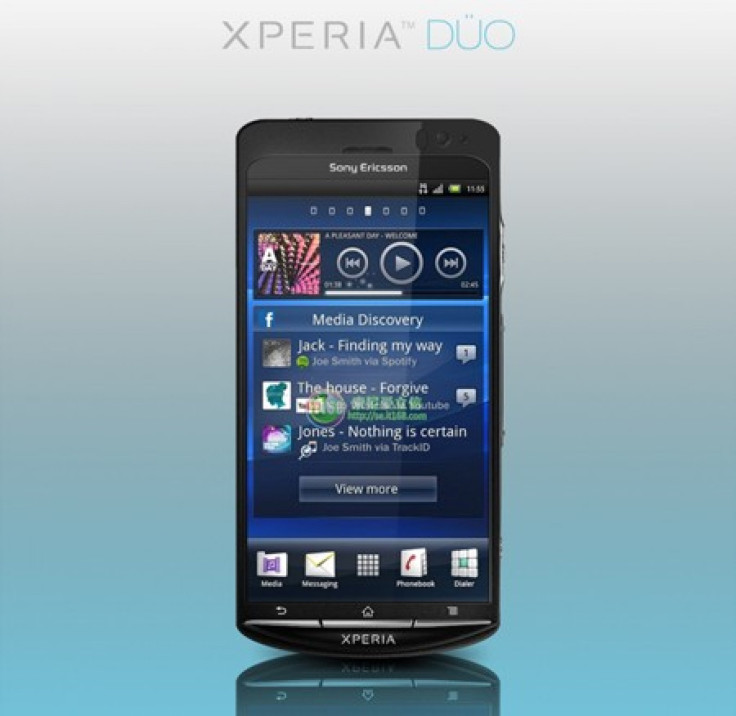 Sony has never figured in the smartphone race as much as Apple's iPhone 5 or Samsung Galaxy S2. But a leaked press shot of what is believed to be the Sony Ericsson Xperia Duo shows a smartphone with exceptional features that could challenge the iPhone 5, Samsung Galaxy S2 and other major smartphones in terms of specifications.
If the specs rumors are true, the Sony Ericsson Xperia Duo will most probably use a NovaThor A9500 chipset -- which combines Cortex A9 cores with the Mali-400 GPU (similar to Samsung Galaxy S2). The Sony smartphone may also have 1.4 GHz dual-core processor, as opposed to Galaxy S2's 1.2 GHz dual-core processor. The Apple iPhone 5 is expected to come with 1.2 GHz A5 processor (used in the iPad 2).
Also, there are possibilities that the Sony Ericsson Xperia Duo could sport the Qualcomm Snapdragon 8260 chipset that's found on the HTC Sensation. Recently, the Qualcomm Snapdragon roadmap leaks revealed that the next generation Snapdragon chips codenamed Krait, the dual-core processor will run in speeds ranging from 1.5GHz to 1.7GHz and come with the latest Adreno 225 GPU beginning in Q4 2011.
The Sony Ericsson Xperia Duo is expected to be powered by the Gingerbread operating system found in Samsung's Galaxy S2. The smartphone may come with 4.5-inch qHD screen with the Bravia Mobile engine compared to Galaxy S2's 4.3-inch display. The iPhone 5 would pose no threat in this regard, as the smartphone is expected to retain a 3.5-inch screen similar to its previous versions.
And the 12-megapixel camera utilizing a second generation Exmor R sensor will be a major boast for Sony's new smartphone as Samsung Galaxy S2 only features 8-megapixel camera while iPhone 5 surely will not exceed 8-megapixel range.
When approached, Sony Ericsson was unable to comment on unannounced products.
MUST READ: Apple iPhone 5: Top 10 Android 'super' smartphones that can end iPhone's rule
© Copyright IBTimes 2023. All rights reserved.