Catalonia Moves To Jump Sinking Spanish Ship In Bid For Independence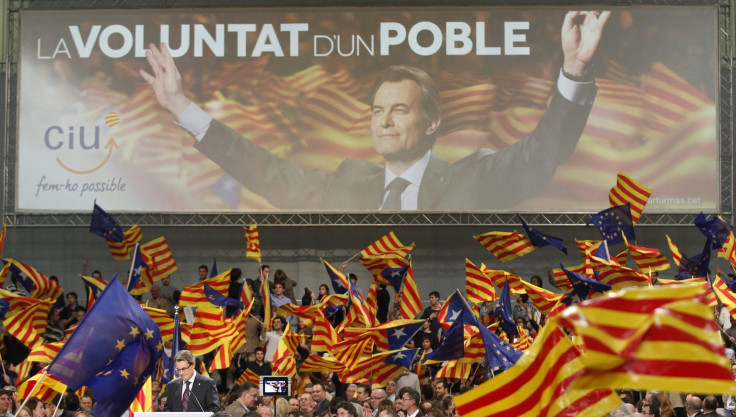 The Catalonia region of Spain moved closer toward independence in Sunday's regional elections, where secessionist lawmakers are seeking to ride public discontent over the country's financial crisis into office.
Political parties favoring an independence vote won a majority in the Catalan regional parliament, according to exit polls conducted by regional state television and reported by the Financial Times.
Artur Mas, incumbent president of the regional government, called the early elections and pledged to hold a referendum on independence for Spain's largest economic region if his Catalan nationalist coalition wins.
"These are the most decisive and transcendental elections in the history of Catalonia," Mas said, the Associated Press reported. "There is much at stake for all 7 million of us Catalans."
But Mas' ruling Convergència i Unió lost seats, while more radical independence parties gained, with Esquerra Republicana (Republican Left), a left-wing separatist party, becoming the second-largest party in the Catalan parliament for the first time.
Exit polls indicated a pro-referendum bloc winning up to 95 of the Catalan parliament's 135 seats, the FT reported. The CiU slipped from 62 to 54 to 57 seats, while the ER rose from 10 to as high as 23, and the green ICV held on to 10. The CUP, a new independence party, was forecast to win up to five seats.
The conservative Popular Party, which rules in Madrid, was set to retain its 18 seats, while the Socialists seemed to be collapsing, dropping from 28 to as low as 16. Ciutadans (Citizens), an anti-separatist party, rose from three to six seats.
Turnout jumped to 56.2 percent from 48.4 percent of registered voters in 2010, an early estimate by electoral authorities showed, the Guardian reported.
Mas would need 68 seats to call a referendum on his own, and having fallen short of that, will have to enlist other nationalist parties. Esquerra has indicated willingness to enter a coalition.
Mas has argued that Catalonia contributes more revenues to the central government in Madrid than it gets back in federal services and would be better off as an independent state within the European Union.
The vote comes amid Spain's deep economic crisis and as Prime Minister Mariano Rajoy's government has enacted widely unpopular austerity measures in attempt to avoid further bailouts from E.U. financial institutions, which have also exacerbated the country's depression-level unemployment rate where more than one in four Spaniards are out of work.
Rajoy accused Mas of taking advantage of the crisis to deflect attention from his own handling of Catalonia's economy, and said the leader has only been able to "create divisions, generate conflicts and waste precious time in the fight against the crisis," according to the New York Times.
"To be somebody in today's world, the bigger you are the better, and the smaller the worse," Rajoy added, arguing that Catalonia is better off as a part of Spain and that such a referendum would have to be put to a national vote.
Catalonia accounts for roughly one-fifth of Spain's economy with a GDP of $260 billion, while its population accounts for about 16 percent.
© Copyright IBTimes 2023. All rights reserved.
FOLLOW MORE IBT NEWS ON THE BELOW CHANNELS