Charges Against Dougherty Gang Siblings Delayed Until Next Week [PHOTOS]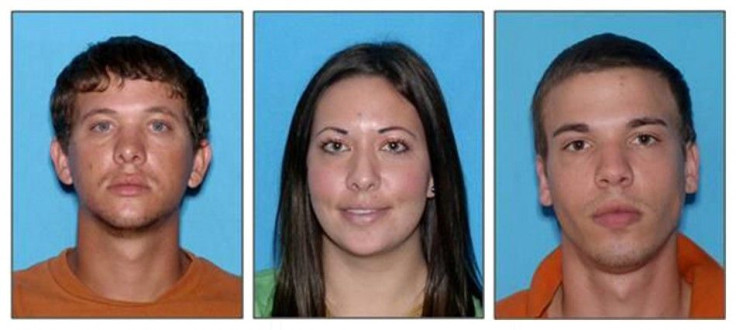 The Dougherty Gang's charges are being delayed until next week as a district attorney reviews police reports before deciding the charges the Florida fugitive siblings will face, according to reports.
Frank Ruybalid, Huerfano County district attorney, said he will be looking over the police reports then make a decision as to the charges for Ryan and Lee Grace Dougherty and Dylan Dougherty Stanley.
"Based on what I've seen so far, I will be filing something," Ruybalid told Reuters.
Fox News reported that prosecutors on Monday decided to charge the Dougherty gang in the county where the cross-country manhunt ended.
Ryan Edward Dougherty, 21; Dylan Dougherty Stanley, 26; and Lee Grace Dougherty, 29, were being held in Pueblo County, Colo.They are accused of crimes in three states and was ordered held on a $1.2 million bail each by a Pueblo County judge on Thursday. The siblings were also likely to face attempted murder charges, authorities have said.
They are also looking at first-degree assault of a peace officer, said Bobbi Griffin, district administrator for the 10th Judicial District, in a written statement to Reuters.
The three siblings were wanted for crimes in Florida and Georgia. They were caught in Colorado last Wednesday after leading police on a high-speed chase that ended with them crashing their car into a highway barrier. Following the crash, the sister was shot in the leg by a police officer while she was chambering a gun after the accident.
At a brief court hearing in Pueblo County on Monday, prosecutors told a judge initial charges against the Doughertys should be handled in neighboring Huerfano County, where they were ultimately arrested, according to Reuters.
Ruybalid said he met with prosecutors from Pueblo last week and the FBI and representatives from law enforcement agencies from other states, to decide which would charge the Doughertys first, the news agency added.
© Copyright IBTimes 2023. All rights reserved.