Charlie Hebdo Attacks: Man Who Hid From Gunmen Sues French Media Who Revealed His Location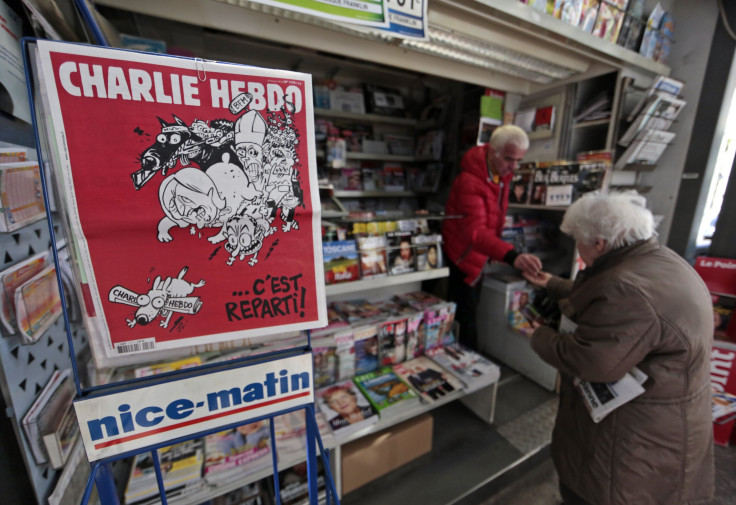 A French man is suing the French radio and television stations that he said compromised his location while he was hiding from the Charlie Hebdo gunmen who killed 12 people in January, the Guardian reported. Lilian Lepere, a 27-year-old graphic designer, hid in a cupboard under a sink at the printing plant where he worked in Dammartin-en-Goële outside of Paris while Chérif Kouachi and Saïd Kouachi tried to hide there from police, the Daily Mail reported. While he was hiding and texting information to police, at least three media outlets revealed where he was, the Guardian reported.
Two days after the Islamic extremist Kouachi brothers killed 12 people at the Paris office where the satirical magazine Charlie Hebdo was headquartered on Jan. 7, they arrived at the plant and locked themselves in. Lepere's boss told him to hide. Both Lepere and his boss, Michael Catalano, survived, the Daily Mail reported.
Lepere texted information that helped police know when the two terrorists were in the building. While the two men were in the building, Yves Albarello, a member of the National Assembly of France, told the French RMC radio station someone from the plant was still hiding in the building. Two large television networks, TF1 and France 2, then repeated the information, the BBC reported.
"Delivering information without careful consideration may lead to endanger others' lives. Journalists must think of it," Antoine Casubolo Ferro, Lepere's lawyer, told the Guardian.
The Kouachi brothers were killed outside the printing plant on Jan. 9 by police.
Survivors of the Jan. 9 related attack on a Jewish supermarket filed a complaint in April against news outlets for their coverage of the event, saying the broadcasts endangered their lives. Amedy Coulibaly, who pledged loyalty to Islamic State militants, fatally shot four people at the supermarket and also shot a police officer the day before in Paris. BFMTV, a French television station, revealed in a broadcast that people were hiding in a room in the supermarket while Coulibaly was there.
© Copyright IBTimes 2023. All rights reserved.