CHART: Asia's Demographic Peaks Could Spark A US Manufacturing Renaissance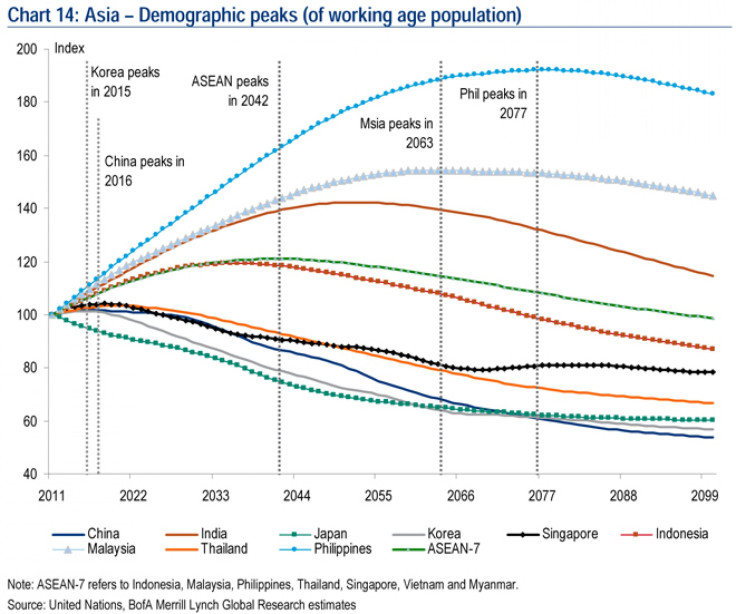 The end of cheap Asia is approaching, albeit gradually. That means meaningful numbers of outsourced manufacturing jobs are beginning the long march back to the U.S.
Until recently, exports from Asia have helped Western consumers enjoy lower prices, and multinationals, higher profits. At the same time, a rapid manufacturing buildup has helped Asia catch up to the West, while lifting the region's vast pool of young workers out of poverty.
HSBC's Julia Wang argues that this source of prosperity, built on East Asia's demographic dividend and its integration into the global production chain, was always going to end. But it is probably ending earlier than many expected.
China's working-age population peaked last year, marking the end of a major mobilization of China's labor surplus into the global economy over the last three decades.
In the past China's National Bureau of Statistics has counted anyone between 15 and 64 years old as of working age. That age range is consistent with international convention and China's own statistical yearbook. But in announcing last year's decline, the NBS adopted a narrower definition: 15- to 59-year-olds. By doing so, it drew early attention to a demographic downturn that will soon apply to 15- to 64-year-olds and to the population as a whole.
China's National Bureau of Statistics said in January that the size of the country's working-age population shrank for the first time in recent decades, in 2012. By the end of December, China's population between 15 and 59 was 937.27 million, a decrease of 3.45 million from 2011. That represents a major demographic turning point, not just for China, but also for Asia and the world.
And this turning point has come three years ahead of schedule, as most demographers had put China's peak at 2015.
"A U.S. manufacturing renaissance looks much more probable if China's shrinking labor force deters FDI [foreign direct investment] inflows," said Chua Hak Bin, Southeast Asian economist at Bank of America Merrill Lynch, in a note to clients. "Cheap labor may emerge as the next scarce resource in the coming decade, as the labor force starts falling in China and the rest of Northeast Asia."
Foreign direct investment into China fell in 2012 for the first time since the depths of the global financial crisis in 2009. Total FDI into the world's second-largest economy was $111.7 billion last year, down 3.7 percent from 2011, according to figures released last month by China's Ministry of Commerce.
Demographic trends usually move at a glacial pace. Therefore, while the demographic dividend for China and rest of Northeast Asia is dwindling, it continues to be enjoyed by many Southeast Asian countries and India -- at least for a little longer.
Bank of America Merrill Lynch estimates that the ASEAN 7 (Indonesia, Malaysia, Philippines, Thailand, Singapore, Vietnam and Myanmar) working-age-population will peak only in 2042, at about 472 million (versus 390 million currently).
ASEAN economies are already catching up in terms of FDI with China, driven in part by these demographic differences.
© Copyright IBTimes 2023. All rights reserved.
FOLLOW MORE IBT NEWS ON THE BELOW CHANNELS