Chicago-Based Group Sends Drones To Ukrainian Military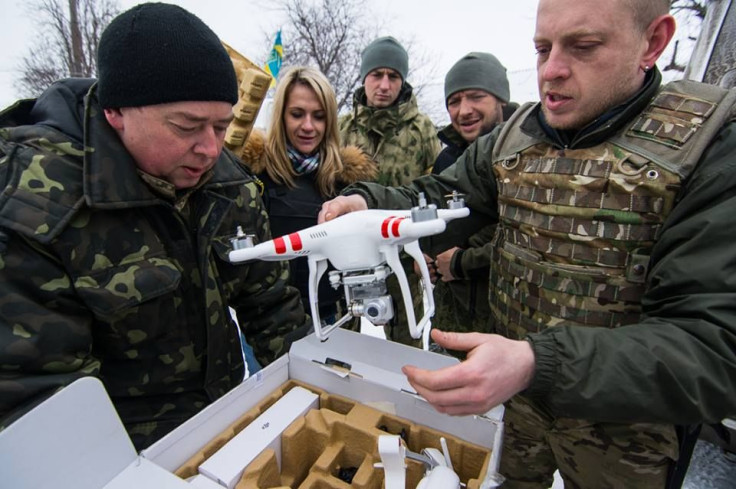 A Chicago-based group has begun supplying the Ukrainian military with drones, supplementing the nonlethal aid that troops fighting in the east Ukraine war have already received from the U.S. government. But the drones, which will help Ukrainian forces expand their reconnaissance capabilities, are far from the military-grade unmanned aircraft that other militaries use.
The Phantom 2 drones, which are smaller than one foot (33 cm) across, were sent by Chicago Automaidan, a pro-Ukrainian group that raises money to send nonlethal military supplies to troops on the front lines in east Ukraine. The Chicago area has many Ukrainian-Americans.
The drones are similar to hobbyist drones that can be bought in the United States, and come with a camera that can beam pictures to a smartphone or tablet device. The drones, which fly up to 300 feet high, could assist Ukrainian forces at checkpoints, or could also spy on pro-Russian soldiers.
Chicago Automaidan says "100 percent of the profits" it makes through donations go to supplying the Ukrainian military with equipment it needs, but it will also take aid of any sort, including "motivation, bulletproof vests, helmets, night-vision goggles and infrared vision devices," says the group's Facebook page.

"Members of the military unit 3002 Ukraine Lviv National Guard would like to thank Chicago Automaidan," one Ukrainian serviceman wrote, according to the Air Force Times. (Lviv is the main city in western Ukraine.) "We are very grateful to Ukrainians from around the world who are doing everything for our victory."
So far that victory is not happening, however. Fighting ended in most parts of east Ukraine when a ceasefire began on Sunday, but the strategic city of Debaltseve continued to be bombarded by shelling from pro-Russian rebels who were intent on taking the city. Eventually, Ukrainian soldiers there retreated when President Petro Poroshenko ordered his troops to begin withdrawing on Wednesday. But new shelling in the port city of Mariupol and in the de-facto rebel capital of Donetsk may see the 10 month-long conflict flare up again.
There has been debate in the U.S. over whether Washington should provide weapons in addition to the nonlethal equipment it has already sent to Ukraine, but no decision has been made. So far the U.S. government has supplied Humvees, radars that can detect the location of enemy mortars, body armor, binoculars, small boats and other military gear for Ukraine's security forces and border guards in the east.
© Copyright IBTimes 2023. All rights reserved.