China August Factory Growth Falls Near 6-Year Low: Calls Louder For More Stimulus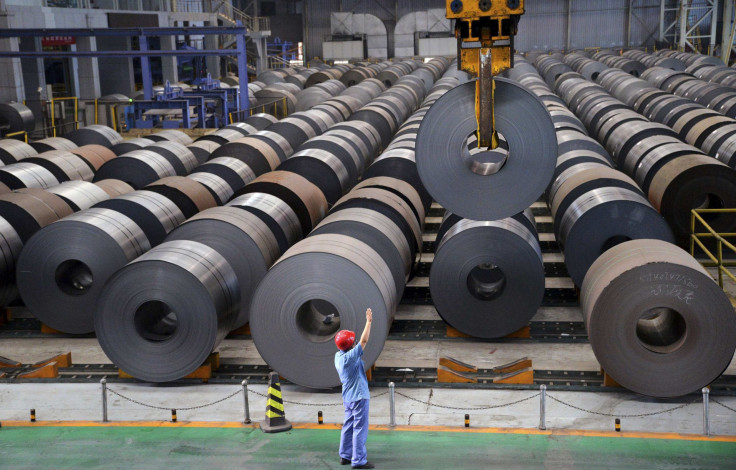 (Reuters) -- China's factory output grew at the weakest pace in nearly six years in August, while growth in other key sectors also cooled, raising fears the world's second-largest economy may be at risk of a sharp slowdown unless Beijing takes fresh stimulus measures. Combined with weaker readings in retail sales, investment and imports, the output data pointed to a further loss of momentum as the cooling housing market increasingly drags on other sectors from cement to steel and saps consumer confidence.
Industrial output rose 6.9 percent in August from a year earlier -- the lowest since 2008 when the economy was buffeted by the global financial crisis -- compared with expectations for 8.8 percent and slowing sharply from 9.0 percent in July.
"The August data may point to a hard landing. The extent of the growth slowdown in the third quarter won't be small," said Xu Gao, chief economist at Everbright Securities in Beijing. "The chances of cutting interest rates and bank reserve requirements have increased. I think they are more likely to cut interest rates."
Some analysts believe annual economic growth may be sliding toward 7 percent in the third quarter, putting the government's full-year target of around 7.5 percent in jeopardy unless it takes more aggressive action. Experts reckon output growth of around 9 percent would be needed to attain such a goal.
"Short of outright policy easing, China will likely miss the 7.5 percent growth target this year, and a sharp economic slowdown will endanger the undergoing structural reforms," Liu Li-Gang and Zhou Hao at ANZ wrote in a note. "As such, we reckon that Chinese authorities should further relax monetary policy as soon as possible to prevent growth momentum from decelerating further."
Reinforcing the tepid economic activity, China's power generation declined for the first time in four years, falling 2.2 percent in August from a year earlier, and pointing to slackening demand from major industrial users.
Jiang Yuan, a senior statistician with the Chinese National Bureau of Statistics, said the dip in August factory growth was due to weak global demand, especially from emerging markets, and the slowdown in the property sector that hit demand for steel, cement and vehicles.
China's economy got off to a weak start this year as first-quarter growth cooled to an 18-month low of 7.4 percent. Beijing responded with a flurry of stimulus measures that pushed the pace up slightly to 7.5 percent in the second quarter, but soft July and August data suggest the boost from those steps is rapidly waning.
"The government must take forceful policy measures to stabilize growth," said Li Huiyong, an analyst at Shenyin & Wanguo Securities in Shanghai.
Hard Landing?
Other activity indicators for August were also mostly weaker than expected. Retail sales climbed 11.9 percent, lagging forecasts of 12.1 percent and July's 12.2 percent, with growth in car sales in particular off sharply, suggesting consumers are more cautious.
Carmaker BYD Co. Ltd. (HKG:1211), backed by billionaire Warren Buffett, recently warned profit may fall by as much as a fifth in the first nine months of the year.
Fixed-asset investment, an important driver of economic activity, grew 16.5 percent in the first eight months from the same period last year, lower than forecasts. Economists polled by Reuters had expected 16.9 percent growth, slowing from 17.0 percent in the seven months from January to July.
Much of the broader decline appears linked to the slowdown in the property market, which is intensifying. Property investment data also released on Saturday showed further declines in sales and new construction, while growth in sales of housing-related goods such as home appliances, furniture and building materials all slowed.
Mortgage issuance in the first eight months fell 4.5 percent from a year earlier, worse than a 3.7 percent drop in January-July. Some would-be buyers have complained of long delays in getting loans as banks grow more cautious, while others may be holding off in anticipation of further price declines.
Data on Friday showed that credit levels in China appeared to improve in August after an alarming drop in July, but remained below average. Bad loans are on the rise and banks expect more to go sour as the economy slows.
That followed trade data that showed China's exports were buoyant, but import growth unexpectedly fell for the second consecutive month in August, posting its worst performance in over a year.
The Employment Factor
While most analysts expect Beijing to unveil more steps in coming months to meet its 2014 growth target, the room for policy loosening is seen as limited after past stimulus programs left local governments saddled with piles of debt and fueled rampant speculation, especially in the housing market.
Bolder action now, such as an interest-rate cut, may only result in more money going into speculative and potentially destabilizing activity rather the real economy, some analysts have noted.
The last time China suffered a "hard landing" was during the height of the global crisis, when economic growth tumbled to 6.6 percent in early 2009. That is far short of the near collapses that loomed over some developed economies, but still threw tens of millions of Chinese out of work, alarming the Communist Party's stability-obsessed leaders into action.
Despite slower growth, the economy still created 9.7 million new jobs in the first eight months of 2014, a rise of more than 100,000 from the same period last year, said Guo Tongxin, another statistician at the bureau, trying to play down the significance of the dismal August indicators. "It's normal to see fluctuations in some indicators. Currently, the employment and price situation remains generally stable [and] structural adjustments continue to make progress," Guo said in a statement.
Premier Li Keqiang said Monday that China cannot rely on loose credit to lift its economy, and reassured a business forum that Beijing would continue to roll out modest "targeted" measures as policymakers look to shore up growth.
(Reporting by Kevin Yao; Editing by Kim Coghill)
© Copyright Thomson Reuters 2023. All rights reserved.