How A Slump In China's Mooncake Industry Represents The Country's Economic Change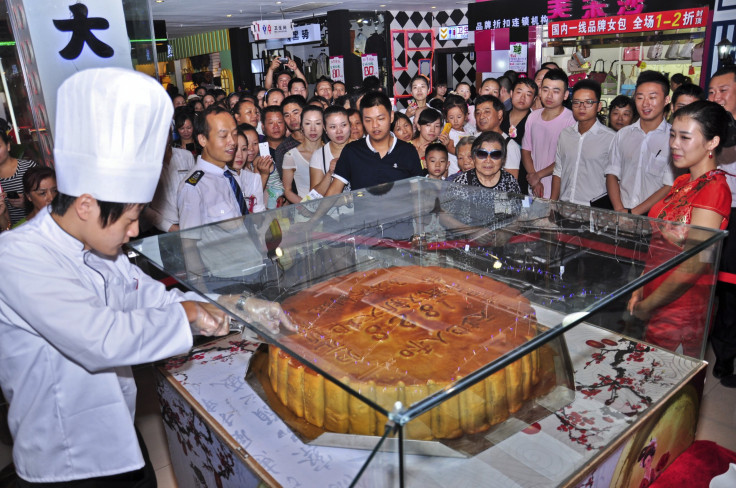 People in China celebrated the Mid-Autumn Festival on Monday as they do every year, by lighting sticks of incense, carrying brightly lit lanterns, and eating mooncakes. A thick pastry about the size and shape of a hockey puck, mooncakes are ubiquitous in China at this time every year, displayed in shops across the country. Mooncakes are more than just a snack; those with elaborate packaging or valuable fillings are often presented and received as gifts.
Given their central role in one of the country's major holidays -- think turkey at Thanksgiving in the United States -- mooncakes are a big business in China: Factories across the country produce more than 200,000 metric tons annually, and sales exceed $2 billion. But this year appears to be an exception. As part of President Xi Jinping's wide-ranging anti-corruption campaign, the Chinese government has prohibited officials from spending public money on mooncakes. And to show that the edict has more than just symbolic value, the government has even established a website where people can report "mooncake abuse."
The prohibition has had a significant effect on the mooncake market. In Wuchuan, a Guangdong Province city known as China's "mooncake capital," sales of the snack are running at just 50 percent of last year's levels. Some of the more than 200 companies that manufacture mooncakes in Wuchuan -- which together employ 20,000 people -- have shut down, while others have offered retailers discounts of up to 70 percent.
"Mooncakes have become unsalable this year because of the central government ban on producing them with public funds," Zheng Rikang, director of the Wuchuan Association of Mooncakes, told the China Daily.
In a country with a GDP of $9.5 trillion, the slump of the mooncake industry hardly registers as a mortal threat. But the mooncake slump exemplifies how the anti-corruption campaign, launched by President Xi soon after assuming power in 2013, has transformed China's economy.
In the decades since China introduced market reforms to its economy, government officials, whose political prospects depended on producing growth, spent liberally. But according to Samm Sacks, a China analyst at Eurasia Group, the anti-corruption drive -- and the corresponding possibility of running afoul of the central government -- has changed the equation for local officials.
"There's a sense of paralysis that officials may not be willing to go forward with transactions because they don't know who's going to be targeted next," Sacks said.
Could Xi's campaign threaten the very source of Communist Party legitimacy, economic growth? While certain industries will suffer in the crackdown, Cheng Li of the Brookings Institute argued that, in the long run, the anti-corruption drive will only help the Chinese economy through the gradual reallocation of public funding, while growth will not be as breakneck as it has been so far.
Although China's economy continues to grow fast by global standards, signs of a slowdown have emerged. Foreign direct investment fell 6 percent in July, the first time in 17 months, while the International Monetary Fund revised projections for Chinese GDP growth in 2014 downward to 7.4 percent.
Then again, discontent over the mooncake slump has not gone unnoticed by Beijing. An editorial in the People's Daily, a Communist Party mouthpiece, argued that local officials have misinterpreted the national leadership's edict by being "too frugal."
"This is certainly not the real intention of the central government's anti-graft campaign," the editorial said.
FOR FREE to continue reading
✔️ Unlock the full content of International Business Times UK for free
offer available for a limited time only
✔️ Easily manage your Newsletters subscriptions and save your favourite articles
✔️ No payment method required
Already have an account?
Log in
© Copyright IBTimes 2023. All rights reserved.