China To Boost Growth With $127B Of Infrastructure Spending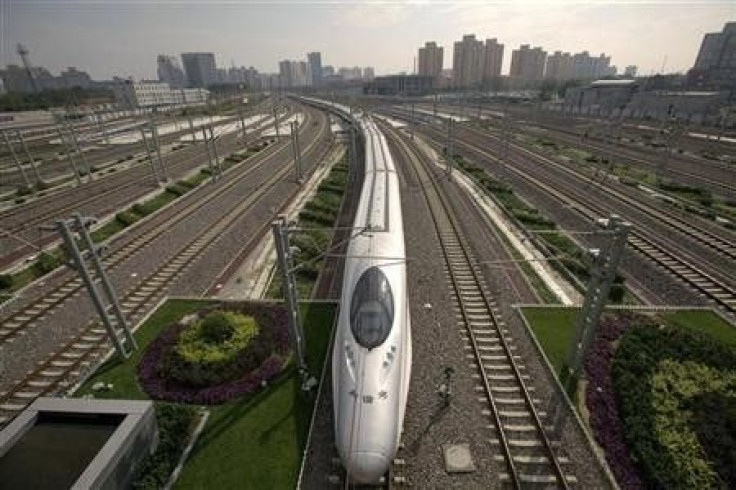 China has unveiled plans to spend $127 billion to build dozens of new subways and inner-city rail transit links, data from the country's top economic planning agency show, in a new move to stimulate its slowing economy.
The National Development and Reform Commission has approved 25 new rail projects totaling 800 billion yuan ($127 billion) worth of investments by 18 local governments to build city subways, according to statements posted on its website Thursday.
"This has a meaningful impact on growth, though the form of easing is of a relatively low profile," Qu Hongbin, chief China economist at HSBC in Hong Kong said in a note to clients. "We expect a fast filtering-through process to help generate a modest growth recovery in the fourth quarter."
The projects were approved over the past two months, the commission said. They include subway lines in Shanghai, the central city of Taiyuan and the southern business center of Guangzhou. The projects are expected to have an average construction time of 4.6 years, with local governments providing 40 percent of the funding.
Beijing also has approved construction of airports, highways and other public works to revive economic growth that slumped to a three-year low of 7.6 percent in the second quarter.
China's economic prospects depend in large part on what happens to its property market. However, the pace at which real estate investment has grown is unsustainable.
Investment in urban residential real estate directly accounted for 8.5 percent of gross domestic product in 2011. That level is high by international standards -- the equivalent ratio in the U.S. peaked last decade at 6.1 percent - and it has nearly doubled in the last decade.
Simply stabilizing the ratio would require real estate investment growth to halve.
"We think this is the minimum needed to put Chinese property on a sustainable footing," said economists Mark Williams and Qinwei Wang at Capital Economics. "Assuming this slowdown is achieved, there is likely to be a similarly steep slowdown in the growth of commodity demand."
Beijing's recent approval of new subway and other infrastructure projects worth of more than 1.7 percent of GDP was comparable with the 23 city subways approved in early 209, when the government unleashed a 4 trillion yuan stimulus package. This move will likely offset weakening property investment and exports growth.
"More projects are likely in the pipeline, which may be front-loaded if needed," Qu said.
By 2020, 40 Chinese cities will have subway systems, bringing the total track length to 7,000 km, 4.3 times the current length, according to the China Association of Metros, an organization under the direct supervision of the NDRC.
Boosted by the news, CSR Corp Ltd (SHA:601766), China's biggest train maker, gained 4.39 percent to close at 4.04 yuan in Shanghai, the biggest gain since July 11. China Railway Construction Corp Limited (HKG: 1186), builder of more than half the nation's rail links, climbed 6.5 percent to 6.39 yuan.
© Copyright IBTimes 2023. All rights reserved.