China Copied Disney's 'Frozen' With Beijing Winter Olympics Song, Critics Say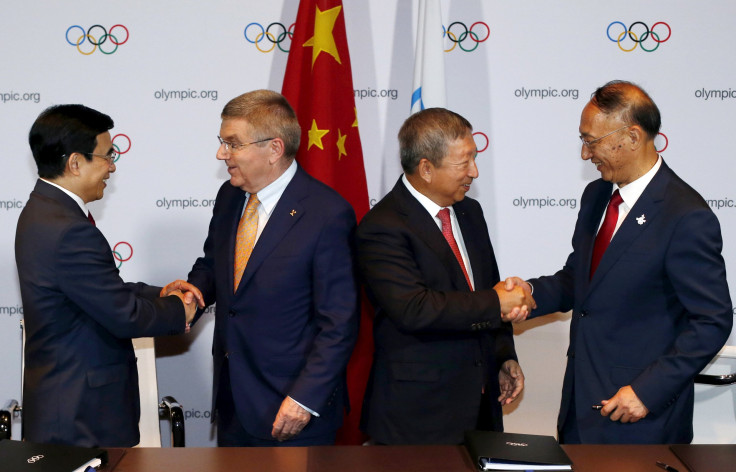 Critics in China accused one of the country's top songwriters of plagiarism Tuesday because of similarities between one of the Beijing Winter Olympics bid's theme songs and "Let It Go," the ubiquitous song from the Disney film "Frozen." The allegations were the latest setback for the city's successful bid to host the 2022 Games, which already faced scrutiny due to China's questionable environmental and human rights records.
The composer, Zhao Zhao, crafted "The Ice and Snow Dance," a song the Beijing 2022 Winter Olympics committee used to promote its bid to host the event. Caijing, a Chinese business magazine, used graphics to point out Zhao's song was virtually the same as "Let It Go," CNN reported. Caijing's post was later deleted, but not before social media users on YouTube and Weibo, China's version of Twitter, picked up on the similarities and began to criticize Zhao.
"Can you stop plagiarizing? You have shamed China," one Weibo user wrote, according to the Guardian. Separately, a YouTube user combined the two songs to show how "The Ice and Snow Dance" seamlessly integrated into "Let It Go." Beijing's Olympic Committee has yet to respond to the allegations.
The International Olympic Committee, or IOC, chose Beijing to host the 2022 Winter Olympics last week during the 128th IOC Congress. Previously, Beijing hosted the 2008 Summer Olympics, making it the first city to earn the honor for both incarnations of the international sporting event.
Critics have expressed concern about various aspects of China's bid, both before and after the IOC awarded Beijing hosting rights. Environmental advocates took to social media this week to air concerns that proposed alpine skiing courses in Yanqing could interfere with the Songshan National Nature Reserve, which helps protect the local water supply and protects Beijing from dust storms.
Human rights groups have also questioned China's treatment of activists. Chinese authorities have detained at least 1,800 human rights figures since March 2013, according to the Chinese Human Rights Defenders group.
© Copyright IBTimes 2023. All rights reserved.