China Inflation Rose In January, Buoyed By Food Prices, But Deflationary Pressures Continue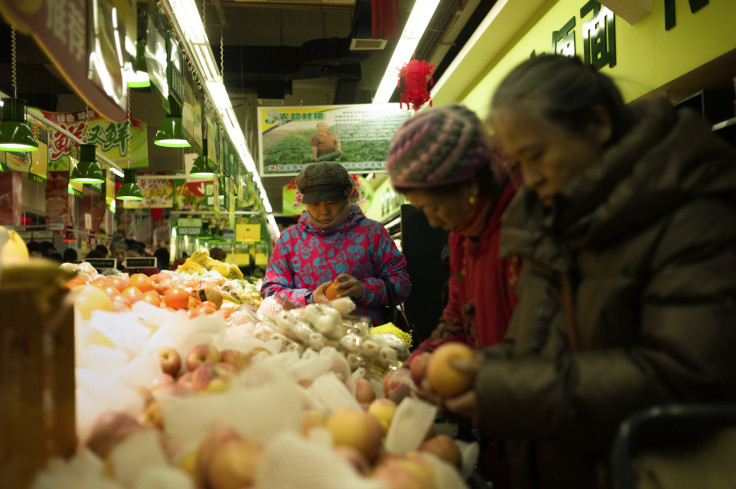 China's consumer price index (CPI) rose 1.8 percent in January compared to a year earlier, a faster pace than the 1.6 percent rise recorded in December 2015, according to data released by the National Bureau of Statistics of China. Analysts said the uptick in inflation is likely to be short-lived, since consumer prices were driven largely by higher food prices ahead of the Lunar New Year holiday earlier in February.
The 1.8 percent rise in the CPI was its fastest since August, but largely driven by the 4.1 percent rise in food prices, it did not reflect a visible improvement in economic activity or broader consumer demand, according to analysts. The non-food consumer inflation went up by 1.2 percent, year-on-year, during January.
Consumer prices for the year 2015 went up 1.4 percent, well below the government target of keeping the rise under 3 percent, the Wall Street Journal reported.
On the other hand, wholesale inflation stayed in the negative territory, where it has been since March 2012. However, the decline in the producer price index slowed down to -5.3 percent year-on-year in January, compared to a 5.9 percent drop in December.
In a research note, analysts from ANZ said they expected inflation to start retreating in March. "CPI inflation rose in January as food prices soared, but this should be seen as temporary. China will continue to face deflationary pressure in the remainder of the year. Low inflation should provide room for China to conduct further monetary policy easing."
But the monetary support was unlikely to generate strong growth as the effect of stimulus measures in driving growth was wearing out, according to Zhu Baoliang, director of the economic forecast division at the State Information Centre, a think tank affiliated with China's economic planning agency, the South China Morning Post (SCMP) reported.
"The 2016 growth target is between 6.5 and 7 percent, but the actual growth rate will be closer to 6.5 percent," Zhu told SCMP. "For 2017, China's gross domestic product growth will move towards 6 percent."
The yuan was trading slightly higher against the dollar after the inflation data was announced, up by about 0.2 percent during early Thursday trade. Prominent Chinese stock indexes, the Shanghai Composite and the Shenzhen Composite, were also trading higher by about 0.4 percent during afternoon trade.
© Copyright IBTimes 2023. All rights reserved.