China June HSBC Flash PMI Shows First Expansion In 6 Months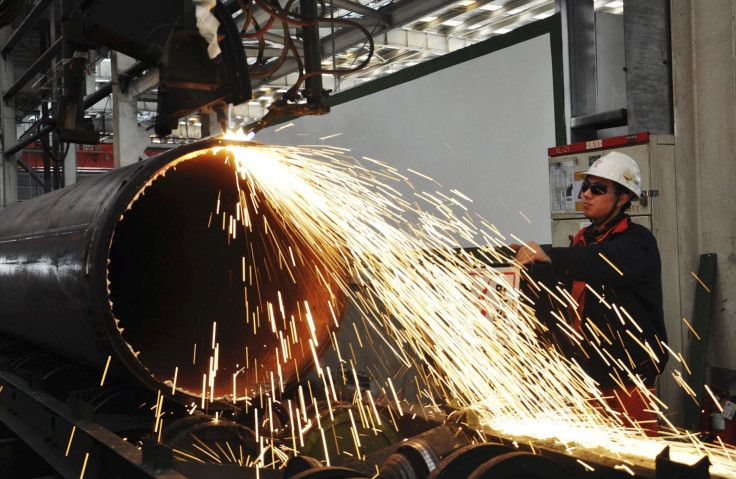 (Reuters) - Activity in China's factory sector expanded in June for the first time in six months as new orders surged, a preliminary HSBC survey showed on Monday, offering new signs the economy is stabilizing thanks to Beijing's measures to shore up growth.
Still, many analysts expect the government may need to roll out further steps in coming months to offset the risks from a cooling housing market and persistent export weakness, after China's premier vowed last week that the economy would not suffer a hard landing.
The HSBC/Markit Flash China Manufacturing Purchasing Managers' Index rose more than expected to 50.8 in June from May's final reading of 49.4, beating a Reuters poll forecast of 49.7 and creeping above the 50-point level that separates growth in activity from contraction.
It was the first time since December that the PMI was in growth territory, and the highest reading since November, when it was also 50.8.
The upbeat report reinforced market expectations that the world's second-largest economy is powering through its recent soft patch, even if the recovery may be patchy.
"This month's improvement is consistent with data suggesting that the authorities' mini-stimulus is filtering through to the real economy," said Qu Hongbin, chief economist for China at HSBC, referring to a series of measures announced by the government in recent months to spur activity. "We expect policymakers to continue their current path of accommodative policy stance until the recovery is sustained," he added.
The preliminary factory reading for June indicates sequential growth could pick up to 1.8 percent in the second quarter from 1.4 percent in the first, Ting Lu, an economist at Bank of America-Merrill Lynch, said in a note to clients.
"We expect Beijing to continue rolling out more measures to stabilize growth," Lu added.
The sub-index for new orders, a proxy to measure domestic and foreign demand, rose to 51.8, the fastest pace in 15 months.
Much of the increase appeared due to stronger domestic consumption, as growth in new export orders slowed sharply.
Still, the survey showed an across-the-board improvement in the vast factory sector, with most of the 11 sub-indices, ranging from output to new orders and stocks of purchases, accelerating from previous months.
The flash PMI data is the earliest indicator in a month to help gauge the economic momentum and thus is closely watched by investors.
Asian stock markets and the Australian dollar firmed on the news.
SUPPORTIVE MEASURES
Beijing has unveiled a series of modest policy measures in recent months to give a lift to economic growth, which dipped to an 18-month low in the first quarter.
Such measures include targeted reserve requirement cuts for some banks to encourage more lending, quicker fiscal spending and hastening construction of railways and public housing projects.
But the recovery has been patchy, and a strong rebound is seen as unlikely.
Exports remain uneven as recoveries in the United States and the European Union do not appear to be giving their usual robust boost to export-reliant Asian economies.
Investment growth also continues to falter, in particular in the real estate sector. Average new home prices in China fell for the first time in two years in May, while new construction slumped by nearly a fifth, adding to the drag on the economy.
Moreover, the preliminary PMI survey's sub-index for employment pointed to jobs still being shed, though the pace of contraction eased from May.
China has set an annual target for the economy to grow about 7.5 percent in 2014 and a recent Reuters poll found that economists expected growth of 7.3 percent for this year, which could be the weakest showing in 24 years.
Chinese leaders have ruled out the possibility of any massive stimulus to pump prim the economy as they tolerate a slower growth rate while pushing ahead with structural reforms.
Premier Li Keqiang said last week that China's economy would continue to grow at a medium to high pace in the long term without strong stimulus.
With no big stimulus seen in the offing, economists expected Beijing to launch incremental fine-tuning steps, especially in the property sector, to encourage steadier economic growth.
"Besides quicker roll-out of 'already in the pipe line measures' and greater fiscal support, the government may have to offer more explicit housing demand support," Tao Wang, an economist at UBS, said in a note to clients.
© Copyright IBTimes 2023. All rights reserved.