China Leading In World's Wind And Solar Race But Still Struggles With One Issue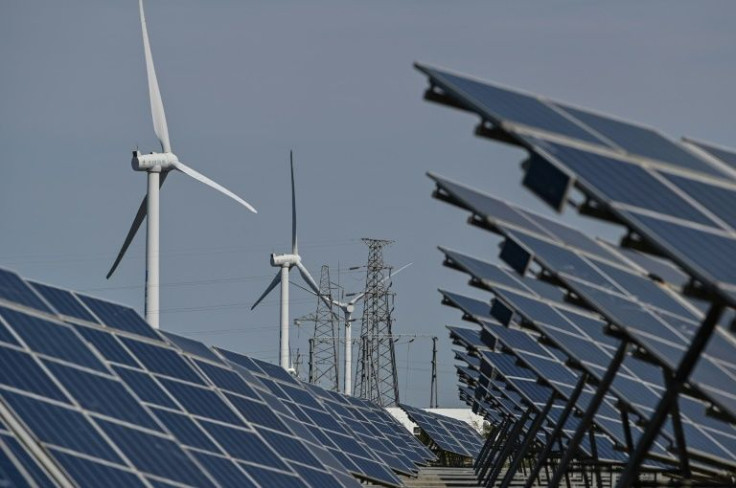 KEY POINTS
China's large utility-scale solar capacity is now more than the rest of the world combined
The country's wind energy has also doubled in capacity since 2017
Despite the strides, China needs to address its reliance on coal to maximize the impact of its green energy targets
With the boom in China's wind and solar power, the country is emerging as a global renewable energy leader and is well on track to meet its green energy targets possibly ahead of schedule, a new report has revealed.
The country's large utility-scale solar capacity is currently more than the rest of the world combined, and their wind energy has doubled in capacity since 2017, according to a new study by Global Energy Monitor (GEM), a nonprofit research organization developing information on energy projects across the world.
China is one of the world's top greenhouse gas emitters, contributing 27% to global carbon dioxide emissions and a third of the world's greenhouse gases. However, current forecasts show that China's green energy targets for 2030 will be crossed by 2025, about five years ahead of schedule, GEM's report noted.
Dorothy Mei, a project manager at GEM and co-author of the report, told International Business Times that several key factors have contributed to China's exponential growth in renewable energy.
"Firstly, the Chinese government has played a crucial role by providing extensive support through policies, regulations, and financial incentives. Generous feed-in tariff subsidies and taxation policies have created a favorable investment environment for renewable energy projects," Mei said. "Additionally, major state-owned banks offer advantageous financing options, ensuring a steady flow of funds for project implementation."
The Chinese government not only set renewable energy targets, but also put pressure on companies and provincial governments to actively work toward meeting them.
"Province-level minimum targets for non-hydro renewable energy consumption are in place, and strict monitoring and audits are conducted to verify actual renewable energy use through the issuance and purchase of 'green certificates,'" Mei continued. "China's heavy investment in infrastructure development has also played a significant role. The construction of large-scale renewable energy bases, transmission lines, and grid integration systems has facilitated the efficient deployment and utilization of solar and wind energy resources."
A final factor that helped China surge past other countries in meeting its green energy targets is its "robust domestic supply chain for renewable energy equipment," Mei added.
"The country benefits from low energy costs, scale advantages, and government support, enabling cost-effective production and deployment of solar panels and wind turbines," she said.
While China's strides could be a key driver in reducing global carbon emissions and also tackling the issue of climate change, there is one major factor the country still needs to address: its persistent reliance on coal.
"China's strategy for clean energy has paid off in terms of bending the curve toward lower greenhouse gas emissions. But it's an open question whether that strategy will pay the necessary dividends to keep the planet safe from temperature extremes," Alice C. Hill, the David M. Rubenstein senior fellow for energy and the environment at the Council on Foreign Relations, told IBT.
"Given China's outsized role in adding to carbon pollution, it needs to move away from coal power-- fast. Yet when clean power runs short, including when climate-fueled drought shuts hydropower plants down, China falls back on coal. To succeed at emissions reduction, China needs to break that cycle," added Hill, who has served as special assistant to President Barack Obama.
It could also be increasingly tempting for China to fall back on coal, especially when the region has been experiencing rising temperatures.
The Chinese government has said that coal power will eventually take on a supportive role in the energy system, Mei said. However, she noted the country has not defined exactly how coal power will act as a backup to renewable energy or what the extent of its support would be.
"It is high time to ramp up investment in clean power generation, prioritize electricity storage, enhance flexibility and transmission capabilities across regions, strengthen energy efficiency requirements and advance other long-term solutions," Mei concluded.
© Copyright IBTimes 2023. All rights reserved.