China Military Expansion: Parade Unveils Ballistic Missile That Could Reach US Bases On Guam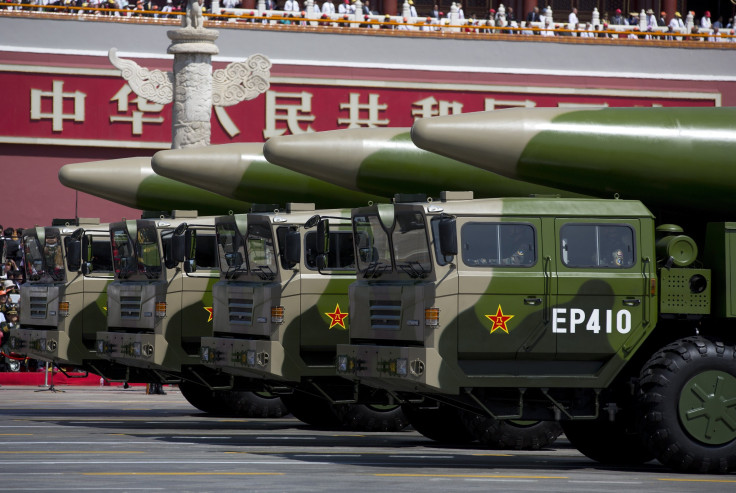 China unveiled the Dongfeng 26, an intermediate-range ballistic missile long hidden from the public, in a military parade Wednesday commemorating the 70th anniversary of Japan's surrender at the end of World War II. Several other Dongfeng missiles were also shown publicly for the first time in the parade, but the DF-26, nicknamed the "Guam Killer," has sparked the most interest.
With a range of 3,000 to 4,000 kilometers, or 1,800 to 2,500 miles, the DF-26 has the capability to reach U.S. bases on Guam, Popular Mechanic reported. Displayed atop a new Transport Erector Launcher, which itself grabbed attention when it was first spotted in mid-August, the DF-26 could be equipped with an anti-ship ballistic missile warhead.
Also featured in the military parade was the Dongfeng 21-D "carrier-killer" missile, the Financial Times reported. DF 21-D is a predecessor to the DF-26 and a medium-range ballistic missile whose development Beijing confirmed in 2011 but which has remained hidden from the public since then. Shao Yongling, a colonel from the People's Liberation Army Second Artillery Command College, said that the DF-21D demonstrated "China's greater confidence in its military strength," according to the Global Times. The DF-21 could potentially travel up to 10 times the speed of sound, Western defense experts told the Financial Times.
"This is the missile that really does potentially encroach on U.S. capability to deploy military power close to Chinese shores. It significantly raises the risks and costs," Ashley Townshend, a research fellow at the U.S. Studies Centre at the University of Sydney, said.
Also on display at the Victory Day parade were several other Dongfeng missiles of varying ranges, about 12,000 troops and 500 armored vehicles, along with other armaments, drones and missiles, City A.M. reported.
China has been upgrading its military capabilities and modernizing its weapons as part of broader efforts to maintain its status as the dominant country in the Asia-Pacific region, aggravating relations with its neighbors in the process. Not only has it been developing new armaments, but China has also built islands in the South China Sea -- exacerbating tensions with the Philippines -- and launched oil drilling operations off the coast of Vietnam in 2014.
© Copyright IBTimes 2023. All rights reserved.