China Stock Markets: Plunge Caused By Falling Yuan, Adds To Concerns About New 'Circuit-Breaker' Mechanism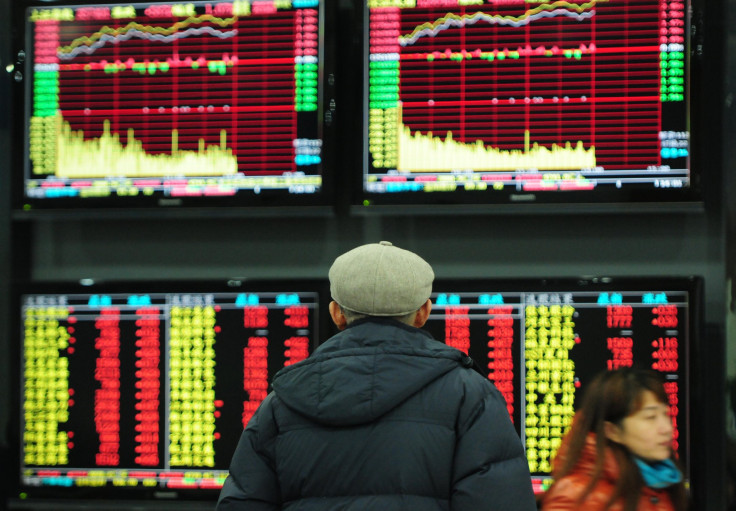 SHANGHAI — The second suspension of trading on China's stock market in four days, after shares fell another 7 percent Thursday morning, is a sign of anxieties about China's economy, which has seen slowing exports and manufacturing output, and, most recently, a slowdown in previously rapid growth in its service sector and sharp falls in value of the yuan against the dollar. But analysts say the plunge in share prices will also raise further questions about the market's new "circuit-breaker" mechanism, introduced Monday, which was designed to prevent the kind of dramatic sell-off that saw the market lose thirty percent of its value in less than a month last summer.
After falling 7 percent Monday, China's stock markets initially stabilized Tuesday and rose more than 2 percent Wednesday, after China's central bank was reported to have injected some $20 billion in funds to help reassure investors. But on Thursday it fell sharply in early trading, and trading was suspended for the day after just half an hour, when the CSI 300 Index of major shares fell 7.2 percent, triggering the circuit breaker. Shares on the secondary Shenzhen market fell even further, by 8.3 percent before trading was halted
Analysts said investors were still spooked by the possibility of a major sell-off Friday, when a six-month ban on major shareholders selling their stocks — imposed last year in an attempt to calm the markets — is due to end. Some investors believe the effective unfreezing of some $170 billion of shares will be followed by a big sell-off, which will depress share values.
On Thursday morning, China's market regulator did announce new rules — which it had said it was considering earlier in the week — aimed at delaying any such sudden sell-off. They require those holding stakes of more than 5 percent in listed companies to apply in advance before selling their stocks. And some observers have said fears of a sell-off are in any case exaggerated.
But some market analysts nevertheless said the regulator had taken too long to announce the policy. As result, they suggested, investors did not see a determination by the government to prop up share values, in a market where sentiment, particularly related to official policy, has always been an important factor. (Experts say this is partly because the majority of trades on China's stock market are made by individual retail investors, some of whom have limited experience of the market: tens of millions people are believed to have opened trading accounts for the first time last year alone, after share prices doubled in six months from late 2014.)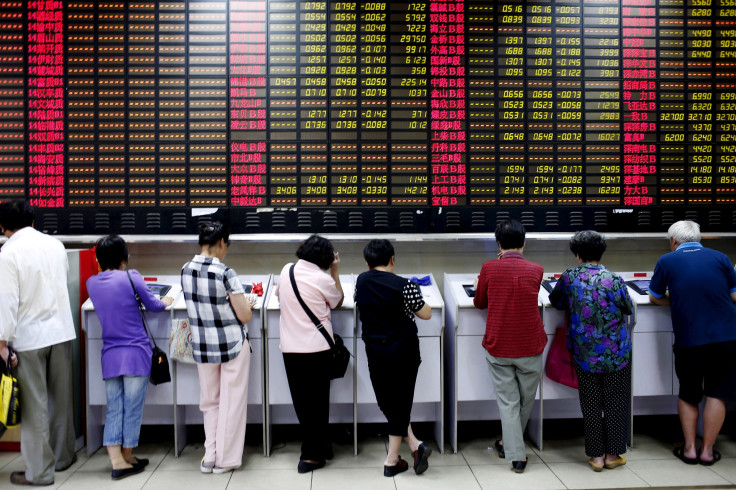 "If the regulator had announced the new rules before the market opened on Thursday — this might have prevented such a big sell-off," Xi Feng, a Shanghai-based commentator, told International Business Times. "Investors felt that the administrators were not taking action to bolster the market, so that added to the sense of panic."
But Xi said concerns at the fall in value of the Chinese yuan, which has dropped to its lowest level against the U.S. dollar in almost five years this week, was another significant factor in the latest market plunge. On Thursday, China's central bank set the official midpoint rate of the yuan at 6.5646 to the dollar.
Last August, the Chinese government effectively devalued the yuan by some 3 percent against the dollar, partly because of fears that the peg to a strong dollar was making Chinese exports too expensive. It also allowed wider scope for the yuan, which is not yet fully convertible, to fluctuate in daily trading against the dollar, leading to further falls in its value. And though the authorities initially spent tens of billions of dollars to prop up the yuan — and state-owned banks have continued buying yuan this week — some analysts now say there are signs that Beijing is willing to let its currency fall further than predicted.
HSBC foreign exchange strategists analysts Paul Mackel and Ju Wang said in a research note Wednesday that there were signs of an "acceleration of flexibility" in the People's Bank of China's foreign exchange policy, adding that the central bank had become "bolder than many had expected" on this issue.
Some analysts say the acceptance of the Chinese yuan into the International Monetary Fund's Special Drawing Rights basket of reserve currencies late last year may have strengthened China's determination to allow the exchange rate to be set by the market — as it seeks to make the currency fully convertible within the coming years.
However, commentator Xi Feng said a lack of a clear official statement about the recent devaluations had spooked investors.
"The market feels that there's been a change in the official attitude to the currency, to let it fall further; personally I think this is the correct policy," he said. "But the lack of an explanation has led to speculation as to whether the currency is falling this fast because that's what the authorities want, or whether they're being pushed by market forces. And the second possibility worries investors, it's affecting their confidence."
The rise in U.S. interest rates last month has also led to more capital flowing out of China's stock market and into dollar-denominated assets in recent weeks, Shanghai-based broker Shenwan Hongyuan said in a research note earlier this week.
But some analysts have also suggested that the introduction of the new circuit-breaker mechanism may have exacerbated volatility on the markets. It provides for a 15 minute pause in trading when the CSI 300 index of major listed companies falls 5 percent, with trading suspended for the day when the index falls 7 percent.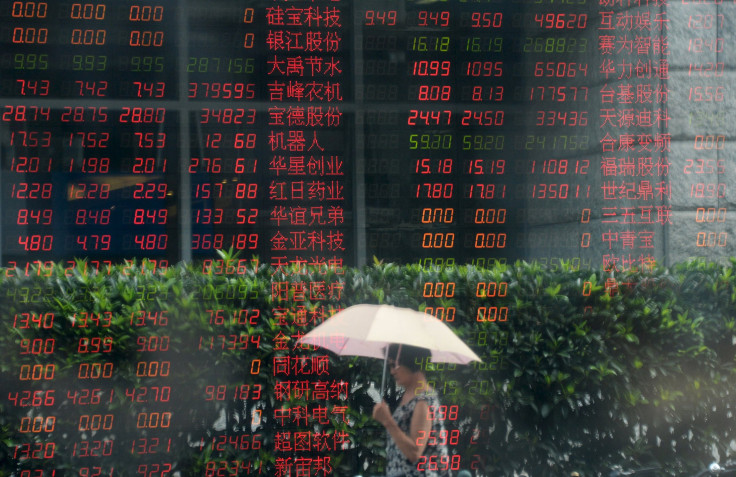 However, some experts have said that the introduction of the suspension 5 percent has only served to panic investors, leading to a rapid plunge to the 7 percent mark as soon as trading restarts.
Zhu Haibin, Chief China Economist for J.P. Morgan, said that the threshold for activating the circuit breaker was too low, given the traditional volatility of Chinese markets.
"The circuit-breaker mechanism should be a tool for calming stock markets in extreme conditions, when the markets undergo dramatic rises or falls. However, considering the degree of volatility in mainland markets in the past few years, fluctuations of 5 percent take place too frequently," Zhu told China's Global Times newspaper. He suggested that setting the thresholds at 7 percent and 10 percent respectively might be more appropriate.
China's stock market regulator said Tuesday that it would inevitably take time for the market to adapt to the new mechanism, and it was studying ways to improve it, though it has yet to give details of any possible changes.
Analysts have pointed out that China's stock market tends to reflect the country's real economy far less directly than markets in most other countries — during the boom in the country's economy in the early years of this decade, for example, the market remained in the doldrums, only beginning to rise in 2014 as the real economy started to slow.
And some observers have been predicting for some time that the market could well fall further this year. Even after Thursday's falls, it remains some 50 percent higher than its level in summer 2014, when it began its boom and bust cycle — some experts have said the authorities intervened too early to prop it up last year.
Nevertheless, the fall in the market represents an inauspicious start to a year in which the government had predicted that China will begin to reverse the slowdown in its economy.
And concern has also been expressed in Hong Kong at the impact of the renewed Chinese share fluctuations on the city's own markets. Hong Kong opened a link to allow a limited amount of trading between its market and Shanghai's in 2014 — and was expected to open a new trading link with the smaller but even more volatile market in Shenzhen this year. However, Hong Kong's South China Morning Post quoted analysts as warning that the circuit breaker was likely to lead to "the export of volatility to Hong Kong's equity market."
Hong Kong's Hang Seng Index was down 2.5 percent in early afternoon trading Thursday. It previously fell more than 2 percent Monday, before recovering slightly.
FOR FREE to continue reading
✔️ Unlock the full content of International Business Times UK for free
offer available for a limited time only
✔️ Easily manage your Newsletters subscriptions and save your favourite articles
✔️ No payment method required
Already have an account?
Log in
© Copyright IBTimes 2023. All rights reserved.