China-Taiwan Relations 2017: Beijing's Liaoning Aircraft Carrier Sails Through Taiwan Strait Prompting Taiwan To Scramble Jets, Navy Ships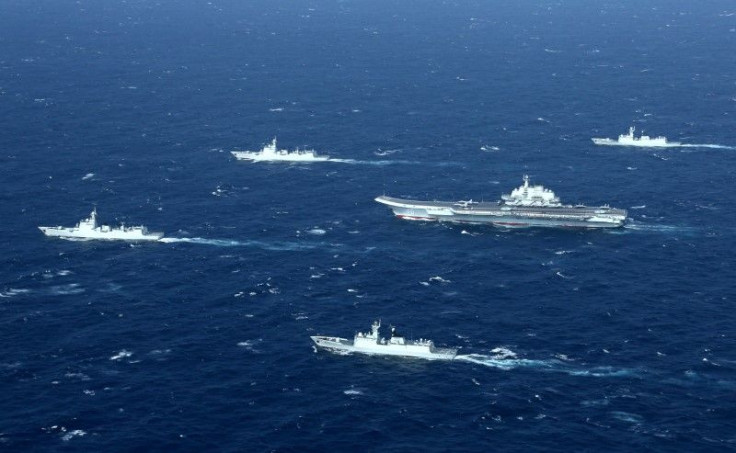 China's only aircraft carrier entered the Taiwan Strait prompting Taiwan to scramble jets and navy ships, the Taiwanese defense ministry said Wednesday. This comes at a time when tensions between Beijing and Taipei have mounted since U.S. President-elect Donald Trump questioned the "one China" policy.
F-16 fighter jets and other aircraft were dispatched Tuesday night to supervise the Liaoning aircraft carrier, which was returning from drills in the disputed South China Sea region, according to reports.
Taipei scrambled jets and navy ships to "surveil and control" the passage of the Chinese ships through the Taiwan Strait, the island nation's defense ministry spokesman Chen Chung-chi said. Taiwanese military aircraft and ships were deployed to follow Liaoning and the warship fleet it led, he added.
Furthermore, Taiwan's defense ministry said there was no need to be panicked over the situation.
"The military is monitoring the whole situation and will act as necessary. We urge Taiwan's people to be at ease," Taiwan's defense ministry said.
"There is no need for us to overly panic," Chang Hsiao-yueh, the chairwoman of Taiwan's Mainland Affairs Council, which looks over the country's relationship with China, said, according to Agence France-Presse. "The national security council has a good grasp of the situation. We are doing what is necessary."
"The government has sufficient capabilities to defend our country's safety," Chang added.
China, however, said that it was "very normal" for the Liaoning to sail through an international waterway as part of its exercises.
"Every year, in this season, China's navy has a few exercises in the near seas and other maritime regions. These exercises are all for training," Liu Zhenmin, vice minister of China's foreign affairs, reportedly said.
Tensions between the two countries have heightened recently. On Sunday, China's state-run newspaper the Global Times warned, in an editorial, that Beijing will take "revenge" if the United States abandons the "one China" policy under Trump's administration.
"Sticking to [the one China] principle is not a capricious request by China upon US presidents, but an obligation of US presidents to maintain China-US relations and respect the existing order of the Asia-Pacific," the Global Times said.
China is already upset with Trump's earlier telephone call with Taiwanese President Tsai Ing-wen. Beijing is suspicious of Tsai and her ruling Democratic Progressive Party, which has pushed for the nation's formal independence.
According to the "one China" policy, there is only a single state called "China" despite there being two governments. People's Republic of China, popularly known as the mainland China, considers Taiwan (officially known as Republic of China) a renegade province. However, Taiwan considers itself an independent country. Both PRC and Taiwan claim to be the lawful government of one China, but in reality, Taiwan has control only over a few small islands.
© Copyright IBTimes 2022. All rights reserved.
FOLLOW MORE IBT NEWS ON THE BELOW CHANNELS