China's $724,000 Ferrari Has Officials Looking Hard At Foreign Car Pricing Practices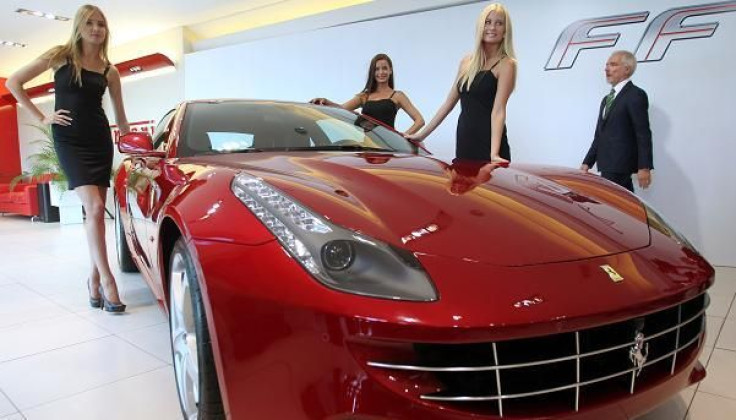 Chinese car buyers have suffered major sticker shock and anti-trust officials are looking to see if illicit trade practices are behind the high price of foreign cars in China.
In some cases, especially in the luxury auto segment, cars in China can cost twice as much as models sold in other markets, especially in the U.S. Local industry advocates have accused foreign auto makers of tooling prices to boost profit margins wider in China than elsewhere.
Automakers point to China's steep 25 percent import tariff, 17 percent value-added tax and a consumption tax based on the size of a vehicle's engine as partly to blame for the high prices, and they have denied accusations of price-fixing schemes.
The row appears to be heating up, at least from the Chinese side, and the implications could lead to punitive measures by anti-trust authorities if they decide there's enough evidence to go after foreign automakers who export cars to China or those that produce their brands in China through joint ventures with local car companies.
The country has moved in recent months to curb purchases of luxury foreign auto brands by state officials, raising suspicion that the row over foreign auto prices could be part of the larger agenda to promote the sale of domestic luxury brands.
Now, the China Automobile Dealers Association (CADA), the country's top dealers' advocacy group, is working with the National Development and Reform Commission, which is in charge of investigating and enforcing the government's anti-trust laws, to collect pricing data on foreign cars sold in the country.
"We see there's a big difference in the prices of imported cars in China and their overseas prices," Luo Lei, CADA deputy secretary-general, told Reuters on Tuesday. "We're looking into that."
As reported in International Business Times last month, a review of cars listed on a Chinese auto sales website compared to those on a U.S. auto vending site showed steep differences in pricing. For example, the Audi A4 -- a popular luxury model in China from the automaker owned by Volkswagen AG (FRA:VOW3) -- can cost twice as much in China as the comparable model in the U.S.
The state-owned Xinhua news agency, a government mouthpiece, lambasted foreign carmakers in an editorial last month, naming Volkswagen, Audi and Bayerische Motoren Werke AG (FRA:BMW) in particular.
In China, the Ferrari 458 Italia costs between $632,789 and $723,923 in China. In the U.S., this super-luxury, high-performance Italian muscle machine will set you back only about $230,000.
Imported and foreign-branded cars tend to cost more in emerging markets than they do in established ones, largely because of government-imposed protective tariffs aimed at promoting the purchase of locally manufactured cars and steep taxes on luxury goods. Local distributors and dealers also have been known in countries like Mexico and Saudi Arabia to exploit connections to local authorities to corner local markets, which can lead to higher prices.
Whether global automakers are ripping off Chinese consumers has yet to be established.
© Copyright IBTimes 2023. All rights reserved.