China's Smoking Culture: A Nation's Struggle To Kick The Habit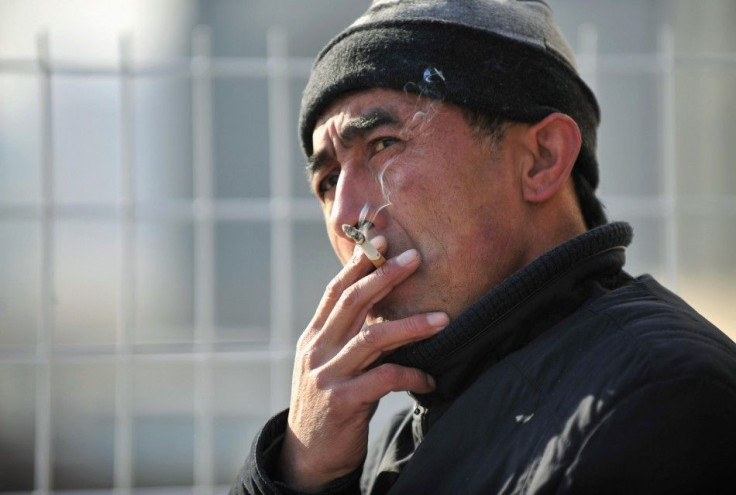 Smoking, a deeply rooted tradition in China, has just as much cultural significance as the country's famous tea industry. Perhaps that is why it is not surprising that tobacco's harmful effects, even after a series of health reforms and bans, are still apparent in China.
Xinhua News Agency reported that a majority of reproductive-aged women are still exposed to secondhand smoke.
The World Health Organization (WHO) conducted a survey with the Chinese Center for Disease Control and Prevention and found that over half of the women who fall into this age bracket, 15-49, suffer from secondhand smoke in the workplace.
China also topped a list of developing countries that has the most reproductive aged women suffering from passive smoking. Others included on the list were India and Brazil.
Dr. Michael O'Leary, a WHO representative in China, said that though it is recognized that secondhand smoke has harmful effects on everyone, the effects on women in this particular age group could affect future pregnancy decisions.
"Secondhand smoke exposure in reproductive-aged women can cause adverse reproductive outcomes, such as pregnancy complications, fetal growth restriction, preterm delivery, stillbirths, and even infant death," Dr. O'Leary said.
China's smoking habits are ingrained in the population. In China's ancient history, tobacco was heralded by military generals to have morale boosting powers and was crucial to the military. A common scene in the stereotypical Chinese workplace is a cup of tea in hand with a cigarette between two fingers.
Last May, as a part of the country's 12th Five-Year development plan, China's estimated 350 million smokers were banned from smoking in any public places indoors, such as hotels and restaurants. Smoking in the workplace, however, is still permitted.
But the smoking ban goes for the most part unenforced and not penalized.
The Telegraph even reported that even China's Ministry of Health is unable to ban smoking it its offices.
Cigarettes are also a much cheaper habit to keep than many other vices, especially in China. Street vendors can sell individual cigarettes, but even a pack can be purchased for the equivalent of less than 2 U.S. dollars.
Aside from that, according to a report by China Daily, tobacco accounts for more than 7.5 percent of China's total central government revenues, a percentage that is hard to ignore especially as China's growth numbers start to peter out.
It was not until this year when workplaces were encouraged to pledge to promote completely smoke-free work environments by a joint effort between China's Ministry of Health and the U.S. Department of Health and Human Services.
However, a pledge, or an unenforced ban, may not be enough to force the Chinese to quit their addiction. It will take the implementation of legally binding consequences in order for the Chinese people to finally kick the habit.
© Copyright IBTimes 2022. All rights reserved.
FOLLOW MORE IBT NEWS ON THE BELOW CHANNELS