Chinese Luxury Shopping Trends 2014: No Logos And Less Money Driven By Anti-Corruption Measures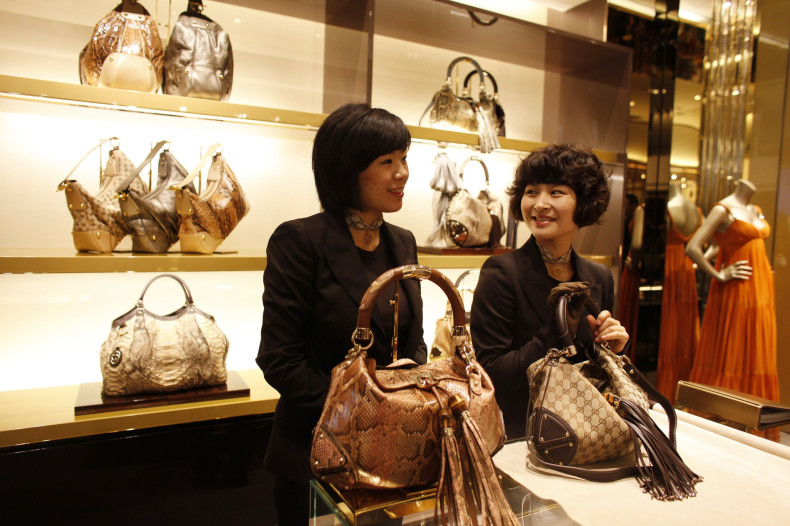 Say hello to the Year of the Horse -- the Chinese New Year is here and it marks the heaviest holiday shopping season for China, a time when many spend plenty of yuan on luxury items. But while in previous years most nouveau riche Chinese believed more is more, the trends in China this year may be decidedly different.
The biggest trend, of course, is that growth in luxury consumption is down, due to the government's ongoing anti-corruption campaign, Ad Age reported on Tuesday.
Wealthy Chinese spent 15 percent less in 2013 than they did in 2012, and 25 percent less on gifts, according to a survey from Hurun this month, and luxury brands are preparing for a disappointing 2014. The reduced extravagance is "here to stay -- this is the new way forward," said Ruper Hoogewerf, chairman and chief researcher of the Hurun Rerport.
Aside from not wanting to display their wealth for political reasons, the Chinese are also now realizing showy and bling aren't always good. The online buzzword of tuhao, which means nouveau riche and ridicules people with wealth yet no taste, is "very reflective of a new era of Chinese consumption -- you no longer buy the most expensive product because your mates will say, 'you're such a tuhao,'" Hoogewerf said.
Similarly, whereas brand-name logos are equated with wealth, consumers are now "moving away from logos and trying to be more discreet in their designs," said Shaun Rein, founder of the Shanghai-based China Market Research Group. Past favorites like Louis Vuitton and Gucci are passed over for brands like Burberry, Coach, Miu Miu and Tiffany, according to Ad Age.
But the good news is, even with the slowdown, wealthy Chinese are still spending, at least when they're outside of China. The report from Bain & Company said China's consumers make two-thirds of their luxury purchases abroad because prices are lower there. Many luxury boutiques now employ Chinese-speaking sales associates to cater to wealthy Chinese travelers.