Chinese Media Says Supreme Court Gay Marriage Ruling 'Hype' Will 'Induce Potential Homosexuals'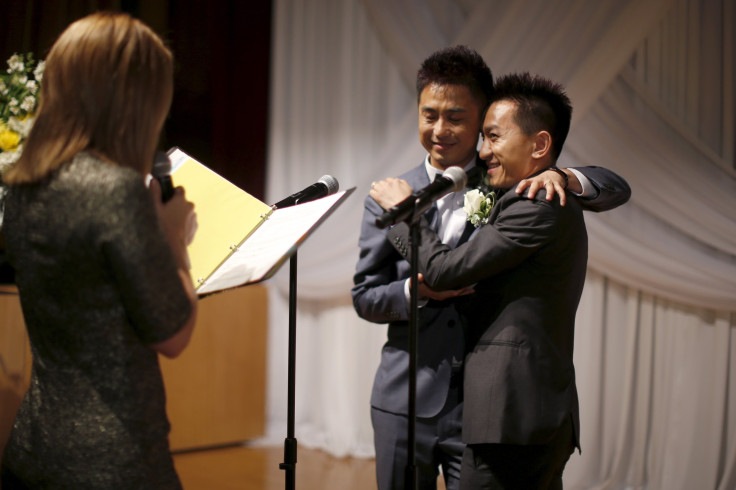 Annual LGBT Pride celebrations this past weekend from San Francisco to New York were extra spirited with rainbow flags dotting storefronts and elaborately decorated floats meandering down the streets following the landmark U.S. Supreme Court ruling that made same-sex marriage legal in all 50 states. Across the globe in China, however, resistance still seems to be the official Communist Party line.
"The evolution will affect Asian countries, including China, but they won't follow quickly and neither should we therefore blame ourselves," China's state-run Global Times newspaper wrote in an op-ed Monday about the SCOTUS ruling. "Society needs to show increasing tolerance for gay marriage, but it's unnecessary to hype it up to induce potential homosexuals."
The editorial continued: "The significance of legalizing same-sex marriage is to protect minority rights. But it remains uncertain whether same-sex marriage will weaken the solemnity of heterosexual ones."
Gay marriage is not legal in any Asian country, but as China increasingly aims to be a regional leader and more largely a global power, the country's position on gay marriage sets the tone for any future potential for marriage equality. On paper, China is a nation that would be most inclined to legalize gay marriage given its lack of religious ties under the ruling officially-atheist Communist Party. Still, the country of 1.3 billion has been slower than its western counterparts to recognize same-sex marriage. Homosexuality was not decriminalized in the country until 1997 and while gay lifestyles are increasingly accepted among young people, LGBT rights are rarely discussed.
The Op-ed encapsulates much of the indecisiveness of how homosexuality is viewed in China, at least on an official level. In one paragraph, the editorial says that it is "an insightful choice to protect the role of heterosexual marriage" followed immediately by saying "the right of homosexuals to have relationships deserves to be protected."
Despite a tepid reaction from official media, activists in China say the U.S. Supreme Court ruling has reignited conversation in the country where some clinics still offer so-called "conversion" therapy that can "cure" people of homosexuality about the legalization of gay marriage and the rights of gay people. "The U.S. ruling has been hailed by Chinese society and this will be a boost for the gay rights movement here," Li Yinhe, a sexologist and advocate of gay marriage said on Monday in a separate Global Times report. "I've noticed that that there are more heterosexuals who support [gay marriage]."
© Copyright IBTimes 2023. All rights reserved.