Chinese Media Urges Taiwan To Abandon Independence 'Hallucination' After Opposition Leader Tsai Ing-Wen's Victory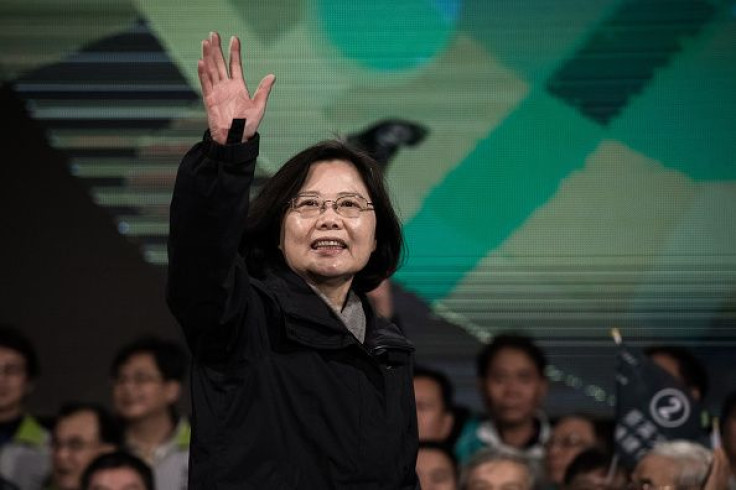 Taiwan should abandon its "hallucinations" about pushing for independence and any moves toward it would be a "poison," Chinese state-run media warned Sunday, after the island's independence-leaning opposition Democratic Progressive Party achieved a landslide victory Saturday. Chinese government-controlled media warned DPP leader Tsai Ing-wen not to start another round of instability with Beijing, which claims self-ruled Taiwan as part of its territory.
"If there is no peace and stability in the Taiwan Strait, Taiwan's new authority will find the sufferings of the people it wishes to resolve on the economy, livelihood and its youth will be as useless as looking for fish in a tree," the official Xinhua News Agency reportedly said.
The Global Times, published by China's ruling Communist Party's official People's Daily newspaper, said in an editorial Sunday that if Tsai's administration sought to "cross the red line" like Chen Shui-bian, DPP's last president, Taiwan would "meet a dead end."
"We hope Tsai can lead the DPP out of the hallucinations of Taiwan independence, and contribute to the peaceful and common development between Taiwan and the mainland," it added, in the editorial titled "Taiwanese choose Tsai, not independence."
Tsai won 56.1 percent of the vote in the elections to sweep aside rival Eric Chu of the China-leaning Nationalist Party that had ruled Taiwan since 2008. The 59-year-old, Taiwan's first female president, pledged to defend the sovereignty and separate identity of the island, which has a population of 23 million, while China's Taiwan affairs office warned it would oppose any move toward independence. To be sure, Tsai has vowed not to declare independence, and promised to "maintain the status quo for peace and stability across the Taiwan Strait" and "ensure that no provocation or accidents take place."
China's foreign ministry told Xinhua: "There is only one China in the world, the mainland and Taiwan both belong to one China and China's sovereignty and territorial integrity will not brook being broken up." It added that "the results of the Taiwan region election does not change this basic fact and the consensus of the international community."
With an absolute majority of 68 seats in the 113-seat legislature, Tsai's administration wields strong policy-making ability over the next four years.
Chinese academics have reportedly expressed concern that Tsai did not acknowledge China's claims over Taiwan in her victory speech and said that she was evasive about issues between Taiwan and the mainland. Meanwhile, the White House congratulated Tsai and said the U.S. maintained a "profound interest" in peace between Taiwan and China.
© Copyright IBTimes 2023. All rights reserved.