Chinese Universities Become More Attractive For Budding Fortune 500 CEOs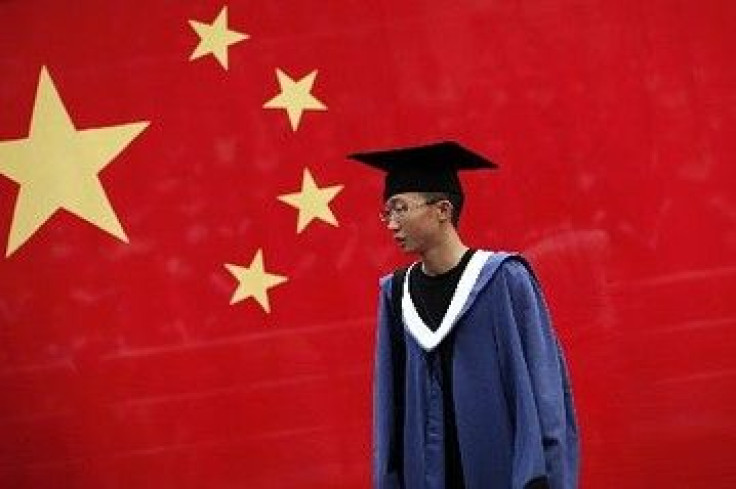 Many of China's colleges and universities are becoming increasingly competitive, and according to a British study, they are attracting global talent and putting themselves on a global map of top institutions that's been long dominated by American universities.
A new study by British-based Times Higher Education has ranked the world's univerisities using the Alma Mater Index, which charts the number of global CEOs a given institution has produced.
Boston-based Harvard University unsurprisingly tops the list with 25 graduates who are on Fortune magazine's Global 500 CEOs list. However, climbing the list of CEO-producing universities were 15 mainland-China institutions and one Hong Kong university. The highest-ranking Chinese institution, Beijing-based Tsinghua University, was number 13 on the list, with seven top CEOs. One big draw: its competitive joint MBA program with the Massachusetts Institute of Technology.
Other schools on the list included Shandong University, China Europe International Business School, and even the Communist Party Central School, all of which produced three CEOS and ranked on the list at 30, 42 and 47, respectively. Coming in at 67 and 72 were Southwest Jiaotong University and the Hong Kong Polytechnic University, which produced big names in communication technology.
But even for those who may not yet have their sights on running their own global company, China has still become an attractive destination to pursue a higher education. According to a report by the South China Morning Post, there is a new trend of South Korean students turning to their Asian neighbor for schooling instead of the U.S.
"I chose China over the U.S. as China is the future," said Lee Eun-yul, a South Korean student who did her master's degree at the aforementioned China Europe International Business School in Shanghai., a decision that she said helped her land a job at Korean company Samsung Electronics. "My experience in China opens more exciting opportunities and I expect more challenging work when I join [Samsung this month]," she said. But Lee isn't the only one of her peers who saw their future in China. According to the report, the number of South Koreans studying in China was more than double that of 10 years before, with a recorded 62,855 students, South Korea's Ministry of Education reported.
Though the U.S. is still seeing more students from South Korea, with 73, 351 South Koreans traveling to the U.S. for schooling, many believe the rush to China is just beginning. "It's only the beginning in the shift in Koreans' appetite for education towards China from the U.S.," Cho Jin-pyo, the head of Seoul-based Wise Mentor, a career consulting company, said. "A flood of Korean students will follow companies going to China for jobs."
While learning English used to be a key asset in the global business world, the Chinese language is an increasingly important business kill. "Studying in China offers another language skill and human network, a qualification that sells well to companies expanding their Asia businesses."
© Copyright IBTimes 2023. All rights reserved.