'Chivalry 2': Official Release Date For Medieval First-Person Slasher Announced
KEY POINTS
"Chivalry 2" is set to release on June 8
The closed beta will be playable starting March 26 for those who preordered the game
The game will feature larger battles and an improved combat system
"Chivalry 2" is coming soon. Nearly two years since its first announcement, Torn Banner Studios has finally revealed the release date for the sequel to the hit medieval multiplayer slasher game "Chivalry: Medieval Warfare."
"Chivalry 2" is set to release on June 8, according to the game's official website. A closed beta will also be available for those who decide to preorder the game ahead of its release. The beta will be accessible from March 26, and presumably, it will last until the game's official release.
The first "Chivalry" game introduced a melee-focused multiplayer game to the gaming community back in 2012. It featured a unique melee combat system that focused on parrying blows and faking swings in order to land hits on enemies. It also featured 32-player objective-based game modes as well as traditional game modes like Team Deathmatch, Capture the Flag and Duels.
"Chivalry 2" promises an even bigger scale, refined combat and more medieval shenanigans. The game will feature an improved combat system that will allow for faster exchanges of blows between players, an array of new moves, new traps and tools, armored mounts that allow for devastating cavalry charges and bigger 64-player battles.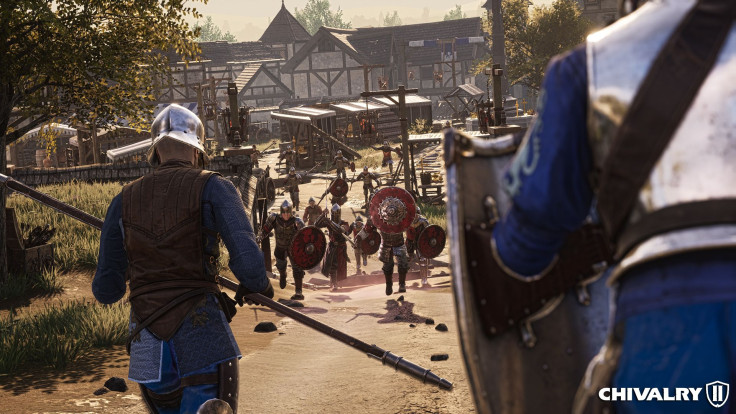 According to Torn Banner, they want to focus on recreating big battles from medieval movies. As such, they gave extra attention to teamfights in "Chivalry 2," making sure that the combat system was adaptable enough to let both group and one-on-one combat feel smooth without watering down the game's complexity.
A recently released trailer shows players will be able to morph attacks similar to "Mordhau," another medieval slasher game that many considered to be the spiritual successor to "Chivalry." Players will also be able to throw objects like cartwheels, barrels, weapons and even chickens.
The game's combat system will be complemented by stunning sound design that aims to make every hit feel as brutal as it looks.
"Chivalry 2" will be coming to PC via the Epic Games Store as well as the PS4, PS5, Xbox One and Xbox Series X. A Steam release is expected in the future. The game will feature full crossplay capabilities across all platforms.
© Copyright IBTimes 2022. All rights reserved.
FOLLOW MORE IBT NEWS ON THE BELOW CHANNELS