Christmas 2013 NBA TV Schedule: When And Where To Watch Every Basketball Game On Wednesday, Dec. 25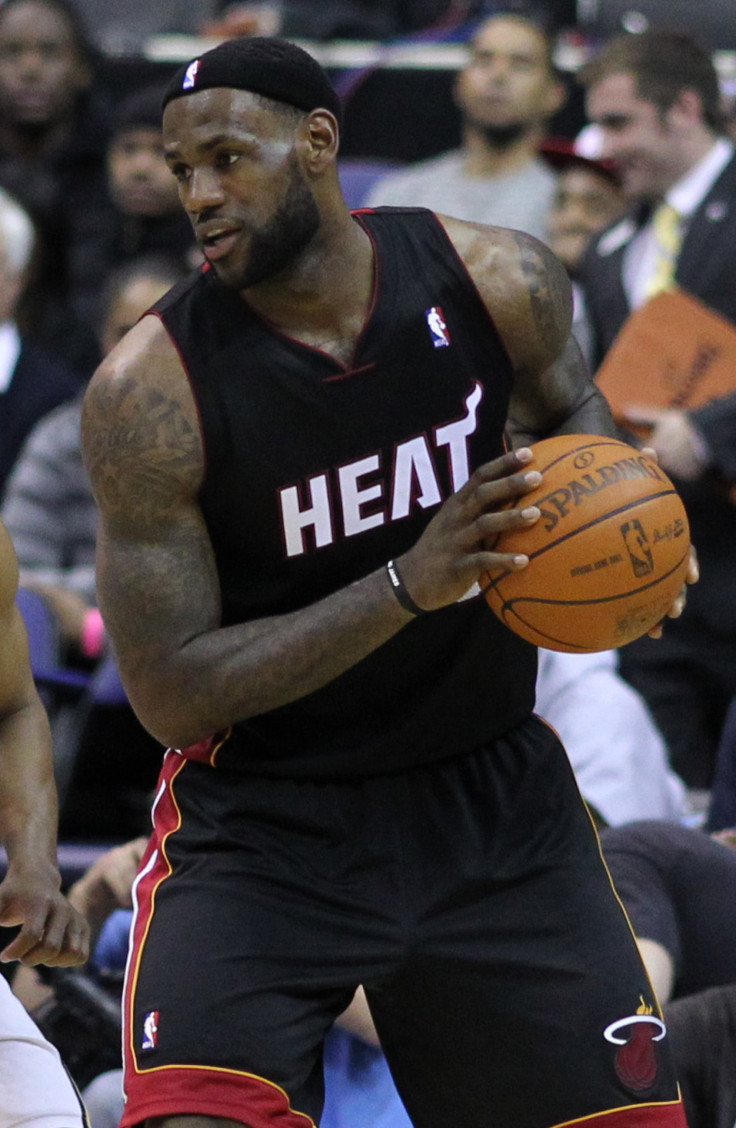 Looking for something to watch on television while celebrating Santa Claus' arrival? The NBA has you covered. The league will broadcast a full slate of marquee matchups on Christmas Day.
The Christmas 2013 NBA TV schedule kicks off with a matchup between the Chicago Bulls (10-16) and the Brooklyn Nets (9-18). Each of these Eastern Conference contenders has recently suffered the loss of a key player to serious injury -- the Bulls will have to make due without the services of former NBA MVP Derrick Rose, while the Nets will have to survive without their leading scorer and best low-post presence, Brook Lopez. Both teams will be looking to turn around their disappointing 2013-14 seasons with a win on Christmas Day.
Next, the New York Knicks (9-18) will play host to the Oklahoma City Thunder (22-5) at Madison Square Garden. Led by perennial All-Stars Kevin Durant and Russell Westbrook, the Thunder currently possess the second-best winning percentage in the NBA.
The Miami Heat (21-6) will renew their Christmas Day rivalry with the Los Angeles Lakers (13-15) at 5 p.m., ET, but will not have to contend with Kobe Bryant, who will miss the next several weeks with a knee injury. Still, the Heat will look to reassert their dominance over a middling Lakers squad.
At 8 p.m. ET, the Houston Rockets (18-11) will face off against Tim Duncan and the rest of the San Antonio Spurs (22-6) on ESPN. The Spurs and Rockets currently sit at first and second in the Western Conference's Southwest Division, respectively, and will each seek to secure bragging rights on Christmas Day.
Finally, Blake Griffin's Los Angeles Clippers (20-9) will travel to Oracle Arena to take on Stephen Curry and the Golden State Warriors (16-13). Both teams are riding winning streaks and will seek to close out the NBA's slate of holiday games in style.
Not a fan of the NBA? Christmas 2013 will also feature a NCAA basketball showdown, as 14th-ranked Iowa State takes on Boise State on ESPN 2. A full preview of the Wednesday, Dec. 25, basketball TV schedule can be viewed below. Check your local listings for the channel.
NBA
Chicago Bulls at Brooklyn Nets, 12 p.m. ET (ESPN, YES Network, WGN)
Oklahoma City Thunder at New York Knicks, 2:30 p.m. ET (ABC)
Miami Heat at Los Angeles Lakers, 5 p.m. ET (ABC)
Houston Rockets at San Antonio Spurs, 8 p.m. ET (ESPN, CW35, CSH)
Los Angeles Clippers at Golden State Warriors, 10:30 p.m. ET (ESPN, CSBA, PRIME)
NCAA Basketball
(14) Iowa State vs. Boise State, 8:30 p.m. ET (ESPN 2, ESPN 3)
© Copyright IBTimes 2023. All rights reserved.