Cleft Lip And Palate In Ghana: How Repair Surgery Can Change Lives, Boost Local Economies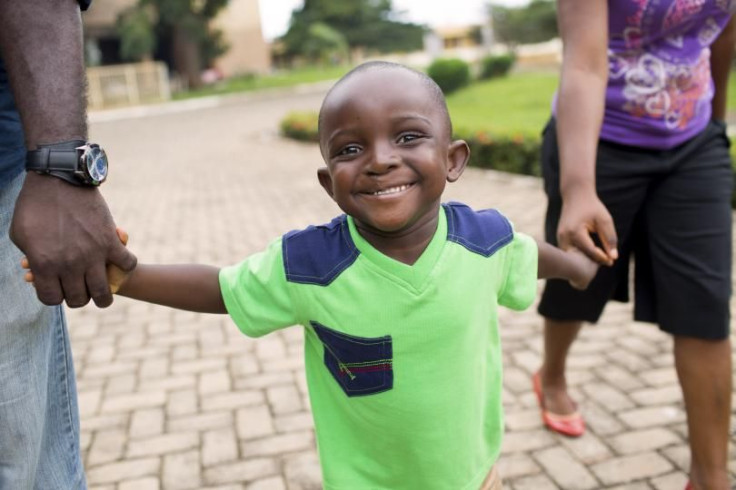 When Peter was born six years ago, his mother abandoned him in the very hospital where she gave birth in Ghana's southern Ashanti region. He came out of her womb with a gaping split in his face from lip to nose. Like many babies with cleft lip and palate in West Africa, Peter was deemed cursed.
Believed to be bringers of bad luck or "spirit children," cleft babies such as Peter are frequently ostracized by their families and communities, forced to live in destitution and isolation, and denied access to educational and employment opportunities. This stigmatization is acute in remote areas of Ghana, where a lack of awareness perpetuates the superstition that clefts are curses or evil omens. The condition can be corrected with surgery, but it often goes untreated in Ghana because of the cost and a lack of trained doctors and facilities. Some of the children are simply killed at birth.
To tackle the crisis, a growing number of healthcare workers are hoping to persuade governments in Africa to help spread awareness and cover the cost of treatment by making the case that doing so would boost the continent's struggling economies. A study recently published in the World Journal of Surgery found that, at a cost of $250, a cleft repair operation can boost local economies around the world by as much as $50,000 per patient as that individual goes on to lead a full, productive life, free of health complications and stigma. Those who have the surgery typically then receive an education, get a job, start a family and thus contribute to economic productivity. This triggers a ripple effect that has salutary effects not only on the patients but also on entire communities and regions, experts said.
"It's devastating if you have cleft," said Dr. Scott Corlew, a co-author of the study and plastic surgeon who has conducted research in Ghana. "Yet it's fixable, and it doesn't require a gazillion resources to do it."
The independent study analyzed data from cleft operations performed by the New York-based charity Smile Train in 83 countries between 2001 and 2011. It found these procedures contributed as much as $20 billion to the global economy in that 10-year period, including an economic impact of up to $441 million in sub-Saharan Africa. That means the return is 200 times the investment in a single cleft repair surgery.
More than 170,000 babies are born each year in developing countries with cleft lip and palate, according to data compiled by Smile Train. The defect happens very early during pregnancy inside the womb when the tissues that form the roof of a baby's mouth and the upper lip do not join together properly. With a cleft lip, the skin of the upper lip is split on one or both sides of the mouth, and the gap can extend beyond the base of the nose. With a cleft palate, there is an opening in the roof of the mouth. Children may be born with either condition or both. Babies born with cleft lip usually don't have feeding difficulties, but those with cleft palate can have trouble latching on to their mothers' nipples and thus can suffer malnutrition.
There are many possible causes of clefts. In most cases, researchers believe it is the result of environmental and genetic factors. An estimated 1,000 children are born in Ghana each year with cleft lip and palate, with one out of 10 dying in their formative years. The condition is not unique to developing countries. A baby is born with cleft every three minutes worldwide, according to Operation Smile, an international charity that provides free surgeries to cleft children. Clefts are the fourth most common birth defect in the U.S., where there is better access to and awareness of cleft care and the condition rarely goes untreated.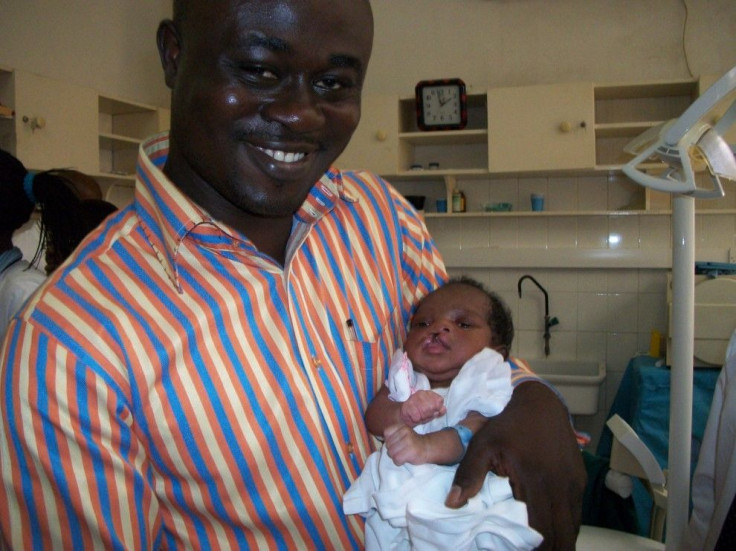 For cleft lip, the repair surgery is all but foolproof with a patient typically requiring no further treatment or related expenses. For cleft palate, however, a patient will need to see a speech-language pathologist, an orthodontist and possibly other specialists in the coming months or years after having corrective surgery. Children born with cleft palate commonly have speech difficulties at some point in their lives, as well as ear infections and hearing loss. Clefts can also cause malformed, malpositioned or missing teeth.
"Once you repair the kid's cleft lip, it's fixed," said Corlew, who has met with cleft surgeons in sub-Saharan Africa. "The operation is not 100 percent the cure with cleft palate."
Cate Crowley, a speech pathologist and professor of practice at Columbia University's Teachers College in New York who has led annual trips for graduate students to Ghana during the past decade, said babies as young as 10 weeks old can have surgery to repair a cleft lip. Babies with cleft palate typically must be 9 months old to have their corrective operations. Crowley said she's also seen a handful of adults have clefts repaired easily, although they require more intensive therapy to correct speech problems.
"With cleft, you can have complete success with a patient, and that's very unusual. You fix the lip, you fix the palate, you fix the speech, and you're good," said Crowley, who is establishing the first speech-language pathology program in the nation at the University of Ghana in the capital Accra. "It may sound like a lot, but it's just a few months of speech therapy. It moves quickly if you know what you're doing."
Cleft repair surgery is rarely conducted in West Africa because it requires a specially trained surgeon, an anesthetist and a major hospital. And many parents there can't afford the transportation costs, let alone the surgical cost. The $250 cost of the surgery, plus the potential follow-up expenses, is a steep price for the average Ghanaian who earns $1,590 per year.
There are only a handful of cleft clinics and trained surgeons in Ghana, with most of them located in urban areas in the more-developed south. The country has the highest emigration rates for highly skilled people in West Africa, especially among medical professionals. An International Organization for Migration study in 2010 found that 56 percent of the doctors and 24 percent of the nurses who were trained in Ghana were working abroad.
The same is true of the teachers who are charged with training Ghana's next generation of medical professionals. The study found that 60 percent of faculty positions at polytechnical schools and 40 percent of such positions at public universities in the country are vacant. Access to education and primary school enrollment rates are actually increasing in Ghana, but a lack of employment opportunities, poor working conditions and low wages are driving this so-called brain drain, or the emigration of highly skilled workers.
The $250 cost of surgery ... is a steep price for the average Ghanaian who earns $1,590 per year.
Ghana's overall poverty level has declined considerably in recent years, but rural regions in the north remain impoverished. There, basic infrastructure is lacking and the poverty rate is two to three times the national average.
Dr. Peter Donkor, a Ghanaian surgeon who founded the cleft clinic at the Komfo Anokye Teaching Hospital in Kumasi in the Ashanti region, said international charities and outreach can help with the surgical costs as well as the shortage of staff and equipment in the short term, but they aren't sustainable solutions.
"Ghana and other countries have all been too ready to embrace charity," said Donkor, who returned to the country in 1995 after training as a maxillofacial surgeon in Australia. "The problem with outreach is it can create a situation where the locals are looked down upon because they are seen as incapable of what you are about to do ... Ultimately, the success of any service is that the locals are capable of providing it."
Improving healthcare infrastructure, building local capacity and increasing opportunities for skilled Ghanaians is all easier said than done, of course. The government is already strapped for cash. Despite the country's vast oil reserves, large gold deposits and lush cocoa farms, Ghana's economy grew by just 3.9 percent last year, around the same pace it did a year earlier and close to its slowest recorded rate in 20 years. High inflation and sinking revenue from low commodity prices are straining the federal budget, and an electricity crisis that has seen years of frequent blackouts, known in Ghana as "dumsor," has hindered industrial growth and productivity.
"From pretty much every macroeconomic angle, Ghana is in a bad spot," said Alexa Lion, a senior analyst for sub-Saharan Africa at Frontier Strategy Group, a global research and advisory firm that specializes in doing business in emerging markets.
Ghanaian GDP Per Capita Growth Rate | FindTheData
While the massive return on investment associated with cleft repair surgery may not be enough to save an ailing economy, experts said, it can certainly be life-changing for impoverished locals. In poorer and remote regions of Ghana, children born with cleft typically do not attend school because their parents won't allow them outside the house, their teachers and classmates shun them, or they have a speech impediment that prevents them from participating. They face just as much stigma in adulthood, struggling to find work and frequently living isolated lives because their communities believe they are witches or that their defects represent a contagious disease.
"The stigma is so big that even the patients that we see in my clinic are usually hidden from view by the parents until the surgery is done," said Donkor, who created the Ghana Cleft Foundation, a nonprofit organization based in Kumasi that provides outreach cleft surgery for remote communities throughout the country. "If you repair cleft, you change a life completely, and that individual who would otherwise shy away from school will be able to get an education and have a normal life into adulthood."
Charities such as Smile Train also provide free cleft repair surgery, training for local surgeons and financial support for medical equipment and health centers in Ghana. But experts said the stigma and the lack of awareness surrounding cleft still prevents many people from getting the surgery they need.
"Awareness is absolutely critical," said Smile Train CEO Susannah Schaefer. "Children are still being hidden away, they are ostracized." Schaefer said the organization, which has worked in Ghana since 2004 with six active partner surgeons and four partner hospitals, is also looking to join forces with local governments and transportation companies to improve awareness and patient mobilization.
Cleft Lip and Palate Overview | HealthGrove
Ghanaian filmmaker Priscilla Anany, who moved to the U.S. to continue her education when she was 20, interviewed many mothers of cleft children while researching her latest movie, "Children of the Mountain," which tells the story of a mother in rural Ghana who gives birth to a baby with cerebral palsy and Down syndrome, as well as cleft lip. Anany said her crew offered to arrange repair surgery for the 6-month-old baby who starred in the film, which made history last month as the first Ghanaian movie to premiere at Tribeca Film Festival in New York. But the baby's mother declined the crew's offer.
"She believed her child was a god, and she didn't want to change that," Anany said. "Some mothers in Ghana refuse cleft surgeries for their children because they believe their children are destined to be the way they are."
Some communities will leave babies with birth defects to die by abandoning them or withholding food, while others actively kill them because they are considered evil spirits, according to a 2001 study on childhood mortality in Ghana.
In the case of Kodjo, cleft repair surgery was life-saving. When he was born with cleft lip and palate in the rural town of Akwatia in eastern Ghana, his community believed he was the child of the river gods who needed to be drowned in a religious sacrifice conducted in accordance with local custom. With Kodjo on the verge of death, a villager intervened and brought him to local cleft surgeon and Smile Train partner Dr. Solomon Obiri-Yeboah, who repaired the baby's split lip and mouth without cost at the Komfo Anokye Teaching Hospital.
"We encouraged them to go back to their village and show that surgery can be done," Obiri-Yeboah said. "After Kodjo, two more cleft babies from the same community came. Now, all the leaders in that community are aware that it's not a disease, it's not any god or anything."
Now 4 years old, Kodjo attends school in Akwatia where he lives with his mother. However, his father refused to accept him even after surgery. Obiri-Yeboah, who has three children of his own, said he has become the father figure in Kodjo's life, paying for the boy's education and helping the mother buy food and clothes. He also gave Kodjo his last name.
"Everybody is fond of him. He goes to school, and they don't laugh at him," he said.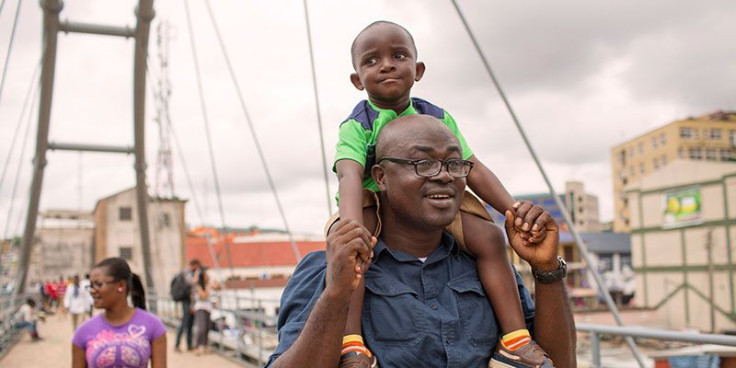 Healthcare workers and advocates hope other sucess stories will help raise awareness.
Shocked by the holes in his face, Peter's mother left him at the Komfo Anokye Teaching Hospital soon after giving birth. Peter was about to be sent to a home for disabled children, where many kids have reportedly suffered neglect, mistreatment and abuse that in some cases even led to death. But Dr. Alexander Oti Acheampong, a cleft surgeon at the hospital and Smile Train partner, stepped in at this point. Within months, Oti Acheampong helped give Peter the cleft repair surgery he needed and eventually decided to adopt the orphaned baby.
"When I first met Peter as a newborn with a cleft and learned he was abandoned and disowned by his mother, it was something I could not imagine," Oti Acheampong said. "This was heart-wrenching to me."
Peter, who has taken Oti Acheampong's last name, is now living a very different life than what he probably would have in the event he had not undergone corrective cleft surgery. The first grade student at the D&D Academy in Kumasi loves to play soccer and dreams of becoming a lawyer one day.
Peter has no recollection of the surgery or his mother's abandonment. The boy will soon meet with a speech pathologist to improve his articulation and tone, Oti Acheampong said. A small scar that runs from his nose to his upper lip is the only other noticeable trace of Peter's former cleft. When he smiles, the mark disappears into the curl of his lip.
© Copyright IBTimes 2023. All rights reserved.