Climate Crisis Fuels Violence Against Women: Research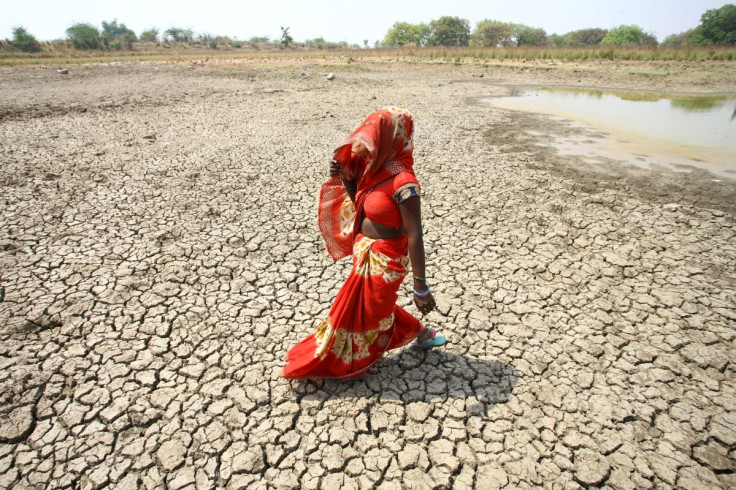 KEY POINTS
A new study associated rising temperatures with an increase in Intimate Partner Violence (IPV) suffered by girls and women
The increased violence could be the result of families dealing with additional stressors caused by rising temperatures
Women displaced by extreme weather events are also at higher risk of being human trafficking victims
Rising temperatures lead to a significant increase in domestic violence against women, according to a new study that is adding to a growing body of research on how the climate crisis disproportionately affects women and minority groups.
Researchers tracked 194,871 ever-partnered girls and women aged 15 to 49 from three South Asian countries — India, Nepal, and Pakistan — and found "a significant association" between high ambient temperatures and the prevalence of Intimate Partner Violence (IPV) against women.
Each 1°C (33.8°F) increase in the annual mean temperature was associated with a 4.49% rise in IPV, revealed the study published last week.
The research also found that the current trajectory could result in a 21% increase in intimate partner violence by the end of the 21st century, and India is estimated to have the biggest increase in abuse among the three countries.
In developing countries like India, low-income households face additional stressors during heatwaves because they do not have the means to adapt to the impact of rising temperatures, Bijoya Roy, an assistant professor at the Centre for Women's Development Studies, told International Business Times.
A large number of poor families in India live in houses made of non-concrete items like grass, bamboo, wood, and so on. "The housing material being of low quality (particularly roof material) cooling measures is inadequate," Roy said. "Small houses with inadequate ventilation and rooms lead to suffocation and restlessness, lack of sleep along with physical and mental distress."
Changing weather patterns and repeated droughts also force women to walk miles to fetch water for their families.
"Women informal workers have to ensure timely water collection due to its shortage," Roy said, adding, "For days together regular water supply is disrupted in low-income areas. Storing water becomes an additional burden and space crunch aggravates the crisis."
Moreover, extreme weather events can lead to a loss of income for families, and men experiencing this stress often take it out on women.
Researchers in a 2021 study highlighted that extreme weather events in Kenya led to economic stresses caused by flooding and drought, or extreme heat, which consequently exacerbated violence against women in their own homes.
Although the poorest sections of society contribute the least to greenhouse gas emissions and global warming, they are hit the hardest by the effects of the climate crisis, explained Michael Gerrard, founder and faculty director of the Sabin Center for Climate Change Law at Columbia Law School and acclaimed environmental lawyer.
"The poorest people in the world tend to be the most vulnerable to climate change," Gerrard told IBT. "They lack sturdy homes that can withstand flooding and air conditioning that makes extreme heat endurable. They often grow their own food, tend their own livestock, fish their own fish; all of these activities can be made more difficult or impossible by climate change. Yet these people are responsible for the smallest portion of emissions. This a profound injustice."
Studies have also shown that women and girls become victims of human trafficking when they are displaced from their homes due to extreme weather events.
"Flooding, drought, and other extreme weather events worsened by climate change force many people to leave their homes. This can lead to an increase in human trafficking. Women and girls are especially vulnerable to sexual exploitation in this situation," Gerrard said.
Developing countries are not alone in dealing with the disproportional effects of the climate crisis.
"Regardless of the country, certain segments of the population will feel the effects of climate change and extreme weather much more than others. This regressive nature of carbon-pricing means consumers bear the costs, and those with lower incomes who spend a greater percentage of their income on non-discretionary goods and services will suffer more," Carolina Arlota, an associate research scholar at the Sabin Center for Climate Change Law, told IBT.
Arlota noted that it is not only women, but all minority groups that are hit harder by the effects of climate change and extreme weather conditions.
"Racial and ethnic minorities tend to be excessively impacted, as they may be disproportionately represented in the lower income segment of the general population ... Native and indigenous peoples are likely to experience additional difficulties due to their lifestyles, which rely more on nature. People who experience some restriction in their abilities are also more vulnerable to climate change and related extreme heat (or cold) weather events and infrastructure disruption, among others," she said.
"Therefore, it is important to emphasize the disproportionate adverse impacts of climate change not only for women, but for all minorities, and how this imbalance is ultimately exacerbated in the developing world," Arlota concluded.
© Copyright IBTimes 2023. All rights reserved.