Climate March NYC: 'Flood Wall Street' Protest Takes Aim At Corporate New York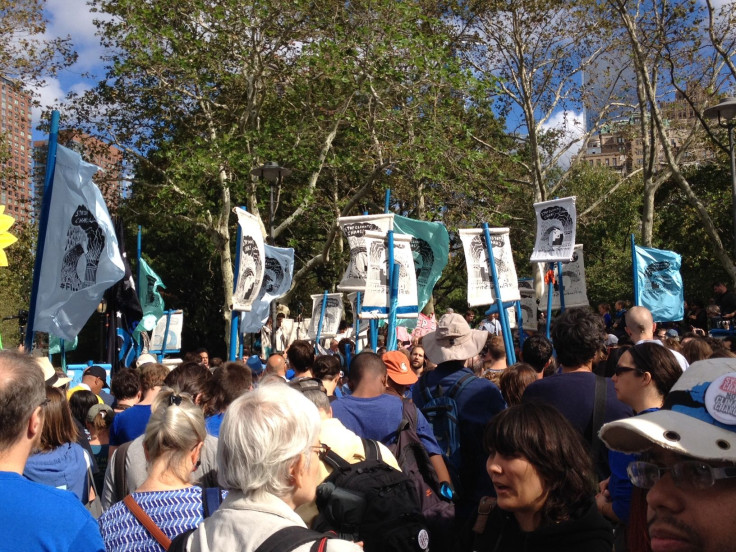 NEW YORK -- Hundreds of environmentalists from various groups gathered in lower Manhattan's Battery Park Monday as a follow-up to Sunday's much larger People's Climate March, which drew hundreds of thousands of climate activists to the streets of New York City ahead of the United Nations climate summit this week. Monday's event, known as Flood Wall Street, includes people from at least a dozen green groups whose causes range from ending fossil fuel use to cleaning up the planet's oceans, but whose core message was the same: capitalism is at the root of most climate change concerns.
The atmosphere of the gathering was reminiscent of the Occupy Wall Street protests of 2011 and organizers hoped to use the momentum of Sunday's march to galvanize protesters. Participants plan to risk arrest in an effort to shut down the New York Stock Exchange. "Yesterday was a family-friendly event," but "people have to leave their kids behind today," Ananda Lee Tan, U.S. and Canada regional coordinator for the nonprofit green group Global Alliance for Incinerator Alternatives and one of the protest's organizers, told International Business Times.
"It was easy to identify a common cause," Tan said, but organizers wanted to "look deeper at [climate change's] root causes." Protesters wore blue shirts with messages about climate change and capitalism's role in climate change. "Capitalism is destroying the planet," a flyer passed around the crowd read.
The words and slogans used by Monday's Flood Wall Street marchers are similar to those adopted by Occupy protesters. Mainly, that big corporations control everything and decide who gets a seat at the decision table, they say, and the oppressive nature of economic progress hurts the planet and is depleting natural resources. "Wall Street represents that very economic system of endless growth," Tan said.
Protesters will make their way around noon to the steps of the New York Stock Exchange, where they plan to stage a sit-in.
© Copyright IBTimes 2023. All rights reserved.