Clint Eastwood's 'Halftime in America' Super Bowl Ad: WATCH HERE [VIDEO]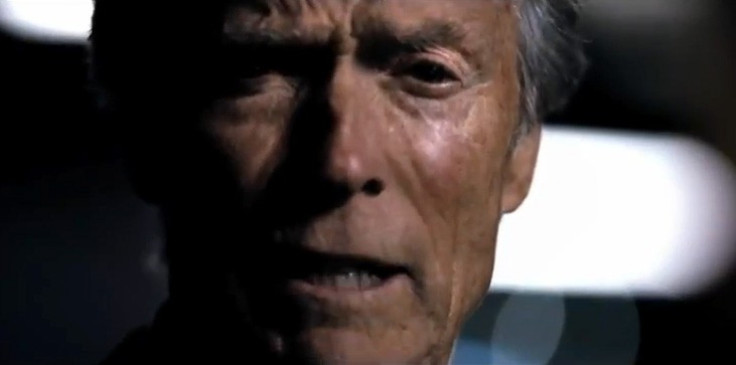 The Chrysler Group LLC Super Bowl ad featuring Clint Eastwood was making the rounds Monday morning as one of the more memorable spots during the Giants' 21-17 win over the Patriots on Sunday night.
In the two-minute Halftime in America ad -- which aired, appropriately, during the championship game's halftime -- Eastwood evoked themes of upbeat nationalism that centered around Chrysler's dramatic recovery just three years after the United States government bailed out the automaker, along with General Motors Co.
The ad also shares many of the same themes as those President Barack Obama is already pushing for his re-election campaign in the 2012 Presidential election. If, as expected, Obama faces Republican challenger Mitt Romney, he will look to tout the auto bailout and subsequent recovery as one of the main contrasts between himself and Romney. Romney famously lambasted the auto industry bailout and advocated a conventional bankruptcy process for the automakers.
Indeed, some of the reaction ponders whether the Chrylser ad's message is that it's halftime for the Obama administration. Powerful spot, David Axelrod, a top Obama campaign adviser, posted on Twitter after the ad aired. Did Clint shoot that, or just narrate it?
Added White House communications director Dan Pfeiffer: Saving the America Auto Industry: Something Eminem and Clint Eastwood can agree on, referring to the Chrysler Super Bowl ad last year that featured Detroit hip-hop mogul Eminem.
Last week, Chrysler reported its first annual net profit since 1997, swinging from a $652 million loss in 2010 to a $183 million gain in 2011. Since its restructuring, it has added 4,000 new jobs and last week announced additional jobs at its Belvediere, Ill., plant, where workers will focus heavily on production of the all-new Dodge Dart.
Chrysler has seen gains in retail sales and through new, fresher and redesigned models. Edmunds.com senior analyst Michelle Krebs also pointed to the poignant ad campaign Chrysler launched nearly a year ago during the 2011 Super Bowl, starring Eminem. The tagline, Imported from Detroit, pushed the Made in America sentiment.
Chrysler's momentum has been nothing short of remarkable, especially when it was on its last lifelines as recently as two years ago, Krebs said. It's poetic that Chrysler is receiving this well-deserved recognition almost exactly one year after its 'Imported from Detroit' ad campaign debuted during the Super Bowl, which was really the big turning point for the company.
Watch the ad below:
© Copyright IBTimes 2023. All rights reserved.