Clinton Gets Heated in Benghazi Testimony, Tells GOP Senator 'This Is The Biggest Fairy Tale I've Ever Seen'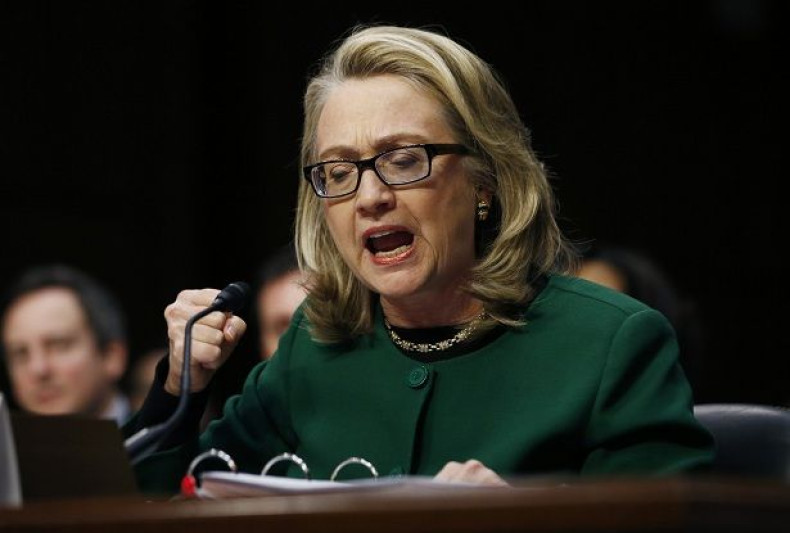 Secretary of State Hillary Clinton blew up at Sen. Ron Johnson, R-Wisc., on Wednesday for repeatedly questioning her on why the State Department initially thought last September's attack on a U.S. consulate was caused by protesters, raising her voice during a Senate testimony to ask, "What difference, at this point, does it make?"
Clinton, in what could be her final appearance on Capitol Hill as the top U.S. diplomat, emphatically challenged Johnson's claims that the department could have "easily" determined what happened the night of the Sept 11. attack in Benghazi, Libya, which killed four Americans. Johnson took issue with the Department of State's original report that the attack was the result of a spontaneous protest that erupted in reaction to an anti-Islam YouTube video.
"With all due respect, the fact is we had four dead Americans," Clinton responded, raising her voice at Johnson. "Was it because of a protest or was it because of guys out for a walk last night who decided to kill some Americans? What difference at this point does it make? It is our job to figure out what happened and do everything we can to prevent it from ever happening again, Senator."
Diplomatic security agents reportedly told the FBI there were no protests at the Benghazi consulate, as early as Sept. 14. Two days later, U.S. Ambassador to the United Nations Susan Rice appeared on Sunday talk shows, where she continued to suggest the killings sprung out of protests gone awry. Rice's statements were ultimately used by congressional Republicans to scuttle her possible nomination to succeed Clinton.
Clinton, who some say could have her legacy at the department tarnished by the Benghazi incident, defended the Department of State's efforts in the wake of the assault. The former first lady is still enormously popular with the American public and is widely rumored to be considering a 2016 presidential run, giving her a clout and ability to speak her mind unrivaled by other Democrats.
"Honestly, I will do my best to answer your questions about this, but the fact is people were trying their best in real time to get to the best information," she said, before becoming impatient with his line of questioning, which she called "the biggest fairy tale I've ever seen."
Earlier in the hearing, Clinton became emotional, her voice cracking, as she discussed meeting the families of the four Americans killed, including the relatives of U.S. Ambassador Chris Stevens.
"I stood next to President Obama as the Marines carried those flag-draped caskets off the plane at Andrews. I put my arms around the mothers and fathers, sisters and brothers, sons and daughters," Clinton said during her opening remarks. "As I have said many times since Sept. 11, I take responsibility. Nobody is more committed to getting this right. I am determined to leave the State Department and our country safer, stronger and more secure."
Clinton will testify before the House Foreign Affairs Committee on Wednesday afternoon.