'Cliques And Conspirators' Threaten Security Of China's Communist Party, President Xi Jinping Warns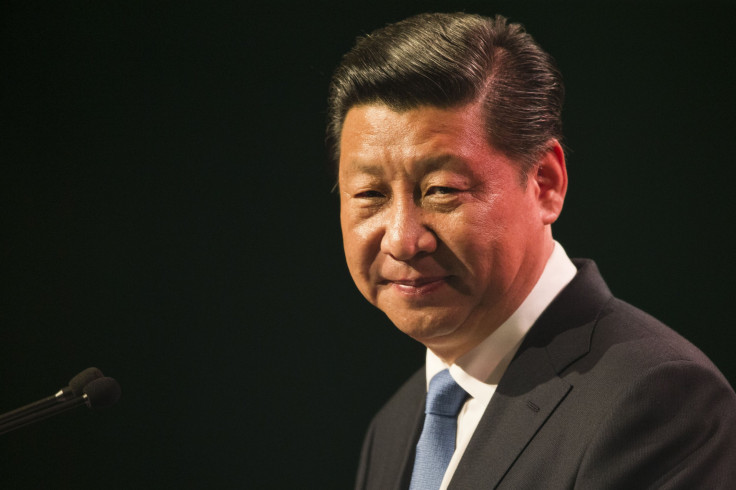 SHANGHAI — China's President Xi Jinping has warned of cliques and conspirators within the ruling Communist Party, saying they threatened the security of the party and nation. He said such people would not be spared from punishment as the party seeks to "eliminate" such problems. He also warned party members against embracing "liberalism" and opposing central government policy — in what analysts said was further evidence of his desire to reassert orthodox Marxist values and combat western influences.
The remarks came in a speech focusing on deepening Xi's ongoing anti-corruption campaign within the ruling party. And while Xi insisted that the campaign was not a political power struggle, observers said the comments seemed to suggest a growing anxiety in the leadership over the political loyalty of some officials, some of whom are believed to have grown disillusioned with the corruption crackdown and Xi's tightening of discipline within the party.
"There are careerists and conspirators in our party who undermine its governance," Xi said in the speech, which was made in January at a meeting of China's top anti-graft body, but, for reasons not made clear, was only reported by Chinese media this week.
While he said some such people were motivated by a desire for greater power or higher status, he also hinted at political dissent within the party, saying that "some officials have been forming cabals and cliques to covertly defy the CPC [Communist Party of China] Central Committee's decisions and policies," which risked "compromising the political security of the Party and the country."
Xi reiterated earlier comments, first made during a state visit to the U.S. last year, that the anti-corruption crackdown — which was launched soon after he took power in late 2012, and has brought down more than 100 senior officials in government, the party and military — was "not a 'House of Cards' power struggle" in which targets were chosen because of political rivalries, or well-connected officials would be spared from justice.
"We must make it clear that our Party's fight against corruption is not a snobbish affair that discriminates between different people," he said.
The official Global Times Wednesday quoted a researcher at Guangzhou's Jinan University as saying the problem of officials trying to achieve political ambitions by forming close ties with high officials in cliques was "very serious, and ... will greatly affect public confidence in the ruling party."
Officials have said that the highest-profile victim of China's graft crackdown, former security chief Zhou Yongkang, who was jailed for life last year on corruption charges, had formed a series of cliques. And the official Xinhua News Agency said Wednesday that Zhou was just one of a number of "senior corrupt officials [who] have been found to have forged close relationships with groups of officials at local government level and with business tycoons in different factions with shared interests, such as the 'oil clique,' 'secretary clique' or 'Shanxi clique.'"
The anti-corruption campaign, which has also led to the punishment of hundreds of thousands of lower level officials, is generally seen to have been popular with many ordinary Chinese citizens. But it is believed to have aroused dissatisfaction among some of the party's 88 million members, who have balked at the strict discipline imposed by Xi. In a series of tightened requirements, he has called on party officials to live frugal lifestyles and stop attending private clubs, including golf clubs, not to have extramarital affairs, and to restrict their families' business dealings. China's leaders have acknowledged that some officials have responded to the crackdown by simply working less hard.
In recent months the discipline campaign appears to have become increasingly political, with new rules preventing party members from criticizing party policy in public — and increased emphasis on Marxism and atheism. And amid a widening campaign against "western values" in China, a number of party members have recently been punished for the previously rarely heard charge of "making groundless comments" about the Communist Party.
Xi said in his speech that banning such comments "doesn't mean members can't criticize the party," but added that "comments on important political issues, liberalism or singing out of tune with the central government are not allowed."
He also said the party would "kick out" "two-faced" members who promised to fight corruption but never reported problems. And he vowed that the anti-corruption campaign would not "wind down."
And in a recent move, which some analysts have linked to political infighting, the Communist Youth League — power base of Xi's predecessor as president, Hu Jintao, and current Premier Li Keqiang — recently had its budget slashed in half after an investigation by anti-corruption teams revealed embezzlement and other irregularities.
FOR FREE to continue reading
✔️ Unlock the full content of International Business Times UK for free
offer available for a limited time only
✔️ Easily manage your Newsletters subscriptions and save your favourite articles
✔️ No payment method required
Already have an account? Log in
© Copyright IBTimes 2023. All rights reserved.