Coinbase Review: Everything You Need To Know About Coinbase
This article uses affiliate links, which means if you purchase products through these links, we may earn a commission. Click here to see our
T&C
. For licensing please click
here
.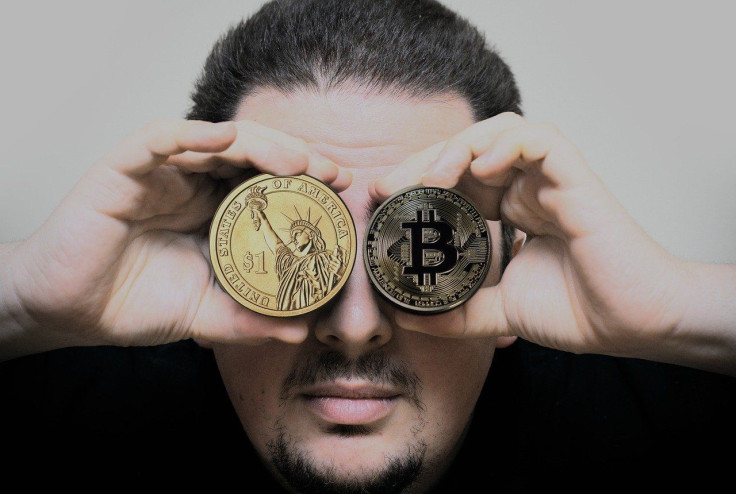 Cryptocurrency has been on a tear with just a few weeks into 2021. The total cryptocurrency market is valued at $1 trillion as of writing, and Bitcoin rallied to an all-time high of nearly $42,000 in the first few days of January. As its value increases, rookies and veteran traders and investors alike are all eyes on this so-called digital gold -- but is this the best time to invest in Bitcoin?
If you're a risk-taker and is willing to ride the highly volatile cryptocurrency rollercoaster, welcome to the club. To buy and sell cryptocurrencies like Bitcoin, Ethereum and Ripple, you need a reliable and secure exchange. Enter Coinbase.
There are plenty of exhange options out there, and investing your hard-earned money in this unregulated market can be nerve-wracking as hackers often target these platforms. But not so with Coinbase. This well-trusted cryptocurrency exchange, which recently filed for IPO, is backed by leading investors and doesn't have any history of hacking.
To help you out, we've listed the pros and cons of using Coinbase, its features and answer your biggest question -- is it safe to buy/ sell and store your assets in the platform?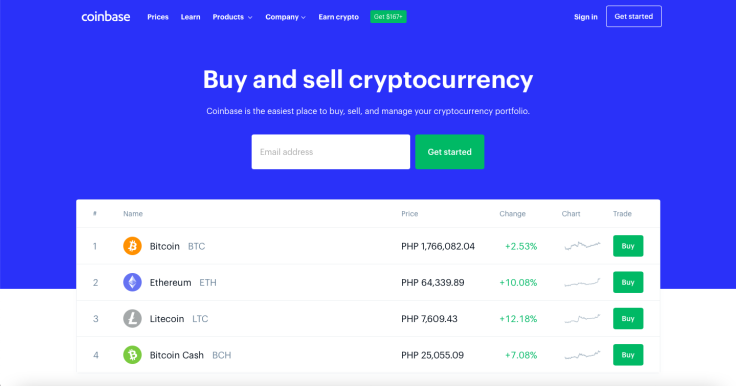 Coinbase Pros
Coinbase was founded in 2012 and is headquartered in the tech mecca of San Francisco with offices across the globe. It's a fully licensed and regulated cryptocurrency exchange, serving more than 35 million users in over 100 countries. It's one of the world's largest crypto exchanges listed on CoinMarketCap.
Secure Exchange
Although exchanges are prone to hackers and cyber attacks, Coinbase prides itself in the fact its brokerage service has never been hacked. Most rookies who bought their first Bitcoins will likely tell you they made the transaction through Coinbase. As one of the most reputable exchanges, the company prioritizes the security of users' assets through these two types of storage: hot and cold storage.
Coinbase only keeps 2% of assets in hot storage or on the servers to meet traders' liquidity needs. The remaining 98% are kept in cold storage, offline and not connected to the internet. Therefore, these are safe from the hands of hackers.
Moreover, Coinbase also provides security measures to its users, enforcing added security layers like two-way authentication and biometric fingerprint logins. For U.S. customers, cash balances held in their Coinbase wallet (the government-backed fiat currencies like U.S. dollars) are FDIC insured up to $250,000. However, FDIC doesn't cover cryptocurrencies. Coinbase clarifies that the insurance policy doesn't cover any loss of assets caused by users' negligence who failed to secure their personal accounts.
Beginner-Friendly Platform and Excellent Interface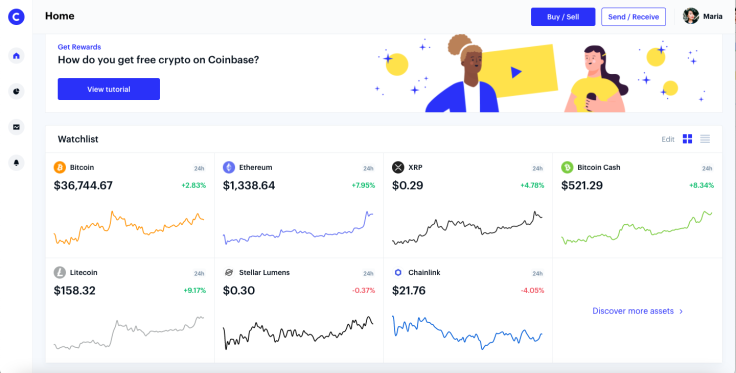 Coinbase's user interface is intuitive and easy to use. For first-timers, you can easily find your way through its buy and sell process. It's uncluttered, and you can easily browse through the available tradable assets or cryptos or check live charts and current prices without feeling overwhelmed.
For instance, on the left-hand side, you'll only see four options: Home, Portfolio, Prices and Notifications. You'll only see two important buttons -- Buy/Sell and Send/Receive -- on the upper-right side. Users also have access to prices of the cryptocurrencies in real-time, as well as a summary of the market's performance in the last 24 hours.
Unlike other exchanges that often include many options, buttons and settings, Coinbase's platform aces in being straightforward.
High Liquidity
Coinbase offers high liquidity for trading, which is beneficial to traders and investors as they are protected from fast-changing prices in this super volatile market. Low liquidity means the currency spreads are wide, making the trading fees and prices of assets more expensive.
Coinbase has traded $67,977.67 billion in the last 24 hours with 129 trading pairs, according to CoinGecko. If you're looking for an exchange platform, make sure it has high liquidity, which means that's how likely the asset is traded at a price close to its intrinsic value.
For professional traders and investors, the Coinbase Pro version has received a score of 10 for liquidity from CoinGecko, and the most active trading pair is BTC/USD. Anyone using Coinbase Pro also has access to a larger number of assets and enjoys better rates, especially for a high trading volume.
Solid Tradable Alternative Coins and Assets
Users can access 47 tradable assets like Bitcoin, Ethereum, Litecoin, Ripple, Bitcoin Cash and more. In comparison, Coinbase Pro gives users access to more than 50 assets. Whether regular or Pro version, Coinbase offers a convenient trading experience, holding assets and staking.
That said, Coinbase provides different levels of support for assets you can buy, sell, deposit or withdraw. See a list of supported currencies and trading pairs here.
Coinbase Cons
Higher Fees for Non-Coinbase Pro Users
Exchanges offer different fees for trading, deposits, withdrawals and transfers. With Coinbase, this is the platform's Achilles heel as fees for non-Coinbase Pro users are high. Nonetheless, the convenience Coinbase offers to users could justify the rates as users can seamlessly buy cryptocurrencies via debit cards.
When you buy Bitcoins via deposit through debit cards, Coinbsed charges a 3.99% fee, whereas wire transfers are charged 1.49% + $10, and ACH transfer at 1.49%.
For withdrawals, fees vary when transferred via PayPal and cryptocurrencies, whereas wire transfers charge $25, but SEPA (Europe) and ACH (USA) transfers are free; SEPA transfers in the U.K. have a 1.49% fee. Debit card withdrawal fees in Europe and the U.K. has a 2% charge fee.
Limited Number of Alternative Coins
Compared to other exchanges, Coinbase doesn't offer that many alternative coins.
It does plan to expand and add more altcoins, however. You can also switch to Coinbase Pro for more altcoin options or once you're confident to trade in large volumes.
Lack of Anonymity
Since Coinbase is the first crypto exchange platform regulated in the U.S., it must comply with governing laws like AML or anti-money laundering, and KYC (Know Your Customer). In exchange for their compliance, they don't offer privacy and lack anonymity for users. This means they track how you spend your coins and your transfers, and review them for anything suspicious. They also require users to go through the verification process by sending valid IDs as part of KYC.
If they spot your account with seemingly fraudulent activities or anything that is against the law, Coinbase may freeze your account.
Some critics, especially the proponents of decentralized networks and systems, see this as an irony, forfeiting the purpose of anonymity. However, in general, any crypto exchange will require users to go through KYC.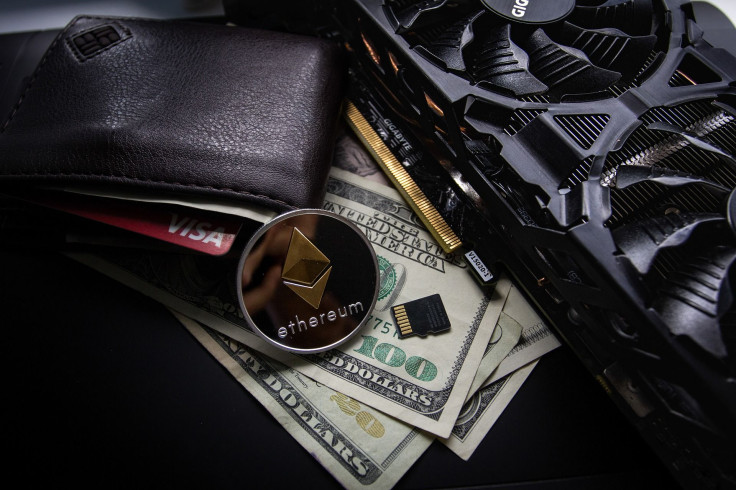 Key Features of Coinbase
A secure digital wallet to store your assets — the brokerage offers digital wallets for your cryptocurrencies. That said, you can keep your crypto in your account and access them instantly via a mobile app or desktop browser. You can store and manage your Bitcoin, Ethereum and ERC-20 tokens, including airdrops and ICO tokens. You can also send and receive payments to anyone or anytime beyond borders.
It supports USD stable coin — Coinbase lets you buy USD Coin, also referred to as the stable coin. If you have a U.S. bank account, you can always redeem from the exchange 1USDC for $1.00. The USD Coin is backed by the U.S. dollar's actual value and can also be stored in your digital wallet.
Trading experience for both beginners and pros — the brokerage is available and quickly accessible via iOS and Android devices. The dashboard is easy to understand and your portfolio balance and market performance are visible right off the bat. For beginners, the regular account has enough features for them to fiddle around with Bitcoin and altcoins. On the other hand, the Pro account matches the caliber of professional traders and investors alike.
Offers merchant solutions — merchants will benefit from the Coinbase platform. They can set up their own digital wallets and use them as payment methods on their eCommerce websites using a dedicated plugin. The plugin is supported by popular eCommerce platforms like Shopify, Magento and WooCommerce.
Provides earning opportunities — Coinbase not only offers brokerage services, it also offers its users ways to earn money through affiliate links. It also provides courses that reward users in altcoins and tokens. For example, you can choose a coin you want to learn about, and you will be rewarded with coins once you finish the course. Just sign up for a course to earn these cryptocurrencies and tokens with an earning potential of up to $167.
Is it safe to keep your assets in Coinbase?
While generally, anything that's connected online is considered a "hot wallet" and there's still that possibility that you lose your money, Coinbase's credibility and reliability are still superior. The platform has been one of the most secure exchange platforms, especially if you apply added security layers.
Overall, it's safe to store assets on Coinbase if you're trading and holding them for the short term. However, if you plan to buy digital assets and keep them for the long-term, you can do that swiftly on Coinbase and then transfer them to cold storage like a paper wallet or a hardware wallet.