Colin Powell Not Ready To Endorse Obama, Still 'Listening' To Romney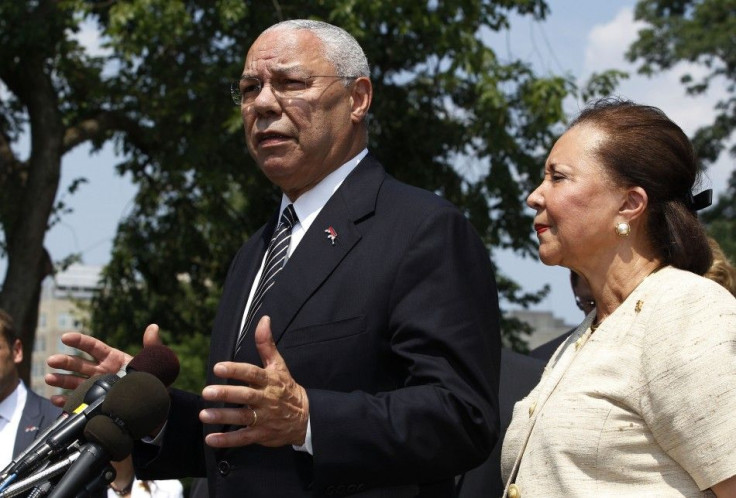 Former Secretary of State Colin Powell said Tuesday he is not yet ready to endorse President Barack Obama for another term in office, and that he is still listening to what opposing candidate Mitt Romney has to say.
Powell, a Republican who endorsed Obama in 2008, had plenty of praise for the president while appearing on NBC's Today show. However, he is not ruling out giving some consideration to the Republican presidential hopeful and said, I always keep my powder dry.
I feel as I private citizen I ought to listen to what the president says and what the president's been doing, Powell said. But I also have to listen to what the other fellow says. I've known Mitt Romney for many years; good man.
Powell also said he will be listening to what the Republicans are saying they're going to do to fix the fiscal problems we have, to get the economy moving.
Powell, a retired four-star general and former chairman of the Joint Chiefs of Staff, said Obama has had some significant accomplishments. But according to Politico, Powell wished the president had kept his promise to close the prison at Guantanamo Bay, Cuba.
There are some things that he has done I wish he had not done, for example, leave Guantanamo open, Powell said. I would have closed that rapidly. He tried, he was stopped by Congress. He stabilized the financial system, he brought about stability in the economy. He fixed the auto industry.
I think he took us out -- not completely out -- but he took us out of the most difficult problem we were facing at that time, which was an economy that was collapsing. And it's improving, but not fast enough. So his No. 1 goal for the rest of this year, as it should have been for the whole four years, is to get the economy running again, Powell said.
© Copyright IBTimes 2023. All rights reserved.
FOLLOW MORE IBT NEWS ON THE BELOW CHANNELS