Colombian Government Snubs FARC Cease-Fire, But Notes Peace Gesture By The Rebel Group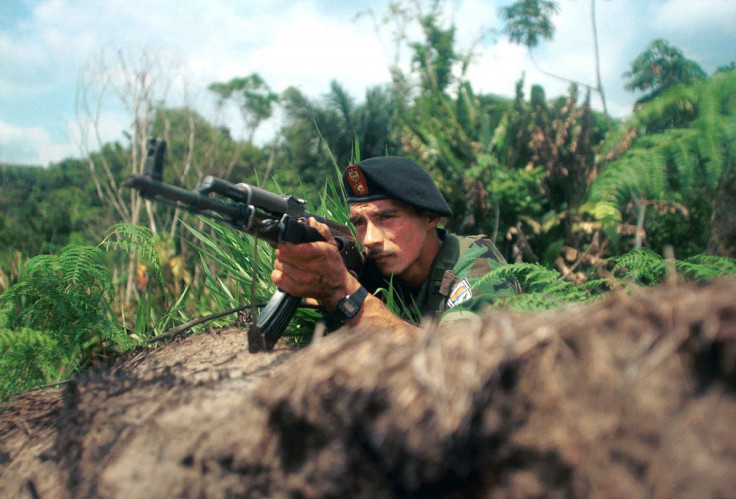 Colombia's President Juan Manuel Santos rejected an indefinite unilateral cease-fire declared by the Revolutionary Armed Forces of Colombia (FARC) that could have ended 50 years of violent conflict. The Colombian government has long refused proposals to enter a bilateral cease-fire, in fear it would give the FARC a chance to rearm, the Associated Press reported.
The rebel group's proposal was declared in the Cuban capital city of Havana Wednesday on the same day that American and Cuban governments announced they would reestablish a full diplomatic relationship, after five decades of hostility. But the timing is believed to be coincidental. "The FARC proposal responds to a totally different, Colombian, dynamic," Adam Isacson of the Washington Office on Latin America told the Associated Press.
For decades, Cuba has been a safe haven for the FARC, which earned Cuba's longstanding spot on the U.S. State Sponsors of Terrorism List since 1982. The island nation has supported and hosted peace talks between the Colombian government and the rebel group since 2012.
Santos suspended peace talks last month when the FARC captured a Colombian army general, which the rebel group blamed on the government for insisting on negotiating without a cease-fire, Al Jazeera reported. The incident nearly derailed negotiations altogether, but the FARC freed the general two weeks later.
Santos noted the rebel group's cease-fire declaration Wednesday suggests a commitment to the peace process, the Associated Press reported. "We want to overcome these useless bloody episodes," the FARC statement said after declaring a cease-fire, which is scheduled to begin Saturday.
However, the FARC also demanded the truce be verified by the United Nations, the Red Cross, regional intergovernmental organizations or the Catholic Church. Santos rejected the unusual demand Thursday, saying outside verification would wait until a formal peace deal was reached, according to the AP.
Agreements have already been made on land reform, political participation for the FARC and how the rebel group can work with the government to combat illegal drug trafficking. But the two sides have yet to resolve how the FARC would surrender and whether its commanders would be prosecuted for war crimes and drug trafficking, according to BBC News.
The FARC was established in the 1960s as the military arm of the Colombian Communist Party, following a U.S.-backed attack on rural Communist territories by the government army. What began as a peasant movement has burgeoned into the largest armed group in Colombia with about 8,000 fighters, Al Jazeera reported. The FARC has fought with successive Colombian governments ever since and has been a major player in the nation's drug trade. The conflict has killed more than 220,000 people and displaced over 5 million civilians, Reuters reported.
© Copyright IBTimes 2023. All rights reserved.
FOLLOW MORE IBT NEWS ON THE BELOW CHANNELS