Colombian Hunger Strikers Sew Mouths Shut To Protest Firing By General Motors
Protestors face starvation, a gasoline attack and opposition from the company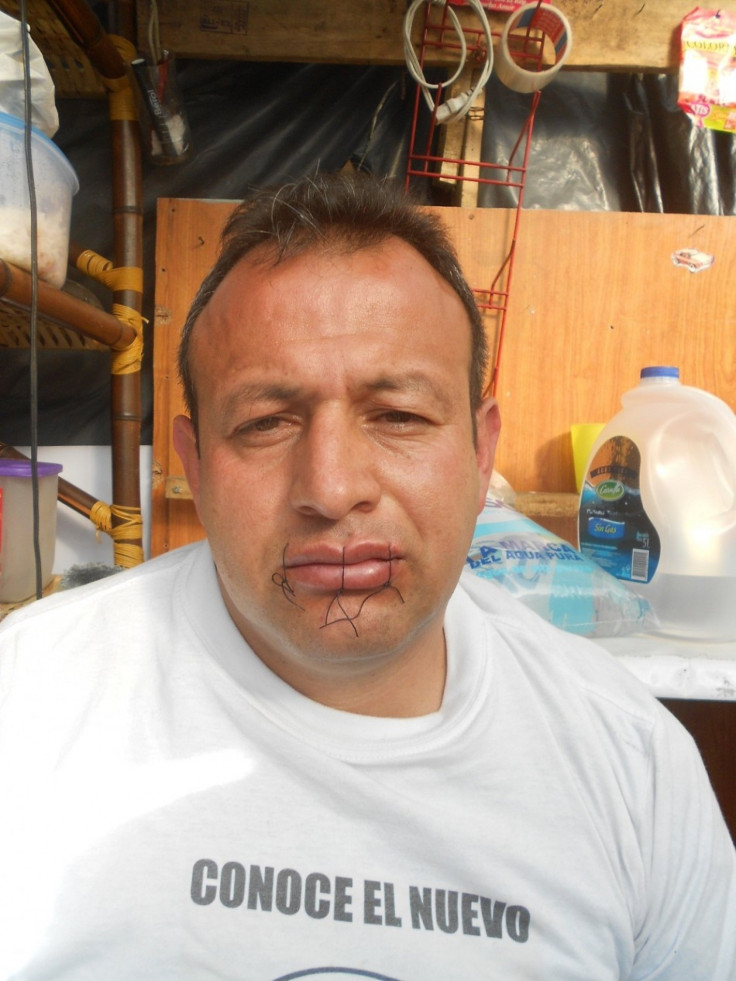 Outside of the U.S. Embassy in Bogota, Colombia, 13 former General Motors Company (NYSE: GM) employees are staging a hunger strike protest charging worker mistreatment by the company, and seven of those men have sewn their mouths shut. One man, Manuel Ospina Contreras, 42, was admitted to the hospital over the weekend and is considered by his doctor to be malnourished, dehydrated and at risk of heart attack. The hunger strike is in its fourth week.
The protesting workers, part of the Association of Injured Workers and Ex-Workers of General Motors Colombia (Asotrecol), assert that they and as many as 200 other employees were fired by GM's Colombian subsidiary GM Colmotores following on-the- job injuries and that the company was responsible for "systemic negligence of the workers' health and well-being." Asotrecol has called on the U.S. Embassy and Congress to pressure GM to resolve the conflict since the U.S. government is the largest shareholder in General Motors and the company owns a 77.4 percent stake in GM Colmotores.
Asotrecol began its protests a little over a year ago when 68 former GM workers banded together, saying they had suffered carpal tunnel, herniated disks, tendonitis, tinnitus, musculoskeletal problems and spinal injuries, injuries which they said inhibited their ability to work and ultimately led GM Colmotores to fire them. After a year of ineffectual protesting outside the U.S. Embassy, they began their hunger strike, which is now in its fourth week.
"The men have taken this extreme action after being fired from GM due to workplace injuries. Their injuries left them unemployable and unable to support their families," said a statement from Asotrecol, which is supported by U.S.-based groups like the Washington Office on Latin America, Latin America Working Group and Witness for Peace.
The hunger strike marks an escalation by Asotrecol, which has requested that GM rehire wrongfully fired workers, retrain them for jobs that they can perform with their current medical conditions, and provide pensions for those who are no longer able to work in addition to recompense for the time that they have been without work. General Motors' corporate office in the U.S. has sought to distance itself from the protests and its Colombian subsidiary and to diminish the scope of the allegations.
"[GM has] been recognized for the quality of working conditions that exist in all of our operations. That's why we are interested in learning more about the ongoing safety allegations of a few, former GM Colmotores employees," a statement from the company said. Colmotores has been in talks with the protesters, and GM sent a corporate team to Colombia when the hunger strike began, a full year after the initial protests outside of the U.S. Embassy started.
In protest and hunger strike situations involving U.S. parent companies like GM and local subsidiaries like Colmotores, "The U.S. parent company tries to distance itself as much as it can," said Kate Bronfenbrenner, director of labor education research at the Cornell University School of Industrial and Labor Relations.
GM seems to have avoided getting involved in the conflict between Colmotores and Asotrecol for as long as it could by saying that the Colombian Ministry of Labor already ruled on the firings and that therefore the company has no obligation to the fired workers. However, the Colombian Ministry of Labor has previously sanctioned Colmotores "for fraudulent use and control of workers' medical documents," charges which were later dismissed. Moreover, the Colombian labor inspector in charge of reviewing Colmotores, Luis Edgar Alvarado Vasquez, was later found guilty of falsifying documents and currently has a warrant out for his arrest, according to Asotrecol.
Now that the former workers have entered into a hunger strike, GM has become more intimately involved in the negotiations, but has sought to make a distinction between Colmotores operations and the parent company. "We monitor our plants globally to ensure they consistently adhere to safety practices and that they provide a clean, safe, healthy work environment for all. When it comes to labor issues, typically that is handled at the local level," a GM spokeswoman said Tuesday.
Despite GM's assertions that it adheres to strict global standards for employee treatment, the Asotrecol say they now have no other option than a hunger strike that endangers their lives. "We must reclaim our rights and demand an end to the human rights violations committed by General Motors. If necessary, we are willing to die fighting for justice," Asotrecol President Jorge Alberto Parra Andrade said.
In protest situations that culminate in hunger strikes, "The employer has created conditions so bad that workers are willing to suffer enormous deprivation, even risk death, in order to change them," Bronfrenbrenner said. The hunger strike puts the protesters in the position of martyrs or saints within the heavily Catholic Colombian community and seeks to produce feelings of guilt on the part of the company. "The community becomes sympathetic with the hunger strikers and the decision makers in the company now have power of the life and death of these workers on their hands, a choice they have been forced into."
The situation is becoming increasingly dire for the hunger strikers. Talks with the local GM subsidiary Colmotores were ineffectual last week, power to the protesters' tent has been cut off (they rely on it to keep insulin cold for some diabetic members), and the encampment was attacked last week. "Someone came by and threw gasoline on the tent and shouted expletives at the workers," said Asotrecol representative and Witness for Peace spokesman Jess Hunter-Bowman, Tuesday.
A GM spokeswoman said the company knows nothing about the gasoline attack and that the power to the tent has been cut off by the local electric company because the protesters "were not paying for it in the public space they have been using."
Ultimately, after 28 days of hunger strikes, the Asotrecol protesters are drawing close to a terminal deadline. In the past, hunger strikers have begun dying around 52 days.
"Some workers can fast without injuries but others cannot go for very long without serious problems erupting," Bronfrenbrenner said. "For a hunger strike to be effective it must be part of a much larger, comprehensive union strategy on multiple fronts." Asotrecol members have met with representatives of the United Auto Workers in the U.S., but it is not clear whether the U.S. union will become involved on their behalf.
General Motors Company (NYSE: GM) shares fell 1.1 percent to $21.63 Tuesday.
FOR FREE to continue reading
✔️ Unlock the full content of International Business Times UK for free
offer available for a limited time only
✔️ Easily manage your Newsletters subscriptions and save your favourite articles
✔️ No payment method required
Already have an account?
Log in
© Copyright IBTimes 2023. All rights reserved.