Comcast, Time Warner Cable To Meet With Federal Regulators To Talk Merger: Report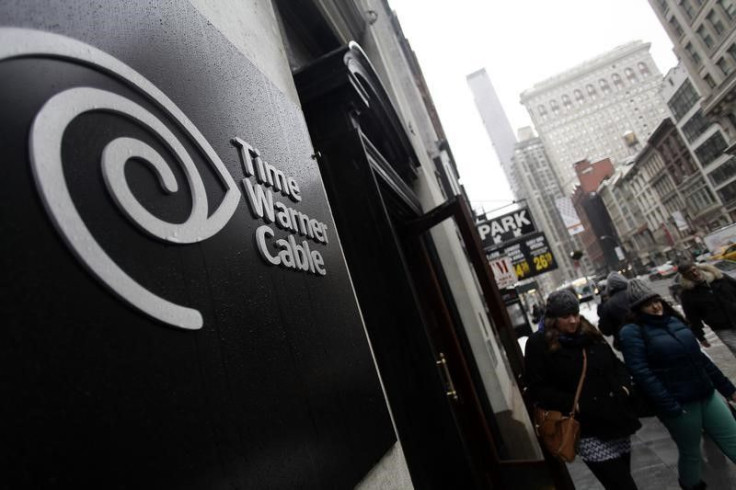 Comcast Corp. and Time Warner Cable Inc., which already dominate the cable television industry, are reportedly set to meet next week with Justice Department officials to argue that a merger of the two companies would not hurt competition. The cable giants will likely talk about possible concessions to ease fears the $45.2 billion deal would give the merged behemoth an unfair marketplace advantage, the Wall Street Journal reported.
Comcast, the nation's largest cable provider, and Time Warner Cable first announced merger plans more than 14 months ago. The merged entity would serve 56.8 percent of U.S. broadband subscribers, delivering a standard 25 megabits-per-second. It also would serve about 29 percent of the residential pay-TV market, about 29 million customers.
Wednesday's reported meeting would mark the first sit-down with regulators. Both Justice and the Federal Communications Commission (FCC) are concerned about the power a merged company would have over Internet broadband service and TV channel owners. Bloomberg reported Justice Department lawyers are leaning against the merger on antitrust grounds but it was unclear whether the FCC considered the deal in the public interest.
Possible concessions to push through a deal would likely include selling off parts of the business or changing practices, Bloomberg said. Comcast and Time Warner Cable already have offered to sell 3.9 million customers to Charter Communications Inc. but it was unclear if that was enough. A deal-breaker from Comcast's point of view, the Journal said, likely would be if regulators required it to live up to net neutrality rules, even if they are challenged in court.
Comcast spokeswoman Sena Fitzmaurice told Bloomberg there is "no basis" to block a merger, adding the deal would result "in significant consumer benefits -- faster broadband speeds, access to a superior video experience, and more competition in business services resulting in billions of dollars of cost savings." Time Warner spokesman Bobby Amirshahi echoed Fitzmaurice's sentiments.
Regulators are concerned the merger could result in choking off new ways of delivering programming, keeping programming off other platforms and limiting programming delivered through streaming services, Bloomberg said. Among the issues also is whether Comcast honored terms of a previous merger deal with NBCUniversal, especially whether it has lived up to its agreement to be a silent partner in Hulu.
Charter investor John Malone has said he would try to buy Time Warner Cable if the Comcast deal falls through. Charter recently bought Bright House Networks, the sixth-largest cable company, a deal that could be in jeopardy if the Comcast merger is blocked, given Time Warner Cable's long-time arrangement with Bright House.
Comcast is looking to close the deal by midyear. Meanwhile, Time Warner Cable's stock has slipped 11 percent since Comcast first made its offer, indicating traders are not optimistic about prospects for the deal, the Journal said. Time Warner Cable was selling for $149.61 Friday, off 5.4 percent; Comcast was down 2.1 percent to $58.42.
© Copyright IBTimes 2023. All rights reserved.
FOLLOW MORE IBT NEWS ON THE BELOW CHANNELS