Confusion Reigns As Turkey Appears to Renege on Base Deal For US Strikes Against ISIS In Syria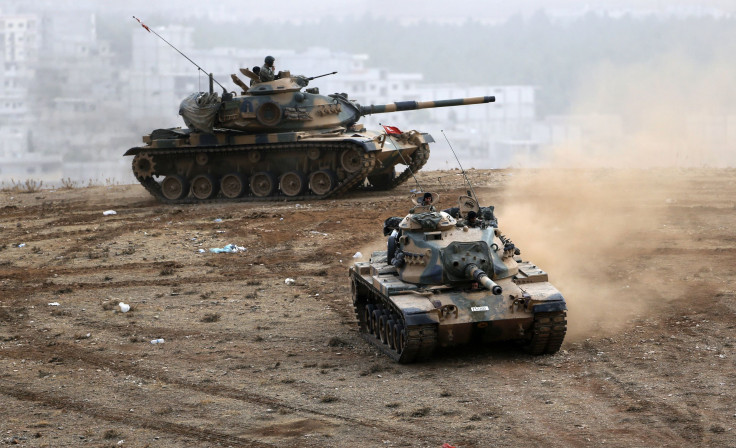 Just one day after U.S. government officials said its military would be using Turkish air force bases to launch attacks against Islamic State militants, Ankara denied there ever was such an agreement, leading to accusations Turkey is playing political games and supports the group also known as ISIS. The news will strike a serious blow to Kurds who have spent nearly a month fighting ISIS in the Syrian border town of Kobani.
"What bothers me is Turkey is playing politics and risking hundreds and thousands of innocent civilian lives," said Ariel Cohen, director of the Center for Energy, Natural Resources and Geopolitics at the Institute for Analysis of Global Security. "This is certainly the gravest threat to the Middle East since Saddam Hussein invaded Kuwait, and Turkey is just standing there watching."
Kobani, which sits on the Syrian-Turkish border, first came under attack in early July when Islamic State extremists launched a small, unsuccessful raid. The group resumed its attack Sept. 16 with a full-scale assault from the south and west of the city, breaching the city boundaries by early October. Since then U.S. airstrikes have eased the pressure on the Kurds defending the town, but onlookers still expect it to fall to ISIS.
Susan Rice, President Barack Obama's national security adviser, said a deal had been reached to allow the U.S. and partners to use the Turkey's bases and to train rebel forces when she appeared on NBC's "Meet the Press" Sunday.
"In addition, they have said that their facilities inside Turkey can be used by coalition forces, American and otherwise, to engage in activities inside Iraq and Syria," Rice added. "That's a new commitment and one that we very much welcome."
However, Turkey has denied this, saying the main air force base the U.S. has used in the past, Incirlik, would not be made available.
"There is no new agreement with the United States about Incirlik," the official, who asked not to be named, told AFP in Ankara. "Negotiations are continuing" based on conditions Turkey had previously laid out such as a safe zone inside Syria backed up by a no-fly zone, the official added.
It's not yet clear if that was the only base that was off limits, but Cohen said he doesn't believe the U.S. would need to operate out of multiple bases, and the U.S. will probably not gain permission unless it meets the conditions laid out by Turkey. "I'm not aware of the U.S. ever using another base except for Incirlik, meaning it probably doesn't have permission to use any base in Turkey at this stage."
While the U.S. has been committed to airstrikes in the region, along with five moderate Arab states as partners, Turkey has chosen not to intervene or allow U.S. forces to use Turkish bases, an unusual move given ISIS is operating directly on its border. Turkey is facing mounting accusations it is waiting for ISIS to weaken the PKK, or Kurdistan Workers Party, known as a terrorist organization in Turkey, before getting involved.
"What we have learned is that Mr. Erdogan [Turkey's president] wouldn't mind if Kurds were weakened and then annihilated," Claudia Roth, deputy speaker of the Bundestag and a Green Party MP, told the German press.
Erdogan's "dealings with the ISIS are unacceptable. I could not believe that Turkey harbors an ISIS militant camp in Istanbul," Roth said. "Turkey has also allowed weapons to be transported into Syria through its borders. Also that the ISIS has been able to sell its oil via Turkey is extraordinary."
The political melee comes at a time when ISIS is making major gains in Anbar province west of Baghdad. Such is the alarm in the region, local leaders have requested U.S. troops on the ground to halt the relentless attack.
"The media have their eye fixed on Kobani in Syria because of the humanitarian element, but Kobani is just a sideshow. The real prize is Baghdad, and ISIS is getting very close," Cohen said.
© Copyright IBTimes 2023. All rights reserved.
FOLLOW MORE IBT NEWS ON THE BELOW CHANNELS