New ISIS Propaganda Video, Magazine Article Featuring John Cantlie Released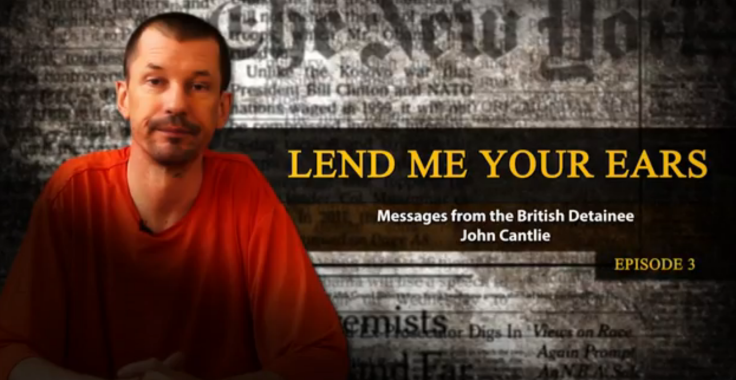 In the latest video featuring John Cantlie, released by the Islamic State group on Sunday, the British journalist held hostage by the militant group accuses Prime Minister David Cameron of exploiting his suffering to "beat the drums" for military action in Iraq. In the video, Cantlie also states that the militant group has "dug in for the fight" in Iraq and Syria.
"You have known about our situation for nearly two years. You chose not to enter negotiations with the Islamic State that might have got us out," Cantlie says in the video, which is the third one in the Islamic State group's "Lend Me Your Ears" propaganda series, and the fourth featuring Cantlie, where the British national lists out the "inherent strengths of the Islamic State" saying that "war only makes the jihadist movement stronger."
Cantlie also describes the reaction to the beheading videos released by ISIS as a "win win" for the militant group.
"If these executions force public outcry or a policy change, that is a huge victory. And if they only goad our governments into dropping more bombs and spending millions more dollars, making our countries weaker in the process, that is a victory too," he says, in the nearly seven-minute long video.
The video accompanied an article, written under Cantlie's name, which appeared in the fourth edition of an ISIS propaganda magazine named Dabiq. Following the same script as the videos, the article, titled "The real story behind my videos," accuses the U.S. and the UK for failing to protect their citizens.
"Four of my cellmates have already been executed by the Islamic State in the most visceral way possible after the British and American governments apparently made a joint decision not to discuss terms for our release with our captors," the article reads. "And now, unless something changes very quickly and very radically, I await my turn."
It's noteworthy that Cantlie mentions only three executions in the video, suggesting that the video was shot before the article was printed.
Cantlie, who was a correspondent for The Sunday Telegraph, The Sun and The Sunday Times, was reportedly kidnapped in Syria in November 2012, and has since been held hostage by the Islamic State group.
© Copyright IBTimes 2023. All rights reserved.