Corinthian Colleges Faces Predatory Lending Lawsuit Over Student Loans by CFPB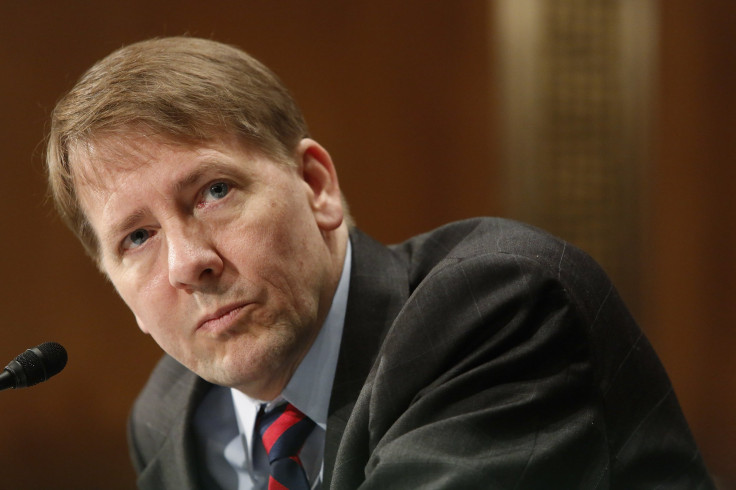 In the spring of 2011, at the Everest College campus in Decatur, Georgia, a member of the financial aid staff is said to have earned an ominous nickname: the Grim Reaper. It alluded to the allegedly routine practice of pulling students out of class, not because they were behind on school work, but, according to a lawsuit by the Consumer Financial Protection Bureau (CFPB), because they were behind on their private student loan payments.
The federal suit, filed Tuesday against Corinthian Colleges, Everest's owner, accuses one of the largest for-profit college operators in the U.S of luring students with false career promises, deceiving students into taking on loans, and harassing borrowers to collect on the debt. The company is already selling or closing its U.S. schools under an agreement with the Department of Education, and faces a lengthy list of state and federal investigations. Now it confronts a new round of allegations over its private student lending program known as Genesis.
"For too many students, Corinthian has turned the American dream of higher education into an ongoing nightmare of debt and despair," CFPB director Richard Cordray said in a statement. "We believe Corinthian lured consumers into predatory loans by lying about their future job prospects, and then used illegal debt collection tactics to strong-arm students at school."
Corinthian "strongly disputes" the CFPB's allegations, according to company spokesperson Kent Jenkins. The complaint "wrongly disparages the career services assistance that we offer our graduates and mischaracterizes both the purpose and practices of the 'Genesis' lending program," Jenkins wrote in an emailed response.
Between July 2011 and March 2014, Corinthian students -- most of whom are low-income, or are the first in their families to seek higher education -- took out nearly 130,000 private student loans worth more than $500 million in order to finance their attendance, the lawsuit alleges. Cordray said the agency seeks to protect "tens of thousands" of existing student borrowers, as well as "the new students that Corinthian continues to bring in."
On Tuesday, publicly-traded Corinthian notified the Securities and Exchange Commission that it would not be able to file its annual report on time, citing "significant constraints on the company's resources" as it closes 12 schools and attempts to sell dozens more.
"In addition," the filing states, "the uncertain outcome of the school sales that the company is pursuing creates uncertainties regarding the valuation of the Company's assets, as well as its financial condition and results of operations ... for the fiscal year ended June 30, 2014."
Corinthian's financial troubles came to a head in June. That's when the Department of Education restricted the company's access to federal student aid over an inquiry into Corinthian's job placement data for graduates. The company warned investors it was in danger of running out of money, and subsequently entered the deal with the Department of Education to sell 85 schools and close 12 others.
As Corinthian attempts to find buyers, the company -- which operates the Heald and WyoTech brands, in addition to Everest -- has repeatedly come under fire for continuing to enroll students. In July, the company reached an agreement with California Attorney General Kamala Harris to increase disclosures about the school sales to current and prospective students. Harris filed suit against Corinthian last October.
Amid the shut-down and legal wrangling, and desperately in need of cash, Corinthian last month sold a portfolio of its private student loans to an unnamed buyer for $19 million. Following the sale, the CFPB accused the company of violating the Dodd-Frank Act and the Fair Debt Collections Practices Act, and asked Corinthian to stop "certain in-school collection efforts," according to a company filing. The bureau first began investigating Corinthian's practices in regard to private student lending in 2012, according to previous filings.
The CFPB lawsuit sheds new light on the sale, alleging that the company "sold virtually all of the Genesis loan notes that it owned, totaling approximately 170,000 loans with a face value of $505 million, to a third-party company for $19 million."
Corinthian needed students to borrow the private loans, the complaint alleges, so that it could remain eligible for its most valuable source of funding: Title IV federal student aid. For-profit colleges must comply with the "90/10" rule in order to receive those dollars, meaning no more than 90 percent of revenue can stem from the Title IV pool. Ten percent must come from other sources, such as private student loans -- like those from Genesis.
Last year, federal student aid accounted for nearly 85 percent of Corinthian's $1.6 billion in revenue.
Among other allegations from the lawsuit:
- "Corinthian trained its admissions representatives to pressure prospective students who were parents by telling them that enrolling in a program was their best or only chance to help their children."
- "Corinthian's limited career services included distributing job postings from Craigslist. Students often had trouble contacting anyone in the career services office or getting any meaningful support."
- "Corinthian took aggressive action to collect in-school payments on the Genesis loans as soon as they become past due, and Corinthian's campus staff members received bonuses based in part on their success in collecting such past-due payments from students. Corinthian's efforts to collect such payments included pulling students out of class, preventing students from attending and registering for class, and terminating students' computer access."
Last month, International Business Times profiled students who attended Corinthian's WyoTech campus in Long Beach, California, and who expressed deep disappointment with the promises they were made about job placement and career services. One of those students, Osmin Soto, borrowed $7,000 through the Genesis program to help pay for his electrician program. "When you're desperate, it sounds good," Soto told IBTimes, "and it's something that I thought might benefit my life."
© Copyright IBTimes 2023. All rights reserved.
FOLLOW MORE IBT NEWS ON THE BELOW CHANNELS