Costa Rica Dismisses Ambassador To Venezuela After Comments Supporting Maduro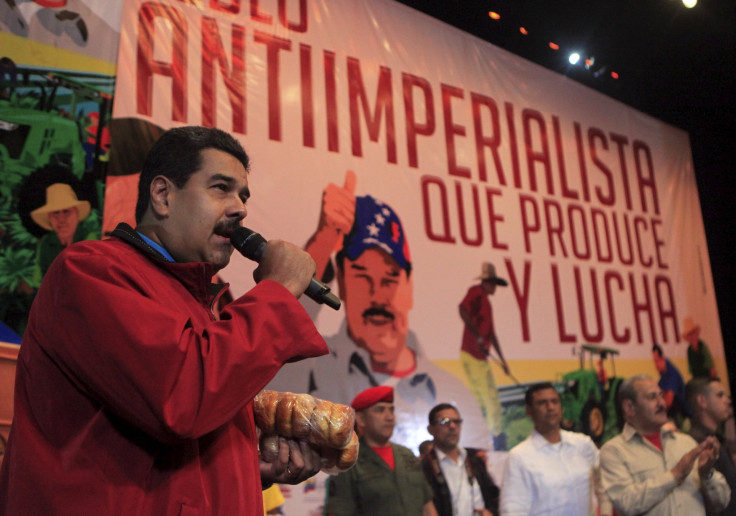 Costa Rica's government has fired the country's ambassador to Venezuela following a remark that the diplomat made in support of Venezuelan President Nicolas Maduro. The comments "did not reflect the official position" of the government, Costa Rica's foreign minister said.
The ousted ambassador, Federico Picado, gave an interview to Costa Rican news source La Nación on Sunday on his impressions of Venezuela two months after assuming the diplomatic post. His comments appeared to align with some of the positions of Maduro's government with respect to Venezuela's media landscape, reaction to U.S. sanctions and widespread shortages of basic goods in supermarkets.
"Undoubtedly, the fall in global crude oil prices has affected the economy," Picado told La Nación. But he added that there were "political factors" involved in the goods shortages, saying that some big business sectors make "efforts to generate shortages and price manipulation, with the intention of striking at the credibility of the government and fueling internal instability."
He added that Maduro's recently acquired authority to bypass the legislature on national security matters was appropriate in the wake of sanctions U.S. President Barack Obama issued that described Venezuela as a threat to U.S. national security. Maduro "must be endowed with extraordinary abilities" to respond to the U.S.'s declaration, Picado said. He added that Venezuela's media was much freer than some reports indicated, saying that newsstands displayed "a whole rainbow" of opinions from the political spectrum.
Costa Rica's government launched an investigation into Picado's comments shortly after La Nación published the article. Foreign Minister Manuel Gonzalez announced Wednesday that he had dismissed Picado for failing to consult with the ministry before making the remarks in the interview, which is required by law for Costa Rica's diplomats. Gonzalez's statement added that Picado "is an excellent professional and political analyst with wide knowledge of international issues and recognized personal attributes."
Later on Wednesday, Gonzalez also said Picado's comments had "created confusion" on Costa Rica's position with respect to Venezuela.
Costa Rican officials took care to discount speculation that the dustup was linked to Picado's political stance on Venezuela. A day before the dismissal, Costa Rica's President Luis Guillermo Solís said he had no issues with Picado's remarks. "There is no need to be neutral to be an ambassador," he said, according to La Nación. "The issue here has to do with the ambassador's discretion and ability to balance between his view and his obligation to represent to the country." Solís added that his government had nominated many other ambassadors whose personal views countered the administration's position.
Solis added that Costa Rica's foreign minister was the only official authorized to make statements about Venezuela. "We're centralizing all statements there because the current situation is so delicate," he said at a news conference this week, according to the Tico Times.
© Copyright IBTimes 2023. All rights reserved.