With Covert Actions, US Is Trying To Save Syrian Rebels In North From 'Collapse'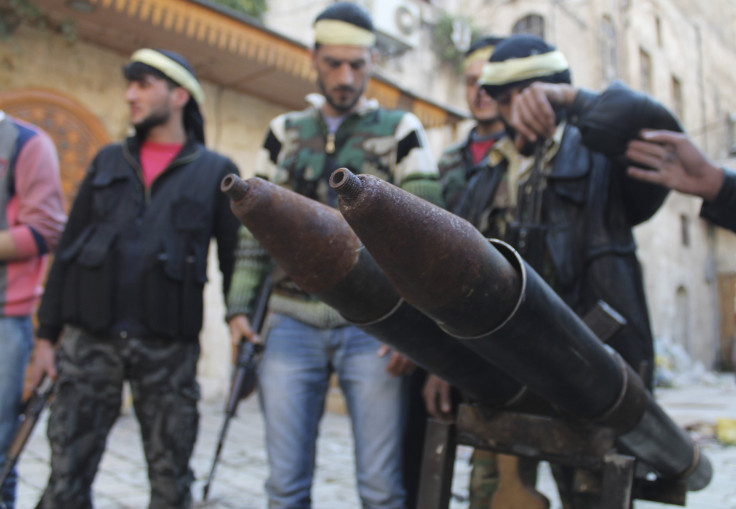 Secretary of State John Kerry said Tuesday that the U.S. was engaging in new efforts to save the Syrian moderate rebels in the northern part of the country from total defeat. Those rebels, he said, "did not fare well in their battles and one or two of them folded into al-Nusra, which is disturbing." The rebels are, according to Republican Sen. John McCain, "on the verge of collapse."
Jabhat al-Nusra is the Syrian affiliate of al Qaeda, which is fighting U.S.-backed rebels, as are the Islamic State group and the Syrian regime.
"We are increasingly doing a number of things to make a difference, some of which are a part of the training effort that we want to get underway," Kerry said during a Senate Foreign Relations Committee hearing Tuesday, adding that some of those efforts were ones he couldn't talk about in the briefing because they were classified. "More is being done ... more than I can talk about in this meeting," he said.
Last month the International Business Times reported that the U.S. had scaled back its arms shipments to several groups in the north because of their defeat by Islamist organizations such as Jabhat al-Nusra. The Syrian Revolutionary Front (SRF) and the Harakat Hazzm movement are two major beneficiaries of the U.S. weapons program in Syria that fight under the umbrella of the Free Syrian Army. Both groups have suffered major losses in the last several months, at the hands of Islamist militant groups like al-Nusra. Syrian opposition members affiliated with the groups, some of whose spokesmen requested anonymity, said U.S. weapons shipments have stopped.
SRF and Harakat Hazzm were pushed out of Idlib province by al-Nusra. Militants fighting with al-Nusra took over the Hazzm movement's headquarters in Der Sonnbol and seized weapons, including some anti-tank TOW missiles supplied by the U.S. Several dozen Hazzm fighters were reported to have joined al-Nusra following its victory in Idlib.
Unable to prevail in the northern part of the country where the Islamic State and the regime have carved out strongholds, the rebels are focusing their efforts in the south, an area that has, until this month, seen little fighting.
"The opposition in the South is actually doing fairly well right now," Kerry said.
Syrian rebels took over several key towns near Dara'a in southwestern Syria last month, liberating areas that had been held by the regime. The rebel group known as the Southern Front said that U.S. airstrikes in Syria had helped them secure areas in Dara'a that opened up a pathway to Damascus, the McClatchy news service reported.
A new strategy based on training rebel groups in the south of the country has yet to be implemented. Kerry said Tuesday that bases in Jordan and Turkey are ready to start training Syrian rebels, but bases in Saudi Arabia still need work.
Meanwhile, after more than three years of war and hundreds of thousands of people dead, President Bashar Assad, the leader that the U.S. onced assured would fall to opposition forces, remains in power.
"They [the rebels] are on the verge of collapse and they are getting beaten very badly," McCain said in the hearing Tuesday. "We are asking these young people to fight and to die ... and we are not doing anything to stop Bashar al-Assad."
© Copyright IBTimes 2022. All rights reserved.
FOLLOW MORE IBT NEWS ON THE BELOW CHANNELS