Creepy 'Girls Around Me' App Gets Busted by FourSquare, Raises Privacy Concerns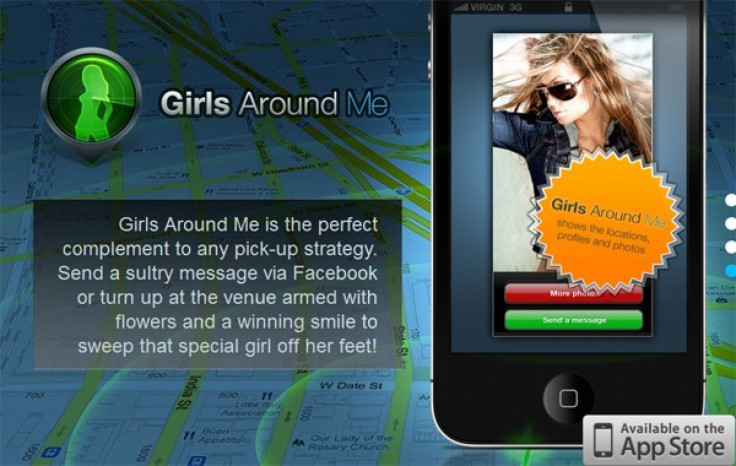 The Girls Around Me iPhone app, developed by Moscow-based company iFree, is a stalker's dream, and should be a wake-up call for appropriate privacy settings on Facebook. The app has been around since December, but it's avoided the radar so far, buried in the hundreds of thousands of apps in Apple's App Store, until Cult of Mac brought it to light.
Girls Around Me basically merges Facebook and Foursquare data, layering it over Google Maps and offering real-time GPS location data to show the user where the nearest women are, based on their check-ins. The targeted women are not even aware they are being tracked by some creepy guy, and they don't have the ability to opt in or out.
You would imagine that such an app should at least run the user through stalking and sex offender databases, however all Girls Around Me requires is Foursquare, Facebook and an iPhone. Again, the girls have absolutely no idea they are being scanned and their online data is being loaded into some creep's phone. If they have checked in recently, the user can see their photos layered over their current location, complete with profile data and information they shared on Facebook. Even if the girls have not checked in anywhere, unless their Facebook privacy settings are strict, their friends can easily check them in.
Targeted Girls Shown as Stripper-like Icons
Here's what's even more creepy: stalkerish and distasteful at the very least, the targeted girls are represented with foxy-lady style icons, like strippers ready to give you a lap dance. Cult of Mac's John Brownlee went out and about and tested the app himself and was shocked. His conclusion? The app is the creepiest, most potentially harmful use of APIs and data he'd found in the iTunes store to date.
Foursquare Shuts Down API Access
As a response to all the recent uproar revolving around this stalker app, Foursquare has shut down the app's access to its API, reports the New York Times. This is a violation of our API policy, so we've reached out to the developer and shut off their API access, said Foursquare spokesperson Laura Covington. The shady Girls Around Me app seems to have lost its best asset - the use of Foursquare's location-based services - yet it is still available for download in the iTunes Store.
What has Facebook and Apple got to say about it?
(reported by Alexandra Burlacu, edited by Surojit Chatterjee)
© Copyright IBTimes 2023. All rights reserved.