Cuba Issues Hurricane Warning For Tropical Storm Sandy; South Florida Urged To Keep Eye On Storm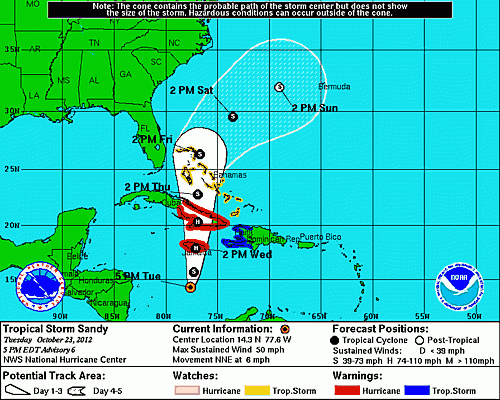 Cuba has issued a hurricane warning for several provinces due to Tropical Storm Sandy as the U.S. National Hurricane Center urged South Florida residents to keep an eye on the storm's trajectory.
Cuba joins Jamaica as Caribbean islands now under a hurricane warning, according to the 5 p.m. EDT update from the hurricane center in Miami. The NHS issued a hurricane warning for Jamaica earlier on Tuesday.
While there are no hurricane or tropical storm watches or warnings for South Florida, the NHS advised residents to keep a close eye on Sandy's path.
"Interests in South Florida should monitor the progress of Sandy," the NHS urged, indicating that the area and the Florida Keys may be under a tropical storm watch by Tuesday night or early Wednesday morning.
As of 5 p.m. Tuesday, the center of Tropical Storm Sandy was here, or 260 miles south-southwest of Kingston, Jamaica, with winds topping 50 mph.
The Cuban government issued hurricane warnings for the provinces of Camaguey, Las Tunas, Granma, Santiago de Cuba, Holguin and Guantanamo, according to the NHS.
The government of the Bahamas issued tropical storm watches for the northwestern portion of the islands, while Haiti is under a tropical storm warning.
By Wednesday afternoon, Tropical Storm Sandy is expected to be near or over Jamaica, when the NHS forecasts the storm to become a hurricane. By Wednesday night, the storm is expected to be near or over eastern Cuba.
Sandy is expected to pelt Jamaica, Haiti, the Dominican Republic and eastern Cuba with up to 12 inches of rain, with 20 inches possible in more mountainous areas of those countries, according to the NHS.
"These rains may produce life-threatening flash floods and mudslides," the hurricane center warned.
The Bahamas is forecast to receive 3 to 5 inches of rain from Sandy. Isolated areas in the island nation may get up to 12 inches, according to the NHS.
Storm surges from Sandy may raise water levels anywhere from 1 to 3 foot above normal tide levels along the southern and eastern coasts of Jamaica, the hurricane center said. In southeastern Cuba, storm surge may range from 3 to 5 feet.
"The surge will be accompanied by large and dangerous waves," the NHS said.
The hurricane center is expected to give an update on Sandy at 8 p.m. EDT, with another development at 11 p.m. EDT. You can find those updates here.
© Copyright IBTimes 2023. All rights reserved.