'Daily Show' Correspondent Asks Florida Gov. Rick Scott to Urinate in Cup for Drug Testing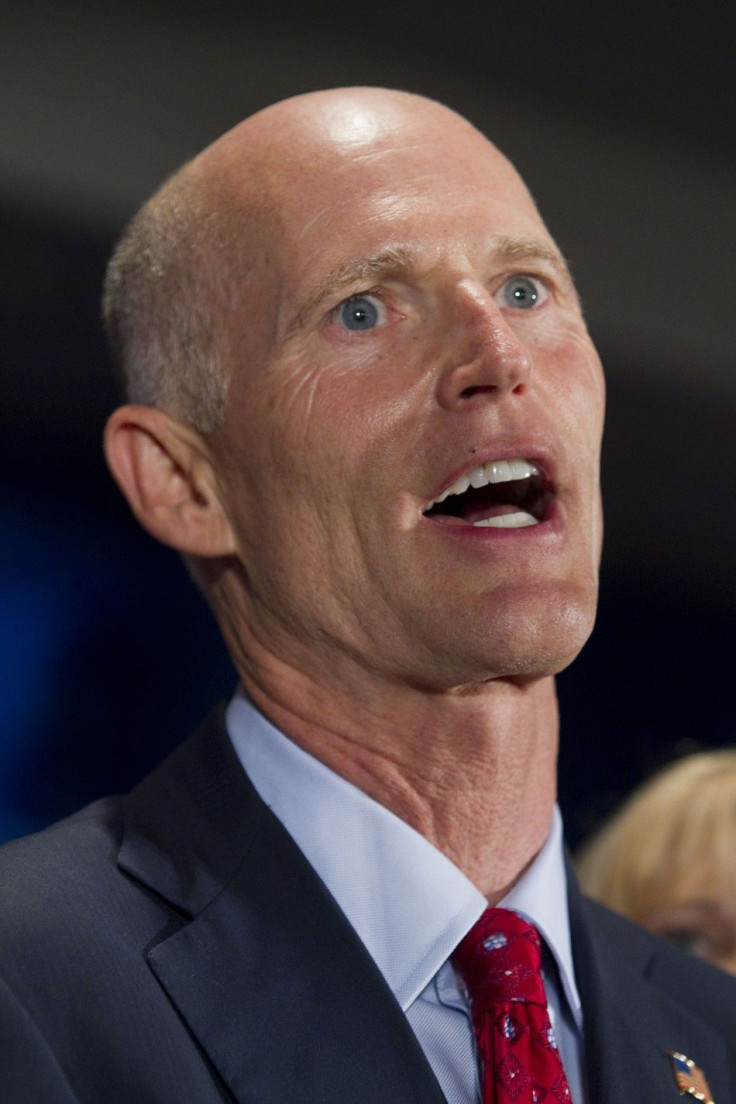 Florida Gov. Rick Scott's controversial drug-testing policy became the target of Comedy Central's The Daily Show on Wednesday when show correspondent Aasif Mandvi interrupted a news conference about the state budget to ask the governor to urinate in a cup.
Mandvi, a former Tampa resident who attended the University of South Florida, used the news conference to criticize a policy implemented by Scott in July that requires all welfare recipients to pass annual drug tests to collect benefits. If they fail the test, welfare recipients would be barred from collecting benefits for a year. Scott justified the law by claiming it would save the state money by keeping illegal drug users from using taxpayer money to supplement their habits. Moreover, Scott has publicly claimed that drug use among welfare recipients is higher than the rest of the population.
During the news conference on Wednesday, Mandvi implied Scott should be subject to drug testing since Florida taxpayers pay his salary.
You've benefited from hundreds of thousands of taxpayer dollars over the years, so would you be willing to pee into this cup to prove to Florida taxpayers that you're not on drugs? Mandvi asked Scott.
The governor quickly replied that he has done it plenty of times, before attempting to dismiss Mandvi. However, the Daily Show correspondent refused to be ignored -- he reportedly attempted to hand the sealed collection cup to the governor, who refused it, before persuading another reporter to pass the cup to the front row.
I hate to keep harping on this, would you pee in a cup? Mandvi asked. In response, Scott shot back, You don't get to run this.
The drug testing law was implemented in July. It says that all people who receive welfare benefits through Florida's Temporary Assistance for Needy Families program must be drug tested to receive benefits. If recipients fail one test they lose welfare benefits for one year, while a second positive test makes them ineligible for benefits for three years.
Since its passage, the Department of Children and Families reports more than 7,000 welfare recipients have passed the drug tests, while only 32 applicants -- mostly testing positive for marijuana -- have failed. At this point, about 1,600 state welfare recipients have refused to be drug tested.
The state is required to reimburse Florida residents for the cost of the $30 drug tests. Since only about 2 percent of welfare recipients have failed drug tests, the Tampa Tribune reports the state will owe between $28,800 to $43,200 in reimbursements per month, assuming 1,000 to 1,500 applicants are tested. Over a 12-month period, the state will only save $60,000, at most, on rejected welfare applicants, a puny savings for a program that state analysts have predicted will cost $178 million this fiscal year.
A federal judge issued a temporary injunction to block the law in October, after the American Civil Liberties Union sued the state on behalf welfare recipient in September. The plaintiff, Luis Lebron, reportedly met all the criteria to receive welfare benefits but refused to submit to a drug test on the grounds that it was unreasonable for him to pay for and submit to one when there is no probable cause to indicate he has used illegal drugs.
In a 37-page order, U.S. District Judge Mary Scriven wrote the law violates the Fourth Amendment of the U.S. Constitution that bans illegal search and seizure.
The constitutional rights of a class of citizen are at stake, Scriven wrote
On Dec. 7, Scriven granted a class action request to the ACLU, allowing the organization to challenge the law on behalf of all welfare assistance applicants.
© Copyright IBTimes 2022. All rights reserved.
FOLLOW MORE IBT NEWS ON THE BELOW CHANNELS