Daytona 500: By the Numbers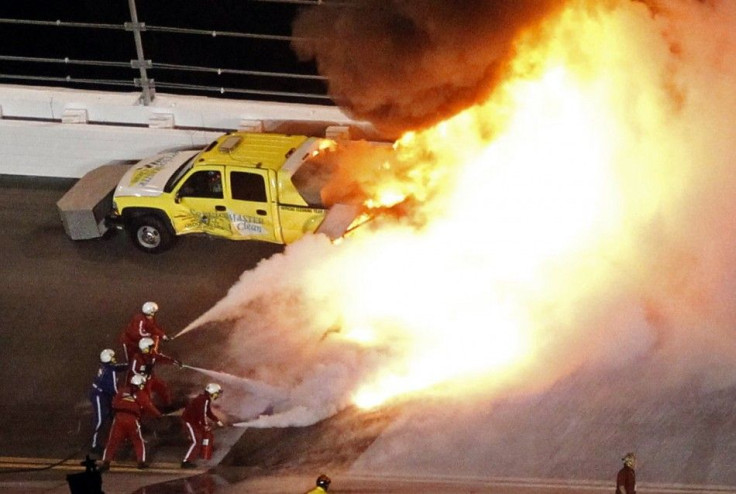 It was perhaps the most interesting Daytona 500 in the 54-year history of the race.
The race that was supposed to begin on Sunday afternoon finally ended on Tuesday morning after delays due to rain and a massive fire.
Matt Kenseth eventually took home the crown when the race was over, with Dale Earnhardt Jr. coming in second.
Here's a look at the Great American Race by the numbers:
2
It's the second career Daytona 500 win for Kenseth. He last won the race in 2009 when it was shortened by rain.
4.5
Even though the race didn't start on Sunday, it still drew a 4.5 rating. The viewership should be much higher when the final numbers come out, since the race took place during primetime on a Monday night.
34
Kenseth took the lead with 34 laps remaining and never looked back.
36
From the time the race was supposed to start on Sunday, until it ended on early Tuesday morning, a total of 36 hours passed. That's by far the longest the race has ever lasted.
125
After a rain delay that prevented the race from starting on Sunday, there was a 125 minute delay during the race on Monday night. This happened when Juan Pablo Montoya crashed into a safety truck. The accident left a huge fireball on the track.
130
After finishing second at this year's Daytona 500, Dale Earnhardt Jr. has now gone 130 races without picking up a victory. Earnhardt hasn't had a Cup Series win since June of 2008 at Michigan International Speedway.
200
Montoya's crash left about 200 gallons of jet fuel onto the track that leaked out of the safety truck. The mess was cleaned up with none other than Tide laundry detergent.
135,000
If you weren't watching the race, there's a good chance you found out about the crash from Twitter. Brad Keslowski gained approximately 135,000 twitter followers during the race, as he tweeted a photo of Montoya's crash during the delay.
© Copyright IBTimes 2023. All rights reserved.