De-Dollarization: India Shuts Down Talk Of BRICS Currency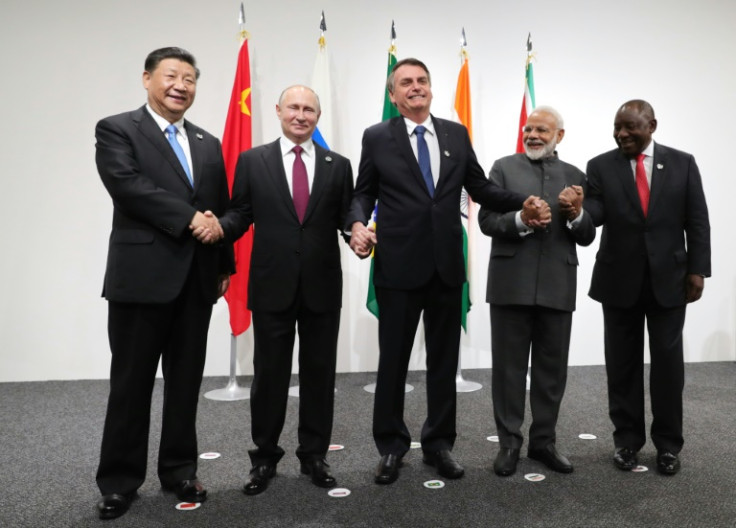 KEY POINTS
A new BRICS currency is currently not on the agenda, said India's Foreign Minister S. Jaishankar
His remarks come ahead of a BRICS summit to be held in August in South Africa
Brazil and South Africa's leaders recently made statements about an alternative to the U.S. dollar
India has shut down speculation in recent weeks that the BRICS nations were planning a common currency to derisk their economies from the kind of devastating sanctions that the United States has levied on Russia and other countries by leveraging the greenback's global dominance.
China and Russia have been exploring alternatives to the dollar which has so far remained the main currency in global trade and transactions, and many countries have started conducting trade in currencies like the yuan or ruble in a trend that has come to be known as de-dollarization. But Indian Foreign Minister S. Jaishankar indicated clearly that a common BRICS currency like the euro won't be coming anytime soon.
The five-member BRICS bloc of fast growing countries--made up of Brazil, Russia, India, China and South Africa--has been pushing to trade more among themselves in local currencies. But discussions about a BRICS currency is currently not on the agenda for the bloc's summit meeting to be held in South Africa in August, Jaishankar's said.
"On what we will discuss at the BRICS meeting, we'll have to see because there are many other issues – but there is no idea of a BRICS currency," he said earier this week.
"Currencies will remain a national issue for a long time to come," Jaishankar added.
India most likely cannot be pressurized into de-dollarization as it would go against its own interests, according to Frédéric Grare, a senior policy fellow with the Asia Programme at the European Council on Foreign Relations.
"It remains to be seen how serious BRICS countries, apart from Russia and China, are about de-dollarization, but there is no reason to believe that India will accept it even under pressure," Grare told International Business Times. "Given the strength of the Chinese economy, a de-dollarization would mean strengthening China's position. This would also be a major defiance move vis-à-vis the U.S. Both are totally contrary to India's interests. There is simply no reason to imagine why India would align with the BRICS proposal and it will most likely block it, even under pressure."
The BRICS are home to 41% of the global population, account for 16% of global trade, and their share of the world's GDP, at 31.5%, surpasses those of the G7 grouping of the world's advanced economies.
Since its inception in 2009, members of the BRICS bloc have attempted to counterbalance American dominance of the world economy and challenge the preeminence of the dollar. That dominance has been used by recent U.S. administrations to squeeze various nations that have pursued an agenda that hurt American geopolitical and economic interests, making nations wary of transacting in the dollar.
But creating an alternative to the U.S. dollar is not something the BRICS countries are ready to do now, said Leslie Maasdorp, vice president and chief financial officer of the New Development Bank, a financial institution created by the BRICS group.
"The development of anything alternative is more a medium to long-term ambition," Maasdorp told Bloomberg TV's Haslinda Amin. "There is no suggestion right now to create a BRICS currency."
U.S. Treasury Secretary Janet Yellen defended the greenback at a recent press conference and said: "There is a very good reason why the dollar is used widely in trade, and that's because we have deep, liquid, open capital markets, rule of law and long and deep financial instruments."
After U.S.-led western sanctions squeezed Russia's economy following its invasion of Ukraine last year, Moscow and Beijing have appeared to intensify efforts at de-dollarization and to push their own currencies.
Russian President Vladimir Putin said last year that foreign buyers should pay for Russian gas in rubles while Chinese President Xi Jinping asked Arab leaders in the Gulf to start trading in renminbi.
Maasdorp noted that the Chinese renminbi is still "a very long way from becoming a reserve currency."
Leaders of Brazil and South Africa, two other members of the BRICS grouping, also recently made statements signaling their support for an alternative to the U.S. dollar.
Brazilian President Luiz Inácio Lula da Silva urged countries with emerging economies to reconsider their reliance on the dollar.
"Why can't we trade in our own currencies?" Lula asked about his country's deals with Argentina and China during a finance summit in Paris last month.
South African President Cyril Ramaphosa, who was on the same panel at the summit, said the "issue of currency" would be discussed at the upcoming BRICS meeting.
© Copyright IBTimes 2023. All rights reserved.