Defense Budget: In Wake Of Paris Attacks, McCain Calls For Increased US Military Spending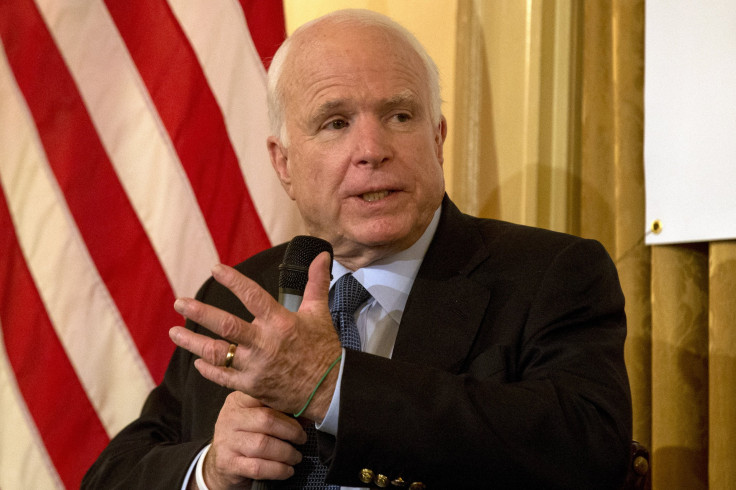 In the wake last week's terror attacks in Paris, Sen. John McCain, R-Ariz., has called for caps on the U.S. defense budget to be removed during a speech on the Senate Floor on Thursday. The former presidential candidate and defense hawk said that the limits on spending were dangerous and would limit the Pentagon's response to the terror group.

"What we must also acknowledge is that, while the threat posed by [the Islamic State] and our other adversaries is growing, our national security budgets are increasingly disconnected from our national security requirements," McCain said, according to a Stars and Stripes report Thursday. "Regardless of what [the Islamic State] will do next, or how the United States will decide to act, our national security budgets through fiscal year 2021 have been arbitrarily capped by the Budget Control Act."
McCain's speech comes after a House majority voted to support tough new restrictions on refugees fleeing the war in Syria. The House vote, which does not guarantee the success of any new legislation, will give McCain leverage to try and scrap spending caps for defense and security programs, according to the Stars and Stripes report.
American Military Expenditure Over Time | FindTheData
While the disagreement over the 2016 defense bill was resolved after several discussions between the White House and Congress, budget caps are still an issue. The budget caps were introduced in 2011 to resolve the government deficit. They were initially applied to all government departments except for the Department of Defense, although the Pentagon will be impacted come 2016.

"To continue on this way especially after Paris is not only absurd, it is dangerous," McCain said.
The attacks in Paris resulted in the death of 130 people and injured 350 more as ISIS fighters used suicide bombs and other weapons at several locations in the French capital.
© Copyright IBTimes 2023. All rights reserved.