French Attacks On ISIS: Paris Building Military Coalition After Invoking European Self-Defense Treaty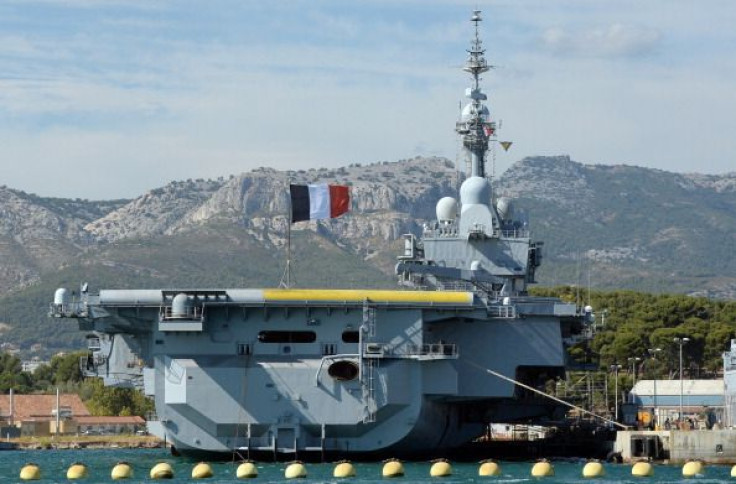 France will hold talks with its European allies as it looks for additional support in attacks against the Islamic State group after enacting the European Union self-defense rule, a little known mechanism that obliges EU countries to offer assistance when one country is attacked. France has sent its aircraft carrier Charles de Gaulle to the eastern Mediterranean to launch raids on the terror group in its Syrian strongholds, Defense News reported Thursday.

The Charles de Gaulle was due to arrive in the eastern Mediterranean on Thursday evening. The carrier task force will allow France to triple the number of jets it deploys against ISIS, but it's not yet clear when it will begin launching attacks on ISIS targets.
In support, one of the British Royal Navy's new Type 45 destroyers, HMS Defender, will provide air cover for the French naval task force led by the aircraft carrier, the British Ministry of Defense confirmed Thursday. Belgium also has pledged a frigate to sail with the multi-national force.


Part of the support offered by some European countries will be freeing up French assets in other areas of the world. For example, Ireland has offered to boost its troop numbers in a UN-led peacekeeping force in Mali to allow France to redeploy soldiers needed elsewhere, according to French officials.
"We have said that, within our conditions and our circumstances, we will assist in whatever way we can here, though probably the numbers will be small," Irish Prime Minister Enda Kenny said Tuesday, The Irish Times newspaper reported. That small deployment could be in Mali or Lebanon.
In addition, German Defense Minister Ursula von der Leyen said that Germany "will do everything" in its power to give France help and support, Reuters reported. Germany is due to take over an EU training mission in Mali and was the first to offer its support to France.
"France cannot do everything, in the Sahel, in the Central African Republic, in the Levant and then secure its national territory," Defense Minister Jean-Yves Le Drian said at a Tuesday news conference during a meeting of EU defense ministers in Brussels, Reuters reported.
Bolstering France's defense forces, Hollande suspended planned cuts in defense personnel, committed to recruit 5,000 police and paramilitary public safety officers, and 1,000 more customs officers.
© Copyright IBTimes 2023. All rights reserved.