Defund Obamacare Twitter Campaign Explodes: US Senators Beseeched By Rabid Ted Cruz Supporters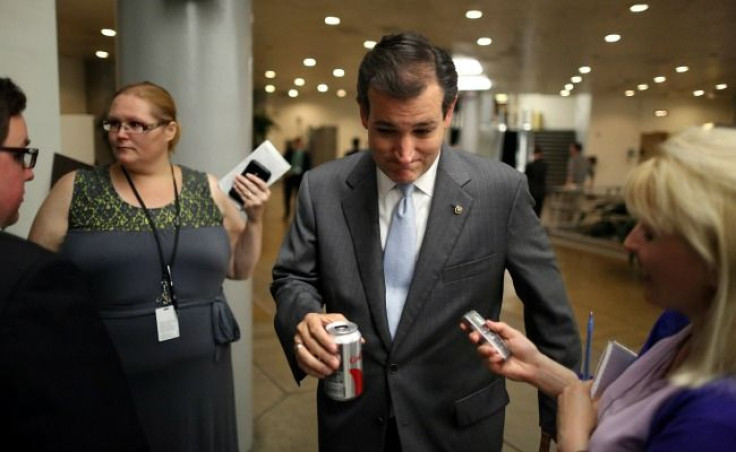 As Sen. Ted Cruz, R-Texas, continued his widely derided last-ditch attempt to derail the Affordable Care Act with a protracted speech on the Senate floor, supporters of his efforts have taken to Twitter to make their voices heard the best way they know how: hashtags.
A #DefundObamacare campaign was trending on Wednesday morning, as users tweeted their representatives in Congress telling them that they don't support the law, key parts of which take effect at the beginning of the fiscal year, Oct. 1.
Cruz's foolhardy efforts have earned him a groundswell of ridicule in the media and criticism in Washington -- even members of his own party are distancing themselves. Twitter, on the other hand, has always had a soft spot for mavericks. In addition to the #DefundObamacare hashtag, users have rallied around Cruz with #MakeDCListen, #KeepCruzing, #FIGHTwithCRUZ, among others.
Much of the effort has been focused on Obamacare opponents tweeting at individual senators. By late Wednesday morning, tweets were pouring in at about 30 per second:
Cruz began making headlines Tuesday when he took the Senate floor and vowed to keep talking for as long as he can, an effort to block a House-passed budget bill. The bill effectively defunds Obamacare, but Senate Democrats have vowed to restore it. Throughout the night, the 42-year-old freshman senator read passages from Dr. Seuss' "Green Eggs and Ham," among other antics. His brassy effort is technically not a filibuster, however, as a vote to move forward with the legislation is scheduled to begin at noon and will go on regardless.
Critics of Cruz's talk-a-thon, which include Minority Leader Mitch McConnell, R-Ky., say his efforts could result in a government shutdown, in which case Obamacare would still be funded.
But don't tell that to Twitter.
© Copyright IBTimes 2023. All rights reserved.