Delhi Gang-Rape Victim Dies; India Awash In Grief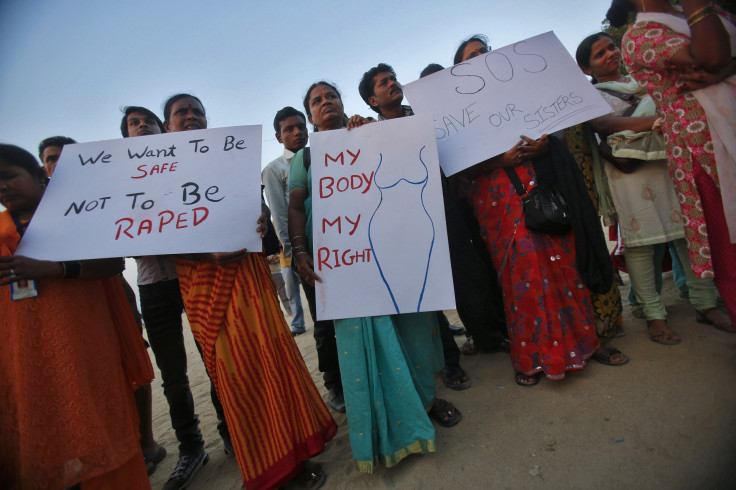 The death of an anonymous gang-rape victim has sparked a new wave of peaceful protests across India.
On Saturday morning, a 23-year-old Delhi woman died in a Singapore hospital (to where she had been airlifted on Thursday) from grave injuries suffered during a brutal hourlong sexual assault by at least four men on a private bus in Delhi.
The young woman's ordeal appears to have inspired a massive amount of self-reflection in India with respect to how women and girls are treated.
Now, protesters who have vociferously condemned the police and courts of law for their inaction have turned to mourning the passing of the girl most of them never knew.
The Press Trust of India reported that massive memorials for the victim were held in Delhi, Bangalore, Hyderabad, Mumbai, Thiruvananthapuram, and other parts of the vast country. Many participants were dressed in black and had their mouths covered with tape in a silent protest.
These demonstrations were largely peaceful, unlike the orgies of anguish and rage last week that were marked by violent clashes with police firing canisters of tear gas.
Still, this tragic incident -- one of untold hundreds of thousands of sexual assaults that occur in India every year -- may lead to political and social upheavals.
Shabana Azmi, an actress turned activist, vowed in an interview with IBNLive.com: "We cannot let [the anger] pass. It will be a greater betrayal. We have to do some soul searching."
Indeed, six men arrested in connection with the gang-rape have had their criminal charges amended to include murder, while many women's-rights activists are demanding the death penalty in such cases.
India's home-affairs minister, Ratanjit Pratap Narain Singh, promised swift action against the accused rapists.
"I can only assure the family [of the victim] that the government will take whatever steps are needed to ensure that her killers get the harshest punishment in the quickest of time," Singh said. "The government will work overtime to try and bring about laws and steps that will ensure that no other person, no other citizen of this country, has to go through or undergo the same kind of trauma."
Delhi students plan to hold a vigil at the location in south Delhi where the girl was attacked to call for tougher punishment for sex offenders.
But some parts of the capital are in a security lockdown to prevent the resurgence of violence.
"The government is not even allowing mourning of the death. This is insensitivity. There is complete lockdown. You have the metro stations shut. You have a road completely blocked. This is undemocratic," a protester complained to PTI.
BBC News reported that in response to promises from lawmakers that the government will get tough on rapists, one Delhi protester held up a banner reading: "We don't want your condolences! We don't want your fake sentiments! We demand immediate action to strengthen the laws against sexual violence."
Meanwhile, the victim's body will be flown back to India from Singapore for a private funeral.
© Copyright IBTimes 2023. All rights reserved.