Delta Reacts To Ann Coulter's Criticism, Twitter Supports Airline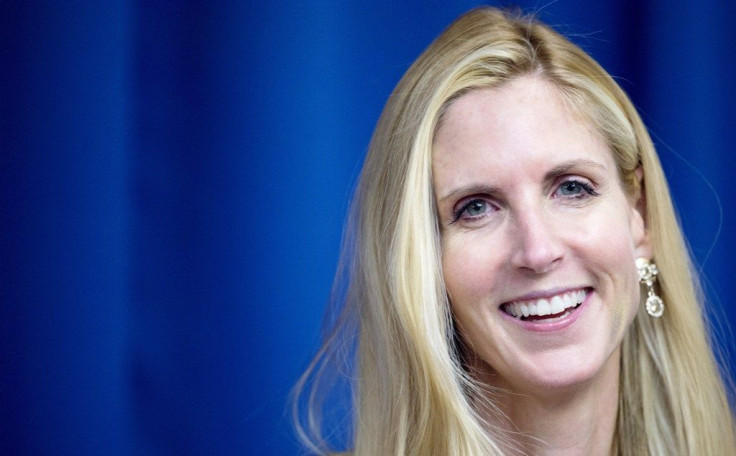 Delta Air Lines said Sunday it would refund conservative author Ann Coulter's $30 after she criticized the airline for removing her from an "extra room seat" on a flight.
"We are sorry that the customer [Coulter] did not receive the seat she reserved and paid for. More importantly, we are disappointed that the customer has chosen to publicly attack our employees and other customers by posting derogatory and slanderous comments and photos in social media. Her actions are unnecessary and unacceptable," Delta said in a statement. "We will refund Ms. Coulter's $30 for the preferred seat on the exit row that she purchased."
Read: United Airlines Puts ScHoolboy Q's Dog In Wrong Flight, Rapper Asks For Reason
The incident happened July 15 on a flight to West Palm Beach, Florida, from New York's LaGuardia airport, when Coulter was reassigned from an aisle to a window seat on the exit row. According to Delta, Coulter was initially given a window seat, but she modified it to an aisle seat within 24 hours of the flight's departure. The airline further said it reassigned Coulter to another window seat on the same row to take in seating requests from other passengers.
Delta's statement came in response to Coulter's bashing of the airline on Twitter. The 55-year-old called it the "worst airline in America" after the flight attendant told her to give up her paid seat for another passenger.
"So glad I took time investigate the aircraft & PRE-BOOK a specific seat on @Delta, so some woman could waltz at the last min & take my seat," Coulter tweeted. She went on to say: "But at least @Delta was nice @ it, summarily snatching my ticket from my hand & ordering me to move w/o explanation, compensation or apology."
Delta Air Lines explained there was confusion with seating assignments during boarding and a flight attendant asked passengers to move to the seats printed on their respective tickets.
Delta also took to Twitter to react to Coulter's criticism.
A spokesman for Delta told International Business Times on Saturday that Coulter was in the same extra room row, although she was given a different seat.
Following Delta's response on Sunday, Coulter — who is 6-feet tall — clarified the matter was not about $30.
"If you thought it was about $30, @Delta, why didn't you give this woman $30 and let me stay in my PRE-BOOKED, ASSIGNED seat?," she tweeted along with a photo of female passenger.
Read: United Airlines Apologizes To Colorado Mother Whose Infant Son Fell Ill Aboard Delayed Flight
"$30! It cost me $10,000 of my time to pre-select the seat I wanted, investigate type of plane & go back periodically to review seat options," Coulter wrote on Twitter.
"But I love @Delta declaring my tweets unacceptable. @Delta now dictating acceptable conduct off the plane. NOT fascist at all. #Resist," she continued.
Twitter came out in support of Delta and blamed Coulter for blowing up the issue.
© Copyright IBTimes 2023. All rights reserved.